Our Partners
Saracens are proud to work in partnership with a range of companies and suppliers, all striving for excellence in their field.
SARACENS MAVERICKS NETBALL CAMPS
As well as helping develop outstanding netball players and coaches, Saracens Mavericks Netball Camps & Masterclasses aim to develop Better Players, Better People, both on and off the court. Saracens Mavericks Netball Camps and Masterclasses offer children a unique opportunity to experience the Saracens Mavericks culture and receive top-level coaching in an exciting, safe and fun environment. Whilst developing their netball skills children will also learn the Saracens Mavericks values of Discipline, Honesty, Work Rate & Humility.
Coaches will focus on Ball Skills and Handling, Footwork, Attacking movements, Defence, Shooting and rebounding and will be able to adapt sessions to the abilities and ages of all players where needed.
Saracens Mavericks have a duty of care and responsibility for ensuring a safe and fun experience is had by all those who attend our camps and masterclasses. All coaches carrying out regulated activity must have a relevant DBS check and be cleared to work with young people. There must be a Level 2 Coach, who is First Aid, trained at each camp or masterclass.
Example Netball Camp Structure
A camp may follow a similar structure to the below session outline;
Time                            Session
09:45 – 10:00AM          Head coach arrives – Check courts & carry out Risk Assessment
10:00 – 10:10AM          Sign in players & Introduction (Health & Safety briefing)
10:10 – 10:30AM          Fun game / Small-sided game warmup
10:30 – 12:00PM          Skill & technical work
12:00 – 12:45PM          Lunch Break
12:45 – 01:30PM          Warmup / Ball handling skills & drills
01:30 – 02:45PM          Match play
02:45 – 03:00PM          Cool down / Stretch / Sign out players
SARACENS MAVERICKS ALPHA PROGRAMME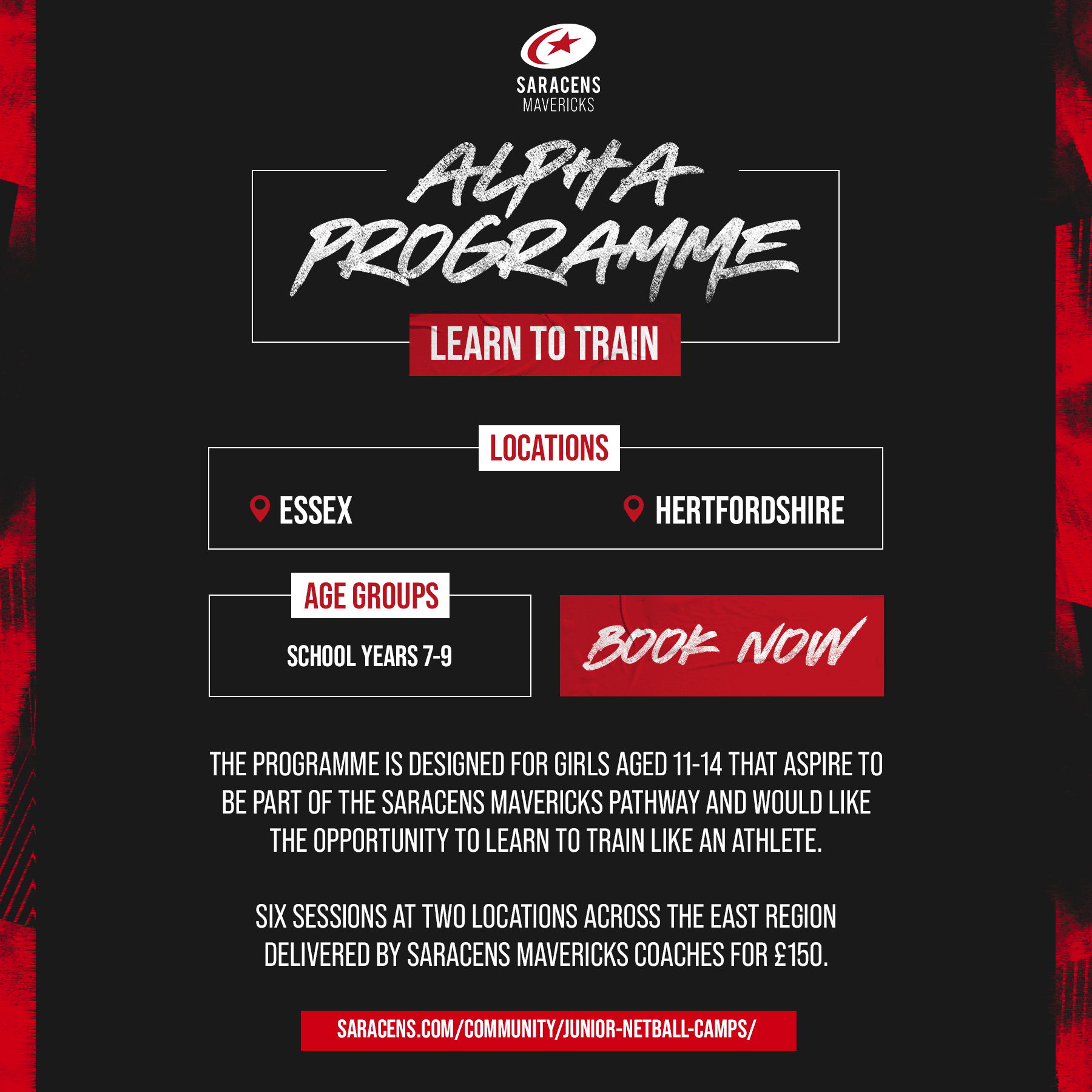 The Saracens Mavericks Alpha Programme is designed for Girls aged 11-14 the aspire to be part of the Saracens Mavericks Pathway and would like the opportunity to learn to Train Like an Athlete!

We have two programmes;
Alpha Essex
Alpha Herts


More information coming soon.

ALPHA PROGRAMME BOOK NOW: ESSEX
ALPHA PROGRAMME BOOK NOW: HERTS