Our Partners
Saracens are proud to work in partnership with a range of companies and suppliers, all striving for excellence in their field.
THE SARACENS WOMEN'S ACADEMY PATHWAY CONSISTS OF MULTIPLE STRANDS TO GIVE CLEAR OPPORTUNITIES FOR PLAYERS TO PROGRESS THROUGH THE GRASSROOTS CLUB GAME INTO AN ELITE PERFORMANCE SETTING, WITH THE AIM TO RETAIN PLAYERS THAT WILL CONTRIBUTE TO THE CLUBS SUCCESSFUL SENIOR DOMESTIC TEAMS, AND DEVELOP THE ENGLAND NATIONAL TEAM FOR YEARS TO COME.

Saracens Women are one of ten clubs within the Elite Premiership Women's Rugby competition, with the U18 Centre of Excellence regions covering the counties of Hertfordshire, Essex and Eastern Counties.Players from these 3 CB's have Saracens Women as their main hub to access the path to the Elite game.
"The Saracens Women's academy provides a clear pathway for aspiring young players with the ambition to play at the elite end of the game.

Saracens are renowned as a club for developing young players, and in the dawn of professionalism in the women's game, the tradition of developing homegrown players into the women's senior team has never been stronger."

Saracens Women's Pathway Vision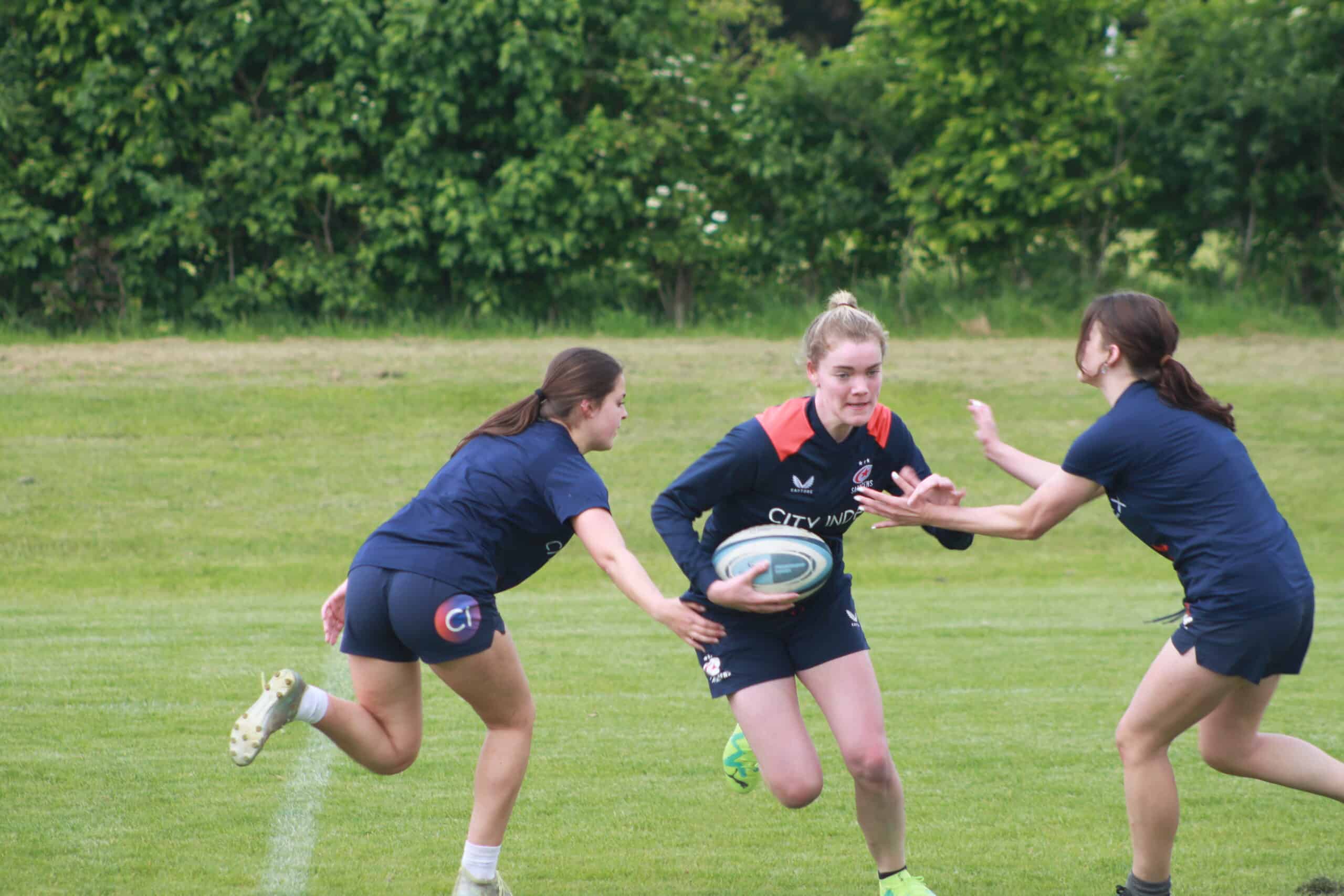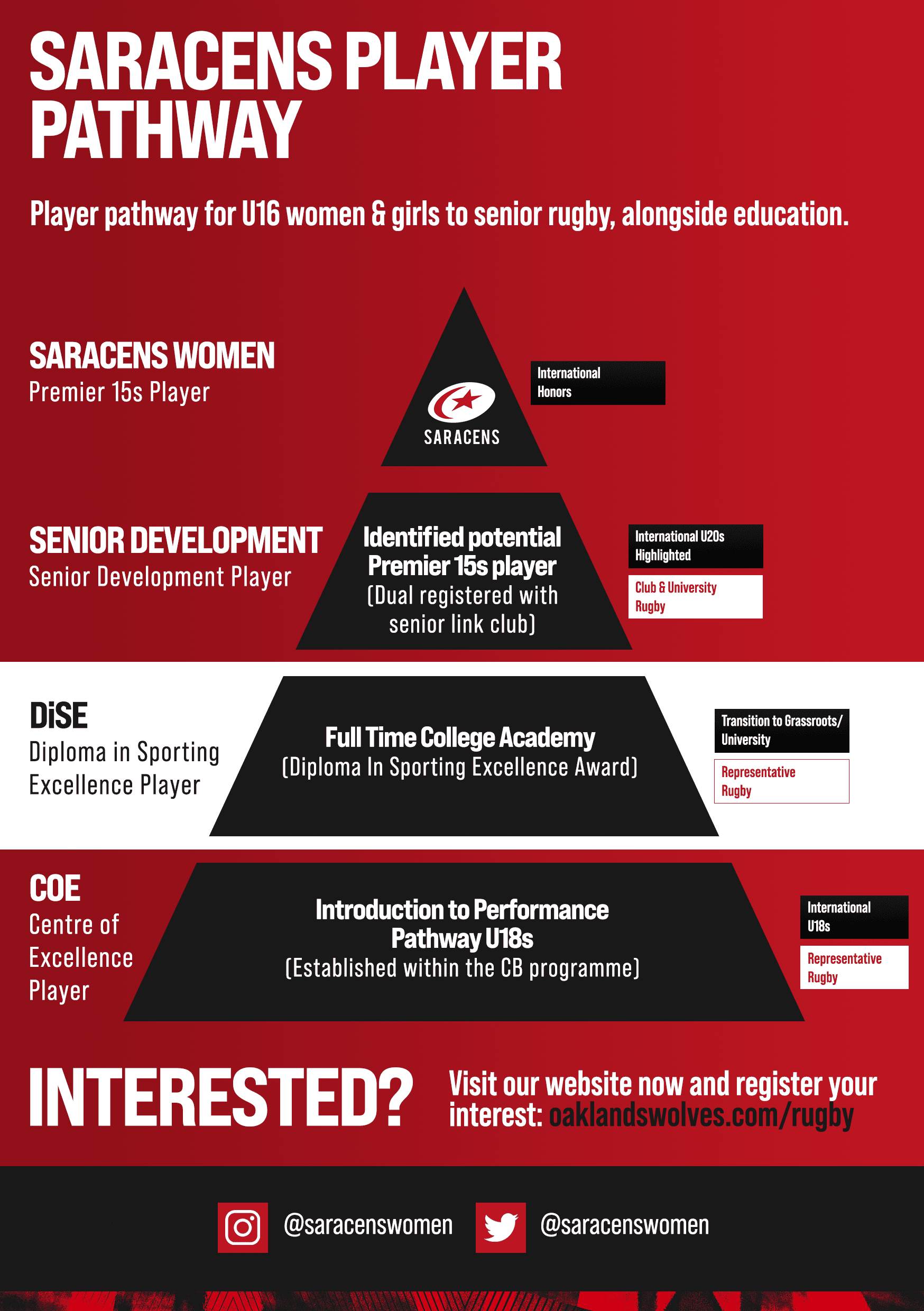 CENTRE OF EXCELLENCE PATHWAY

COE is the first step with the Elite Pathway where highlighted players will come together over a maximum two-season cycle to further develop the skills to be able to narrow the gap and aim to progress into a Premier 15s environment post-U18 Rugby
U16-U18 players will be nominated to the COE after being successful in representing their County CB (Herts, Essex, Eastern Counties).

Windows across the seasons will allow Saracens coaches and staff to work closely with the County Coaches to highlight a select group of players into the COE training group. Select COE match day squads will be able to play in competitive games against the other 9 Premier 15s COE across the season.

The COE is a fluid pathway until the conclusion of U18 rugby where players can move from County training squads to COE Squads at varied points depending on each players development journey.

Initial Nominations will take part at the end of Each County Playing Block with repopulation points across the season for fluid movement. Players are encouraged if given a COE opportunity to embrace and showcase their ability in the time they are within the training group. Every player journey is different and the pathway programme is their to support that.

At Saracens, we believe talent is in behaviours. Players are not born great or talented. Attitude, understanding of your own needs and the ability to organise yourselves and others are core attributes. Those who work hard will grow. We will respect and value you for what you bring to every session.
SARACENS WOMEN FULL TIME PATHWAY PROGRAMME (OAKLANDS COLLEGE)
In 2018 Saracens Women established a full time provision programme for players 16-18yrs giving players with ambitions to be in a full time elite performance environment the opportunity to do so alongside full time education.
Daily training sessions developing on-pitch rugby skills and game play are linked with Strength & Conditioning training in the gym, all overseen and run by Saracens Women's Performance Staff.

Oaklands College is able to offer a range of High Level BTEC and A-level courses which run alongside the rugby programme creating a full blend of performance training and study. Players will be supported in their career progression as well as helping them achieve the highest level possible on the pitch.

Who can Apply?

All players can apply to be part of the Full Time Academy Programme We encourage players that have had a good rugby background and are in a County level Programme or close to Those with lower rugby experience are welcome, however level expectations would be high Centre Of Excellence nominated players are encouraged to maximise the full time environment opportunity if appropriate for studies

Players not in the COE can utilise the Full time academy to train and play alongside COE players to support there further development To apply please visit https://oaklandswolves.com/interest-form/
DIPLOMA IN SPORTING EXCELLENCE (DISE) LEVEL 3

Additional Qualification alongside main course study – not stand alone qualification (64 UCAS Points awarded)
The Diploma in Sporting Excellence is a qualification specifically designed for learners with an opportunity to be assessed on their ability to work towards, and fulfil the role and requirements of an elite sports performer.

The qualification is aimed at talented sports performers identified by the National Governing Body (NGB) upon the Talent Pathway who have entered into a training and competition programme within their sport in order to compete at the highest level. Within rugby, the programme is designed and intended for those who are currently within the academy structure and identified within the wing of the Centres of Excellence programme.

The purpose of the DISE is to confirm competence within the elite sports arena, specifically the training environment of the learner's chosen sport, for both the practical and theoretical elements underpinned by a range of competency based evidence. DiSE recruits players of potential to achieve the stated successful outcomes.

All players/learners will be required to be timetabled for a minimum of 12 hours rugby related activity which must consist of the following elements:

Strength & Conditioning Recovery

Technical & Tactical Individual Positional

Off-Field Theory Sessions

Individual Mentoring

· Drugs & Supplement Use · Agent Awareness · First Aid · Rugby Qualification · Managing Expectations · Financial Advice / Education · Personal Planning · Agent & CV – Contract advice

Team Prep Training & Meetings

Season Aims & Objectives · Minimum of 1200 playing minutes (RFU Guidelines) · Detailed IDP · Quarterly Reviews carried out & documented

FAQ's

Players will be selected as a DiSE player on the basis of COE status and academic drivers and goals at Academy Coaches digression A 1-1 Interview process with the player will determine DiSE status. DiSE modules will be embedded into the players Academy Journey. To gain additional qualifications, players will have to evidence above elements through written, verbal and recorded work that will be assessed. DiSE is a 2 year additional qualification that will run from 16-18yrs, players must sign up and complete the full 2 years while in full time education to achieve the award
SENIOR DEVELOPMENT ACADEMY

For players progressing from the Centre Of Excellence/Full Time Academy Programme, selected players will be invited into Saracens Women's senior environment as they progress from U18s into Senior rugby.
Players that have the potential and have been highlighted through the Saracens Pathway to play Premier 15s Rugby.

A bespoke plan for each player will be made on conclusion of their progression from U18s COE/Academy Rugby.