I feel I have learned so much this season - Galligan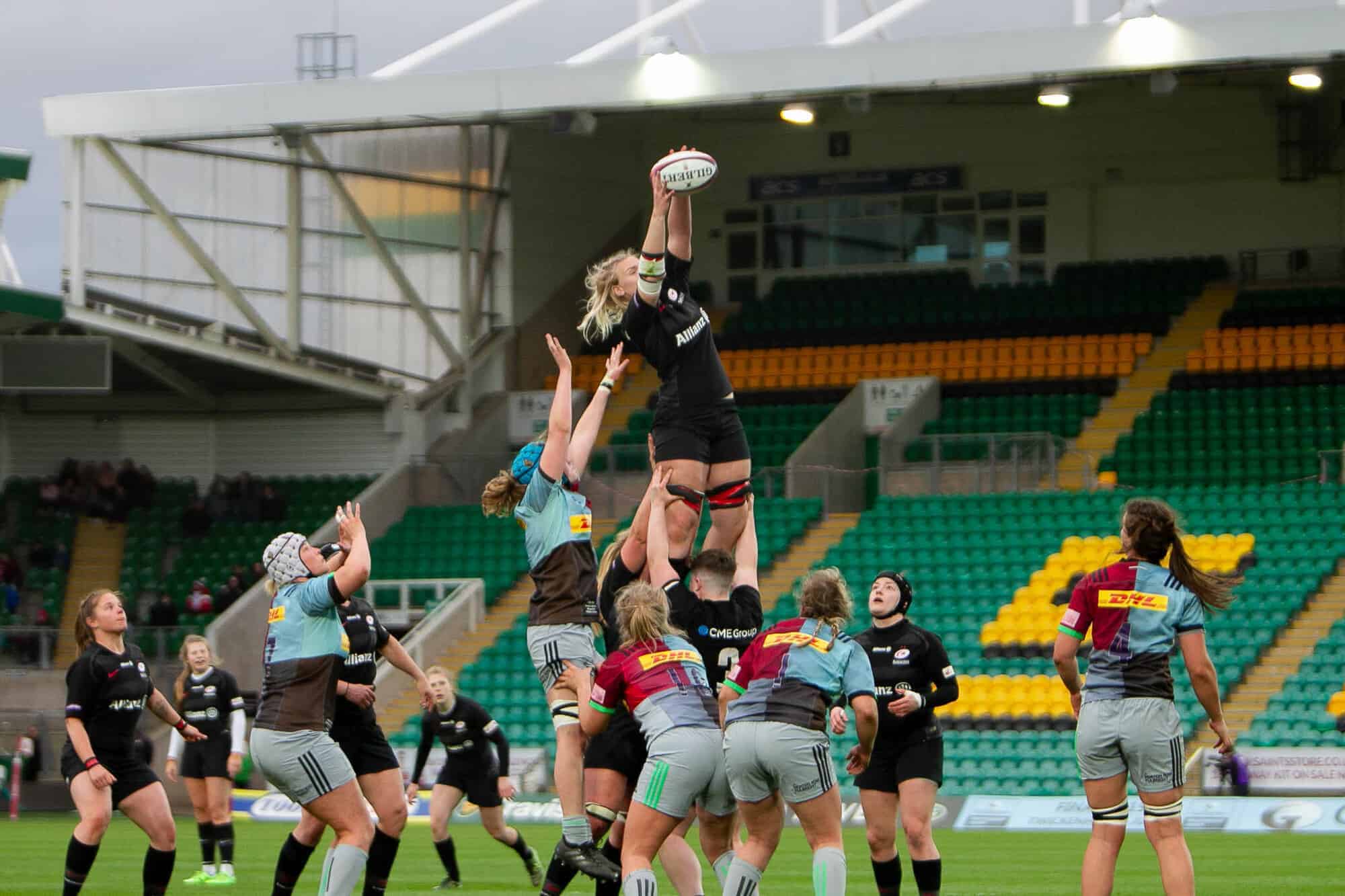 Saracens Women second row Rosie Galligan has enjoyed a stellar season. The 21 year old was an integral member of the team that retained the Tyrrells Premier 15s title with a 33 – 17 win over Harlequins Ladies at Franklin's Gardens.
She also won her first senior England cap, coming off the bench against Ireland in the 2019 Women's Six Nations, before going onto play in the historic match between the Red Roses and Barbarians Women at Twickenham earlier this month.
We grabbed a chat with Rosie to reflect on the 2018-19 season.
Looking back on the last few months, what is the overriding emotion? Feels like a season of firsts for you
This season has been a whirlwind of emotions. It's been a year where I have taken on a lot more responsibility, and that has helped me grow and learn rapidly as a player. I have really enjoyed this season, playing and training with the Sarries girls as well as being called into the Senior England camps a few times.
What were your goals at the start of the season? Were they very Saracens focused or was there an England goal in there as well?
I had a few goals set this season, my biggest one being getting fitter so I could play the style of rugby I wanted to play. I wanted to secure a starting shirt for Saracens week in week out, and play for the England National Academy as this was the next step I could take in the England Rugby pathway. 
Having experienced the high of winning the TP15s last year, how much motivation was that for you personally to keep improving your game and take it to the next level?
Winning the Prem in 2017/2018 season was incredible! However, I was in a very different stage of my rugby career. I was still very new to the second row and had been carrying a few niggles so didn't play much of the final.
This year I worked really hard to get myself into a better place and used the knowledge and experience of Alex Austerberry and Neil Harris to develop my skill set! A lot of my motivation stemmed from seeing the Saracens girls playing in the Autumn internationals and wanting to be on the pitch with them.
Alex Austerberry came in as Head Coach, someone you'd worked with previously while coming through the pathway. What was it like having him as your coach this season?
Alex has been a great addition to Saracens. When I was younger, I thought Alex was a harsh coach. However, after a season playing women's rugby, I started to understand why he coached the way he did.
He has helped me to understand the need of driving my own standards and pushing myself out of my comfort zone. He has a lot of belief in me and that is the reason as to why I have had a good season.
How much do you think your game has kicked on this year?
I feel I have learned so much this season, but I still have a long way to go! The girls have been great allowing me to take more of a leadership role in the forwards. I have really valued Sonic's (Sonia Green) support and people backing me to make the right decisions.
You won your first Red Roses cap during the Six Nations this season. What was that moment like when you knew you'd be in the matchday squad and then running out onto the pitch for the first time?
It was a bit surreal - it didn't feel real until I was singing the national anthem! Everyone was so supportive and helped me on the pitch - you feel a bit lost at first and try to do as much as you can but sticking to processes makes it so much easier.
Looking at the end of the season for Saracens, you picked up an elbow injury in the penultimate round of the TP15s against Loughborough. Mentally (as well as physically) was it difficult having to manage that going into some big matches?
It was such a frustrating injury as it happened when everyone bundled on Hannah celebrating her try!! At first, I thought that it was going to be the end of my season, but I had a lot of treatment and rehabbed a lot.
The medical team were great and very reassuring. I found training mentally challenging as I didn't want to put myself into a vulnerable situation. When it came to game day, a lot of tape was used, and adrenaline took over.
You got a shout-out from Nolli Waterman about your performance in the TP15s final. How would you rate your performance against Quins?
It was really nice to get a shout out for my final performance. I felt like it was one of the best games I've played, but I think that's down to how well prepared we were and our training plan we had leading up to it. We had nothing to lose so I just went out there and left everything I had on the pitch.
You played in the historic match with the Baabaas at Twickenham. I understand that was your first time playing at HQ?
Playing at Twickenham is probably every rugby player's dream, and to be able to say that I have played there in a historic match in front of 17000 is even better! It was a great day and another chance to be able to play on the international stage.