Our Partners
Saracens are proud to work in partnership with a range of companies and suppliers, all striving for excellence in their field.
THE SHOWDOWN 4
in association with City Index
Saracens Men vs Harlequins at Tottenham Hotspur Stadium, Saturday 23rd March 2024, KO 15:05.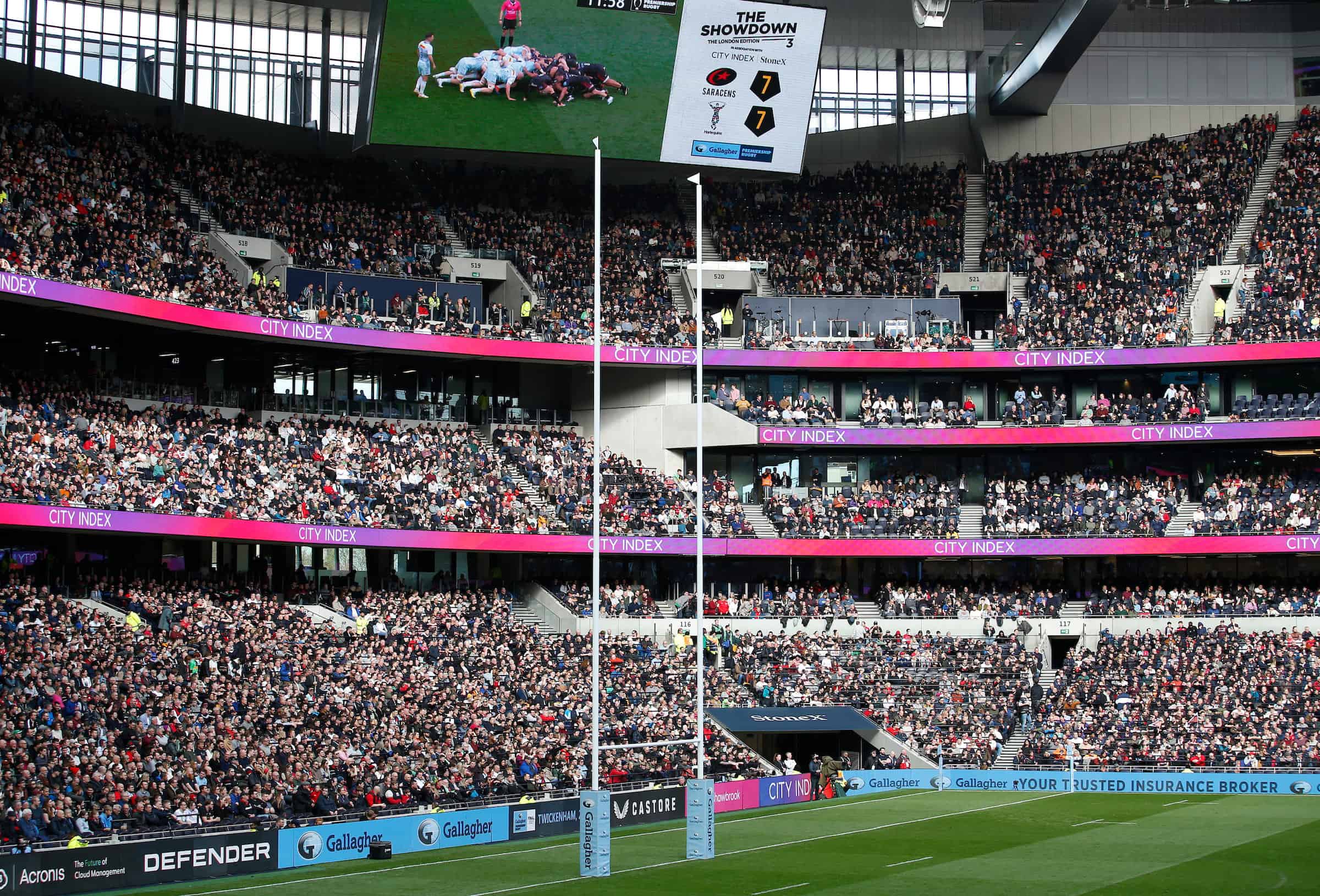 MEMBERS' BOOKING WINDOW OPEN
Seasonal Members claim your seat & an unlimited number of additional tickets at 50% discount!

CLAIM YOUR SEATS
The Showdown is back! Bigger and better than ever before
Saracens return to the epic Tottenham Hotspur Stadium to take on Harlequins in a repeat of last season's London derby in the Gallagher Premiership.
Secure your seat without delay for what promises to be another history-making day at Tottenham.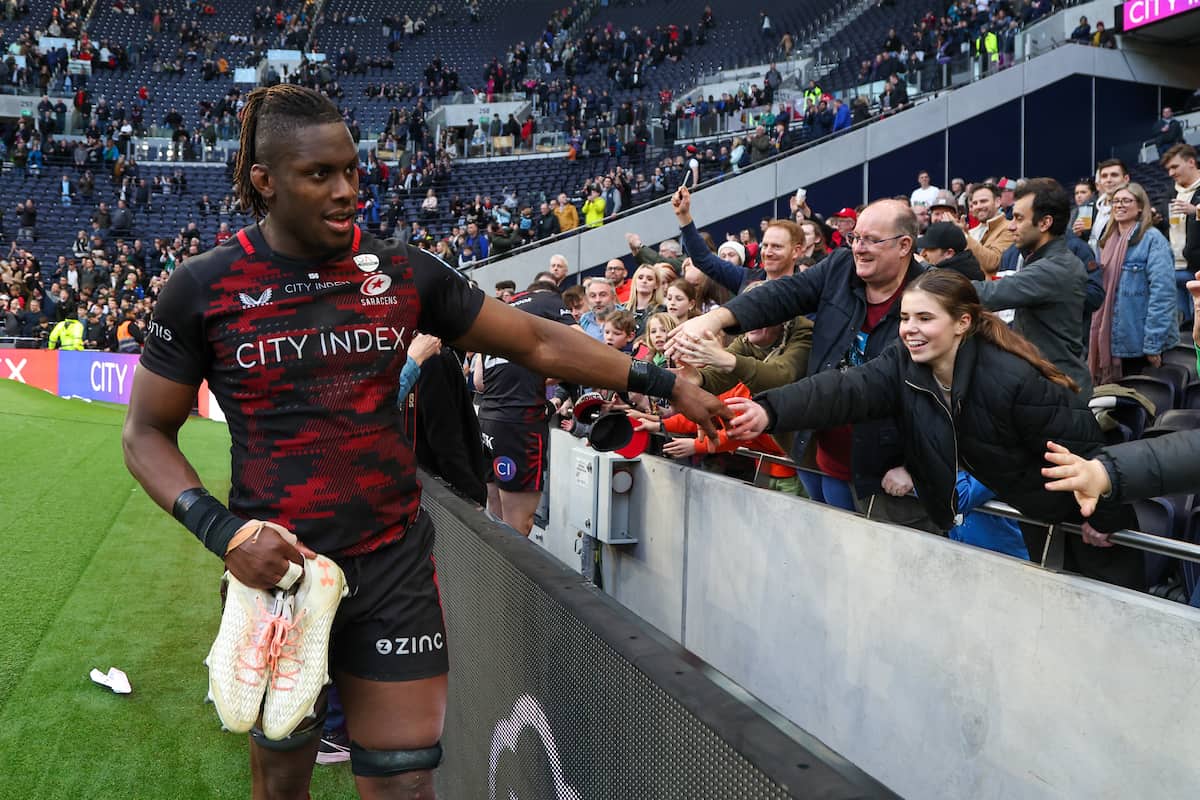 MATCH TICKET PRICES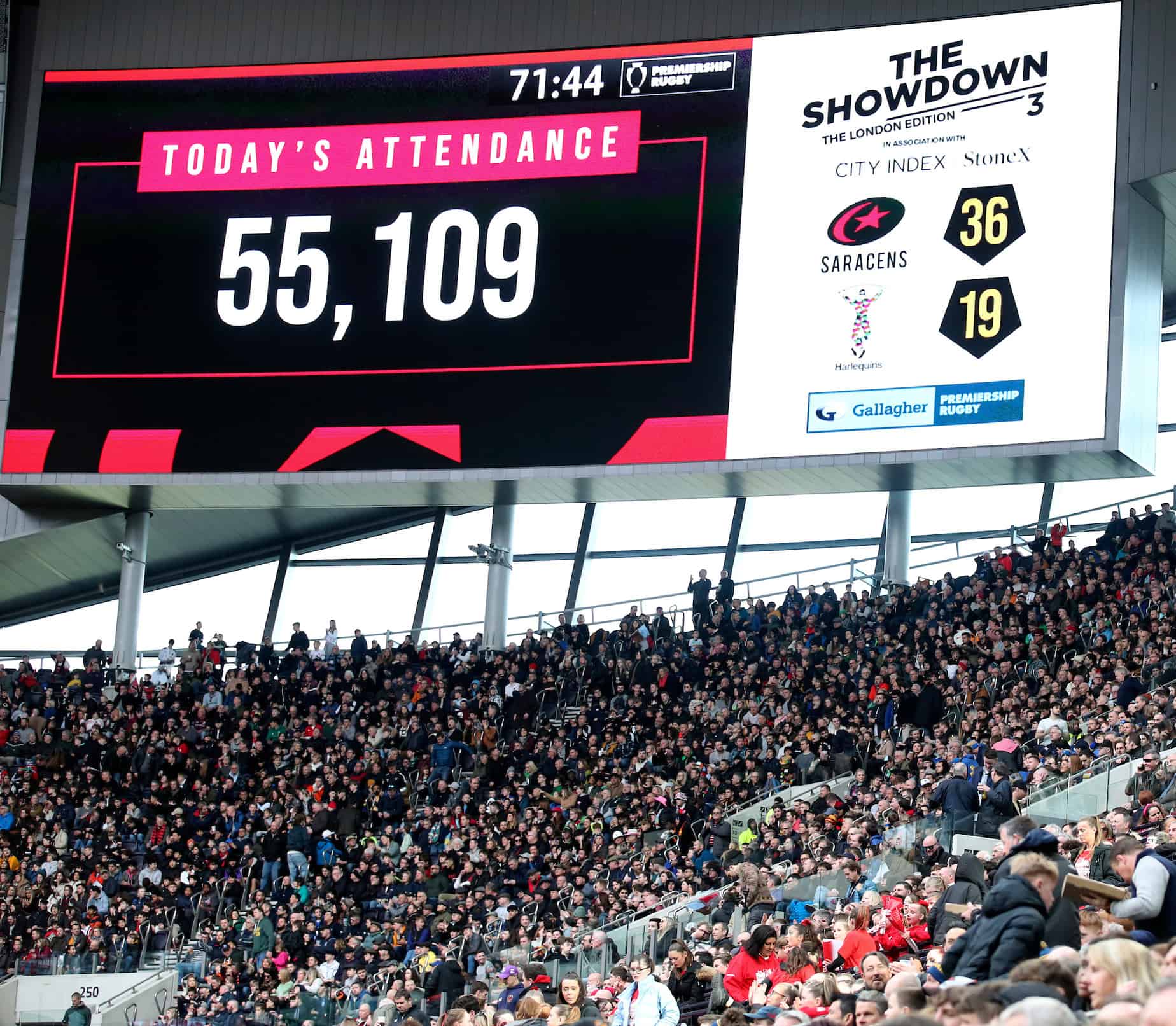 THE SHOWDOWN 4
AN EXPERIENCE LIKE NO OTHER
55,109 spectators joined us at Tottenham Hotspur Stadium for The Showdown 3. Sell out Spurs for The Showdown 4? CHALLENGE ACCEPTED.
The Premierships BIGGEST RUGBY PARTY
London's rugby derby
World-class stadium experience
NOTHING BEATS LIVE
OVER 5 HOURS OF ELECTRIC ENTERTAINMENT
The Showdown's entertainment pre, during and post match is second-to-none. - Join us for a jam-packed afternoon of fireworks, music, elite sport & family fun!
Live music
Big screen fun & games
Pyro, flames & fireworks!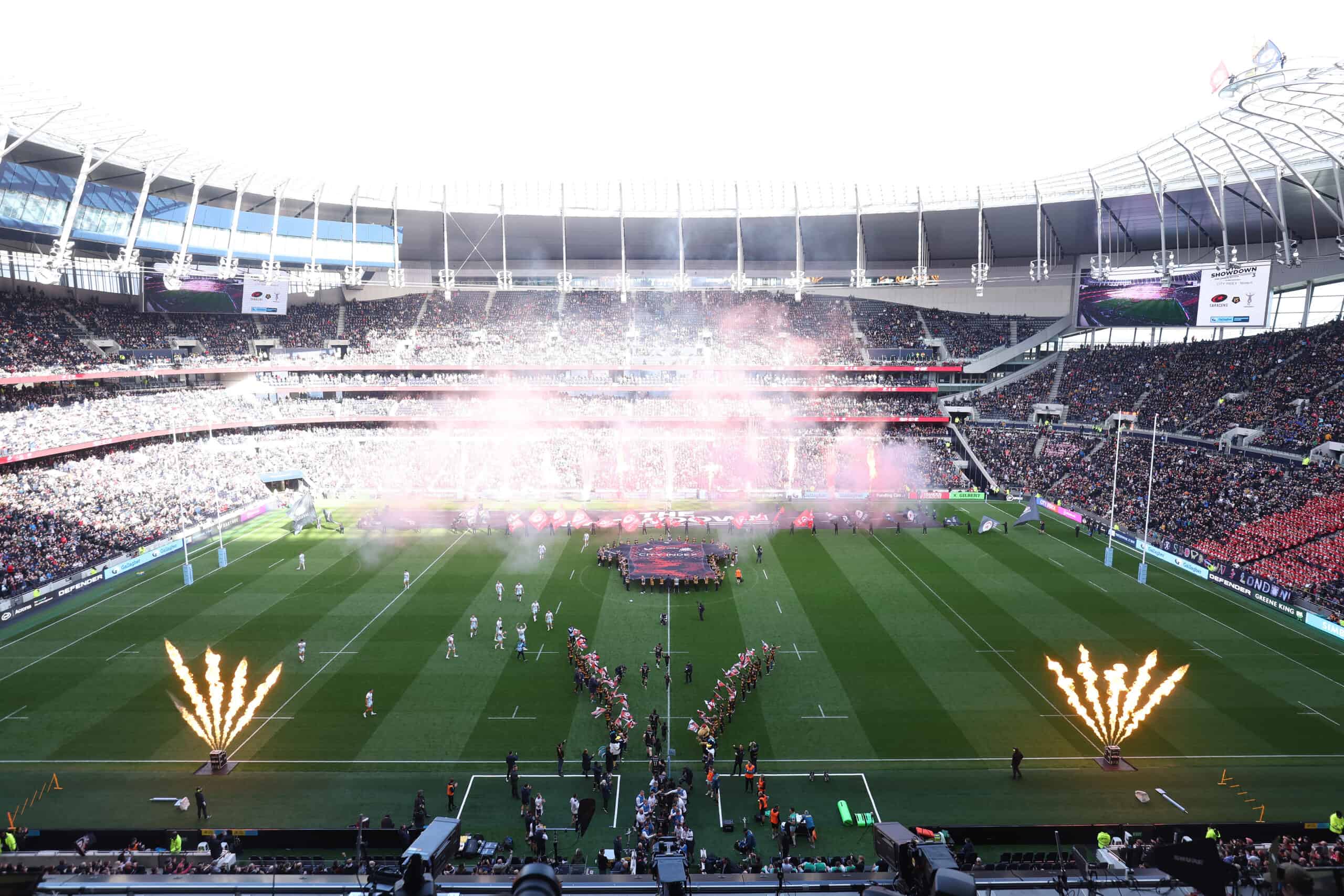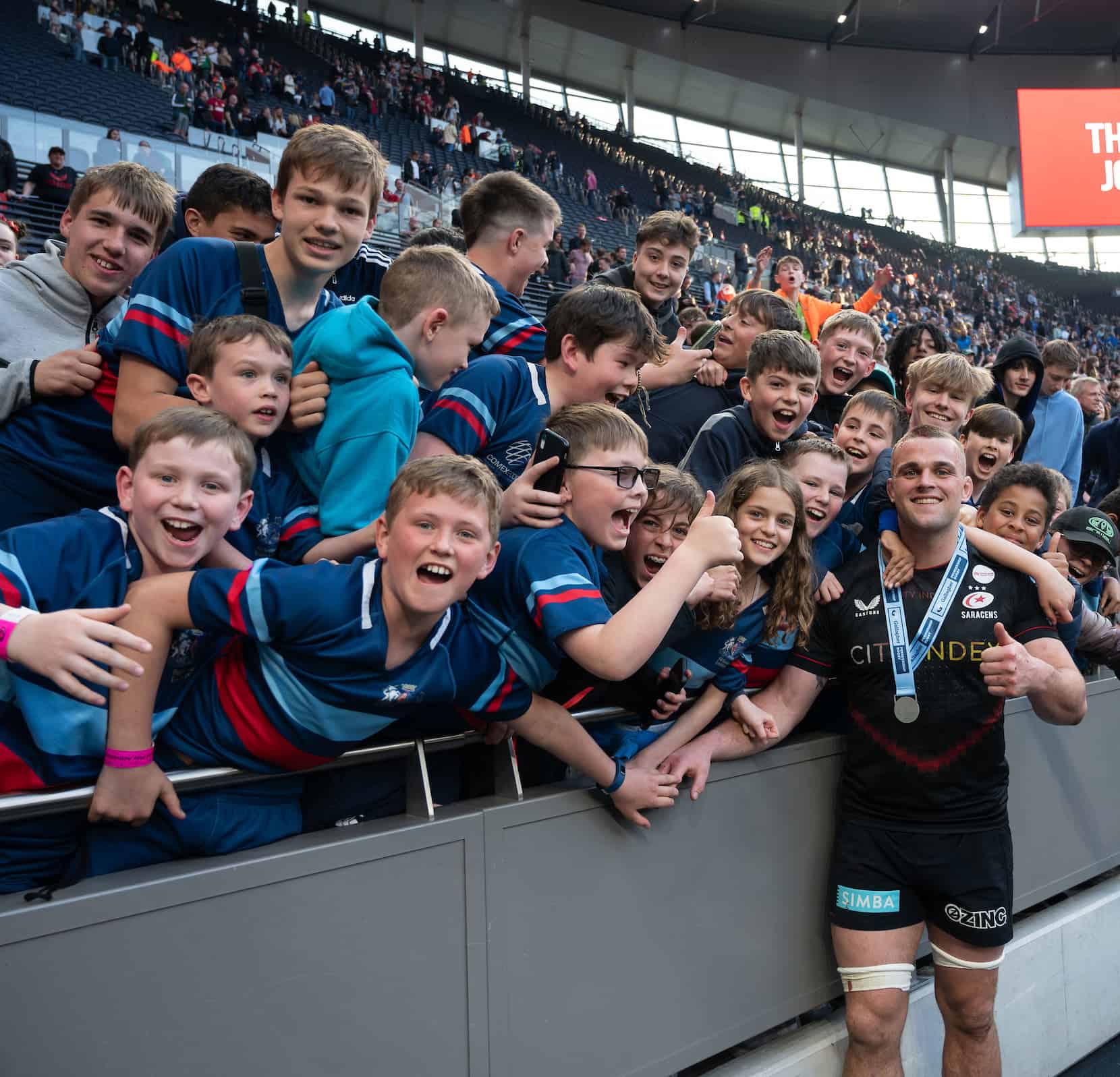 BRING THE WHOLE TEAM!
CLUBS, SCHOOLS & GROUP BOOKINGS
Have your club's crest feature on the players shirts, receive a giant flag with your team name and earn cashback on tickets sold!*
Request your tickets below and we will send you a personalised link to circulate to your teammates.
* Over 50 tickets sold- Terms & Conditions apply
REQUEST YOUR GROUP TICKETS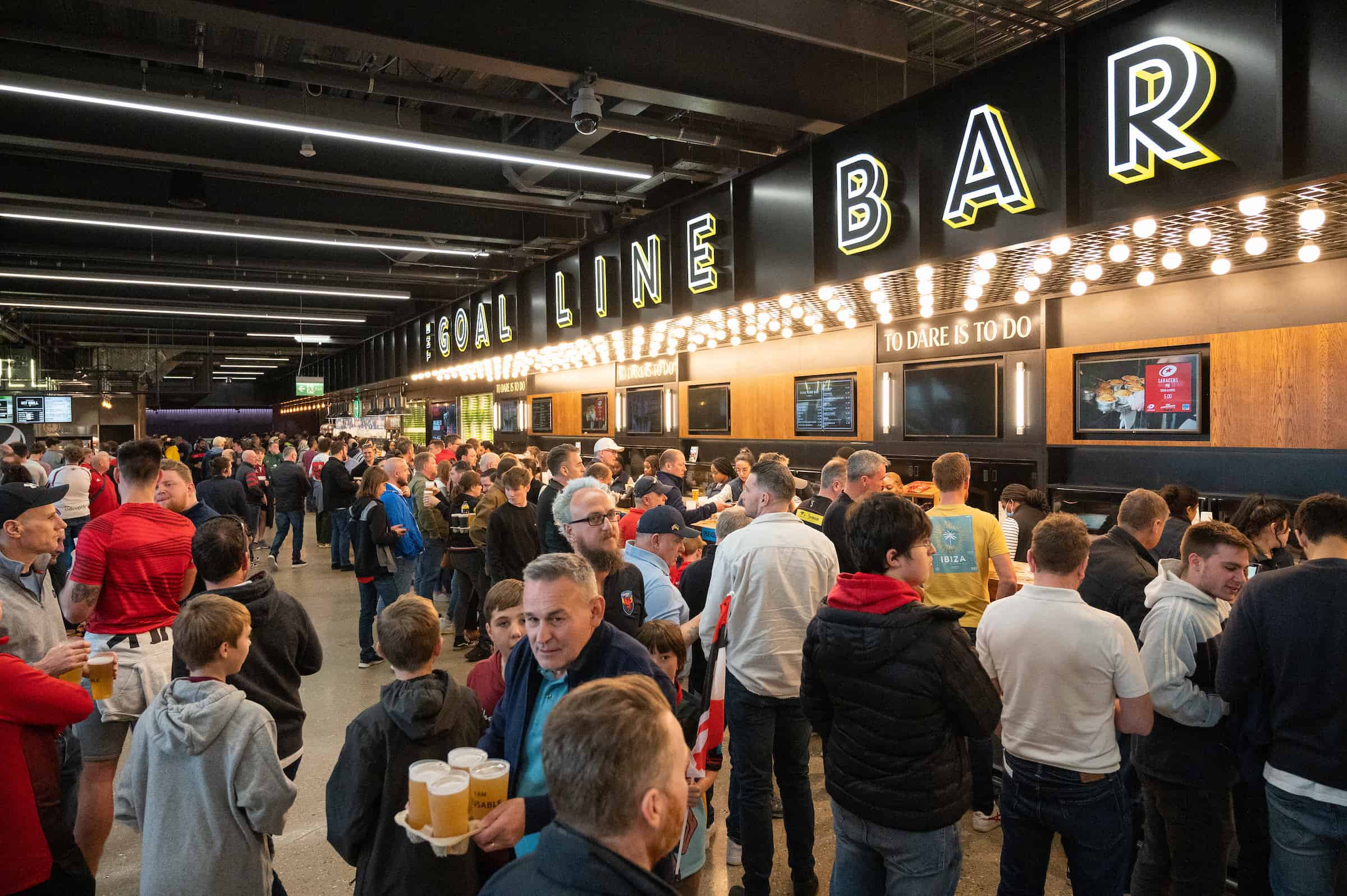 TOP QUALITY FOOD & DRINK TO SUIT ALL TASTES
FOOD AND DRINK
There are unlimited options of food & drink available at Spurs Stadium. The 60+ food & drink outlets serve a wide range of delicious food, taking inspiration from London's vibrant street food market scene – a mixture of diversity & fan favourites!
Don't forget to check out the Goal Line Bar – the longest bar in Europe!
ALL FOOD OPTIONS
EASY ACCESS TO THE STADIUM
TRAVEL
Tottenham Hotspur Stadium is highly accessible by public transport. The four stations serving the stadium are home to London Underground, London Overground & Greater Anglia services. There are also numerous TfL buses, walking routes to and from the stadium stations, and ample cycle parking around the stadium.
Please note, Tottenham Hotspur Stadium is a no-parking stadium.
ALL TRAVEL OPTIONS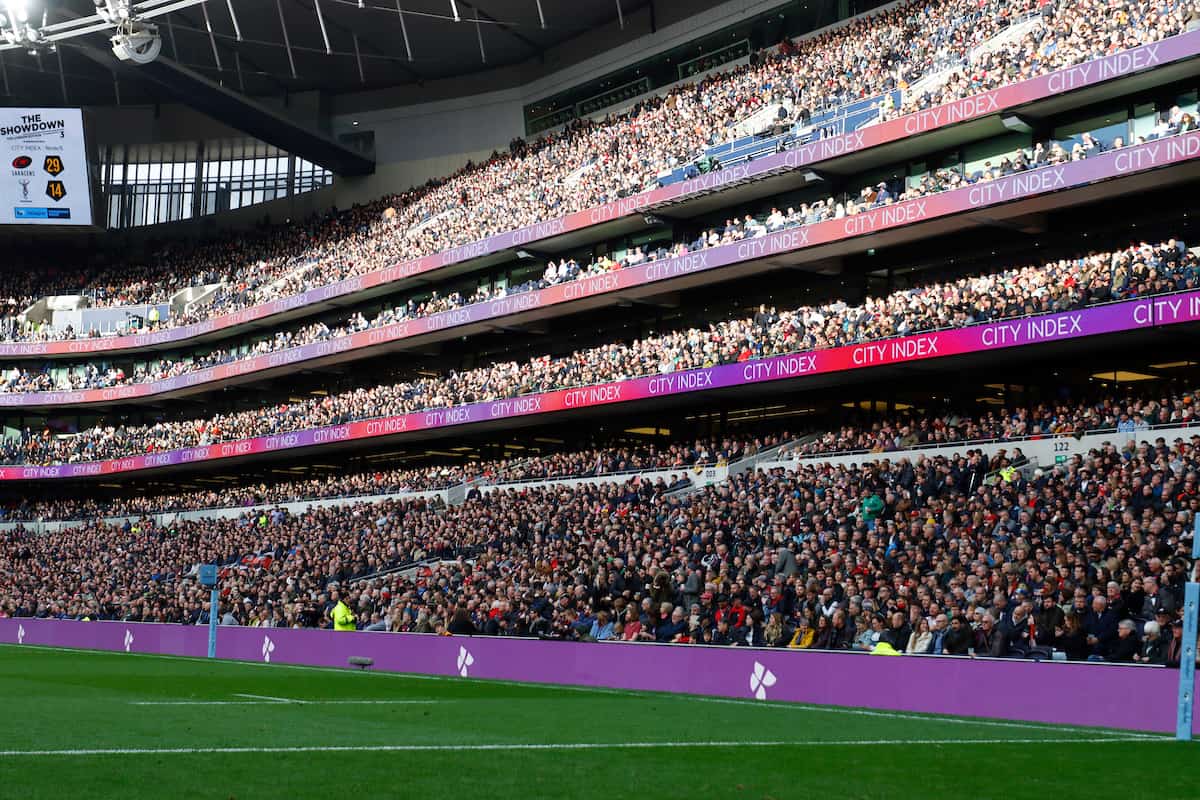 GATES OPEN
Enjoy all that Tottenham Hotspur Stadium has to offer, and look out for the pre-match entertainment happening all around the stadium!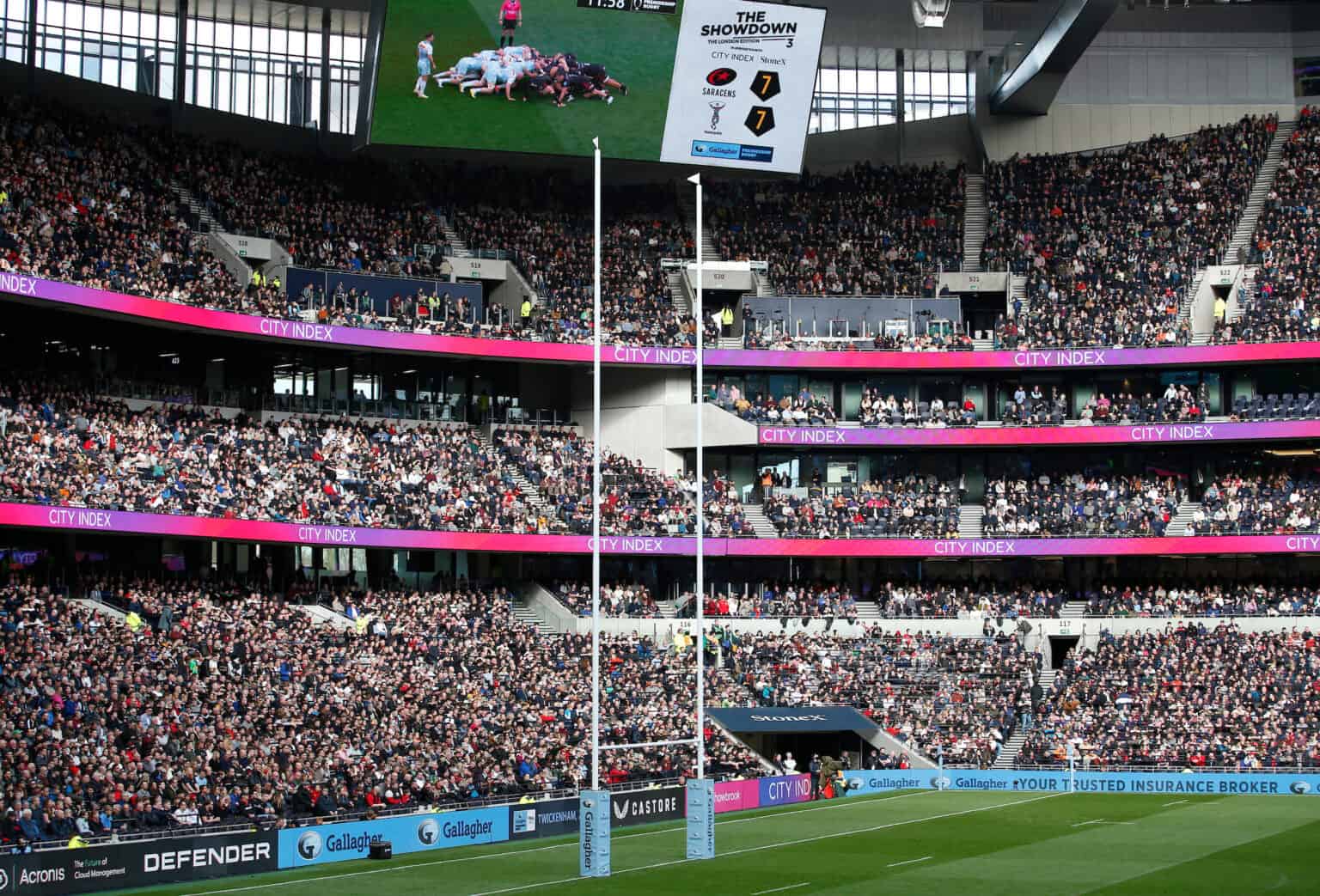 IN-BOWL ENTERTAINMENT STARTS!
Head in-bowl to experience music, entertainment and some Sarries surprises!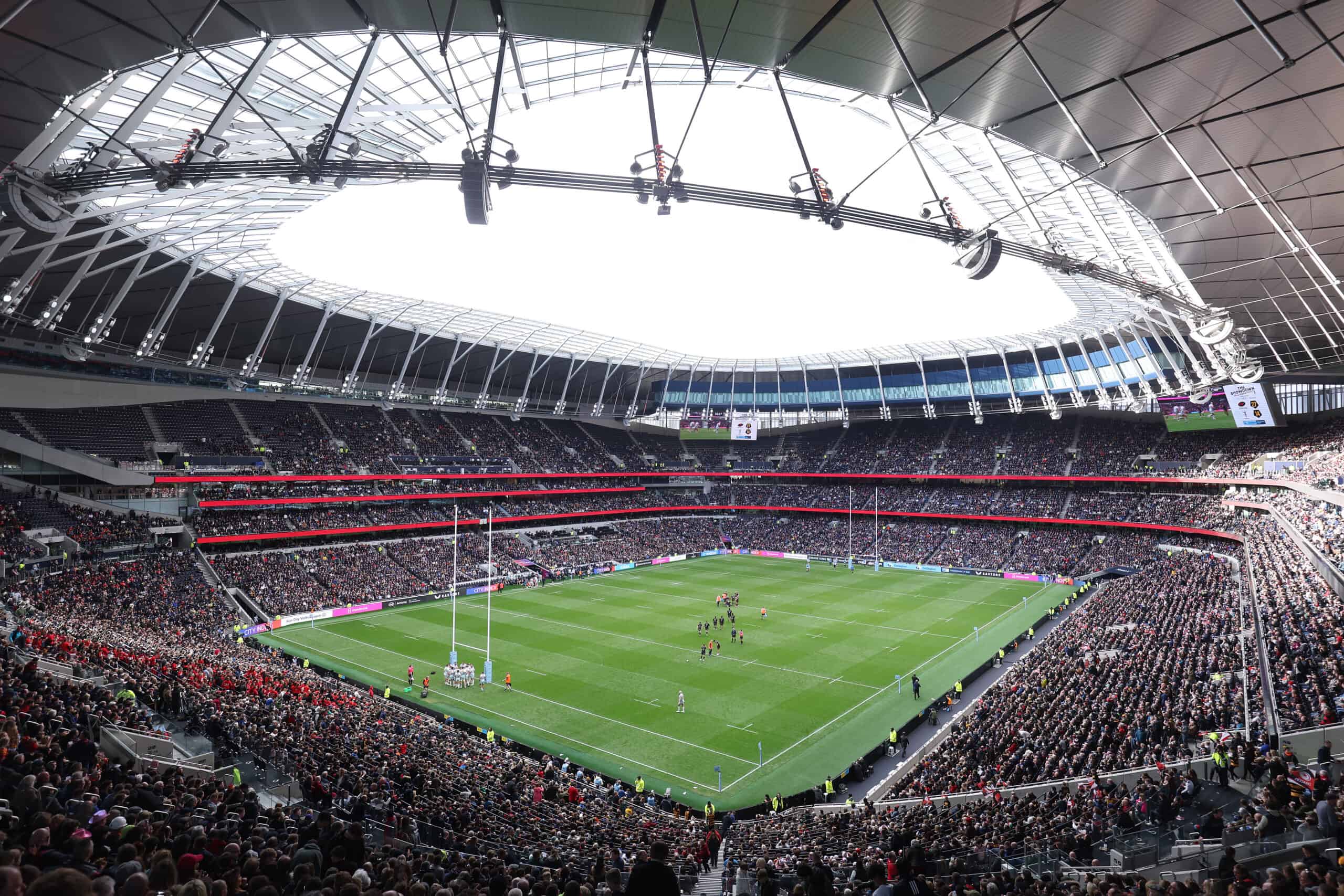 KICK-OFF
At 15.05 the rivalry commences as our Men in Black take on Harlequins in The Showdown 4!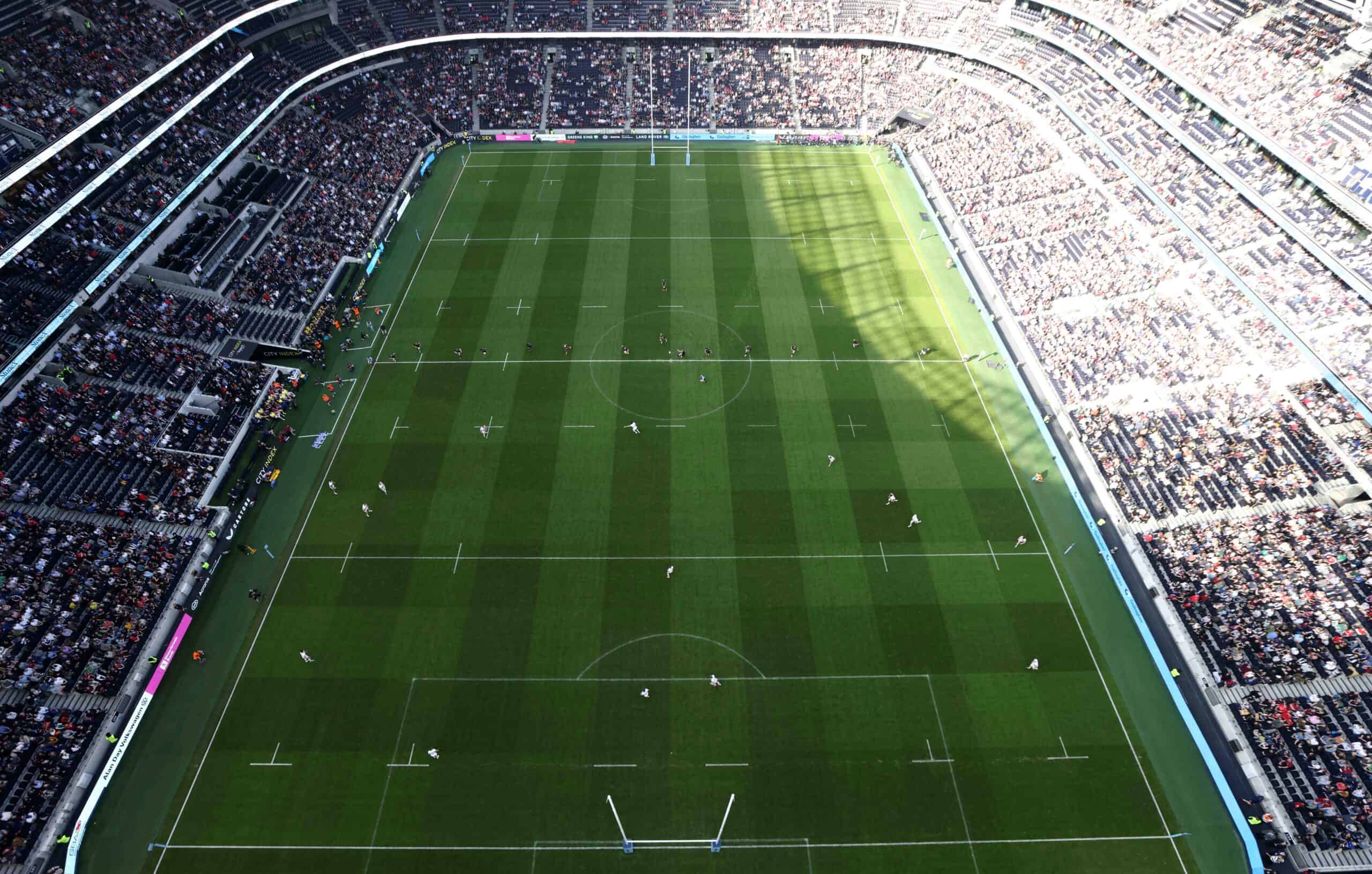 POST-MATCH ENTERTAINMENT
Stick around post game to continue enjoying all the food and drink offerings at the stadium.
Why not head to the Fan Zone (South Stand) and check-out the DJ set!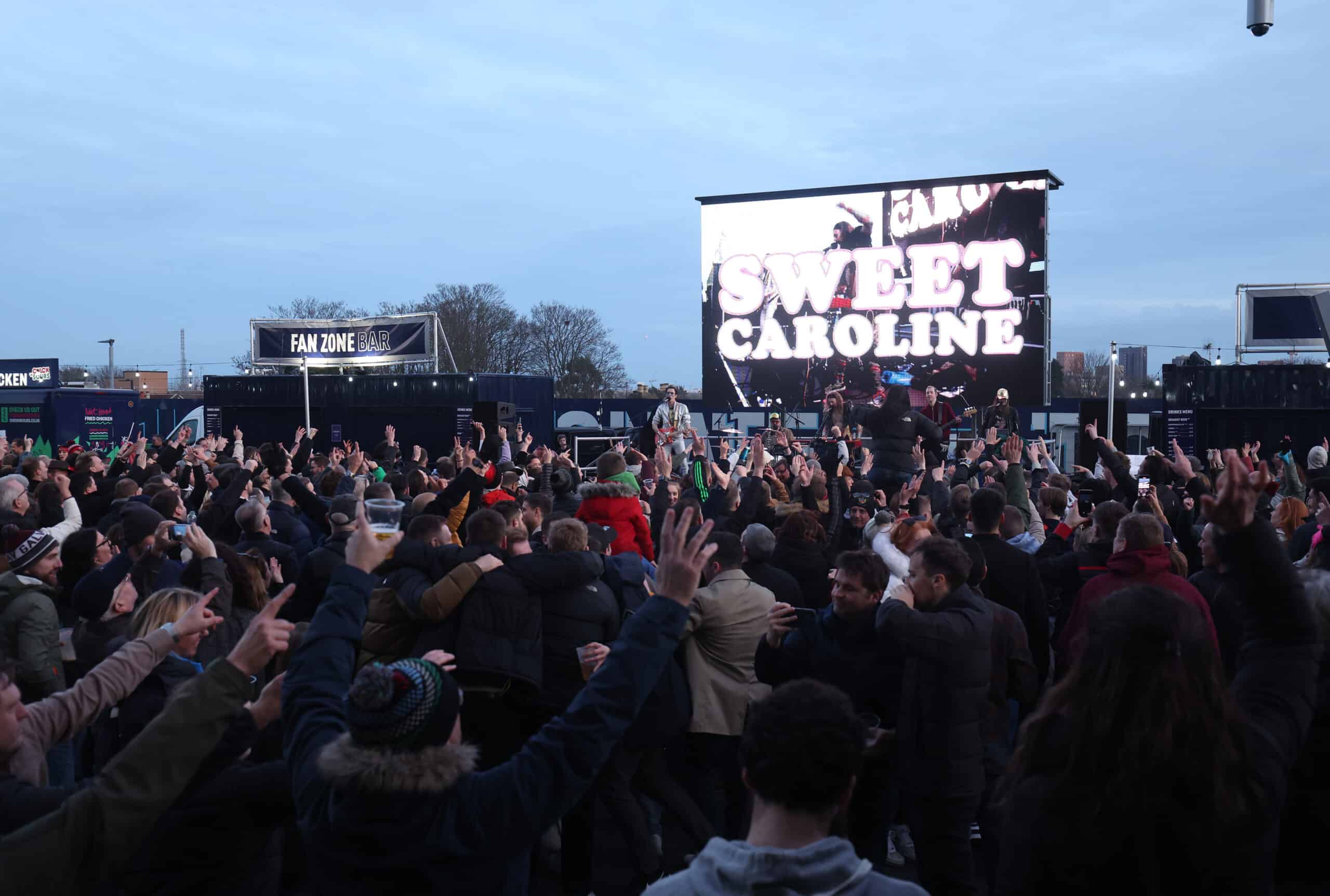 STADIUM CLOSES
Please note that the stadium and Fan Zone will close at 6.30pm.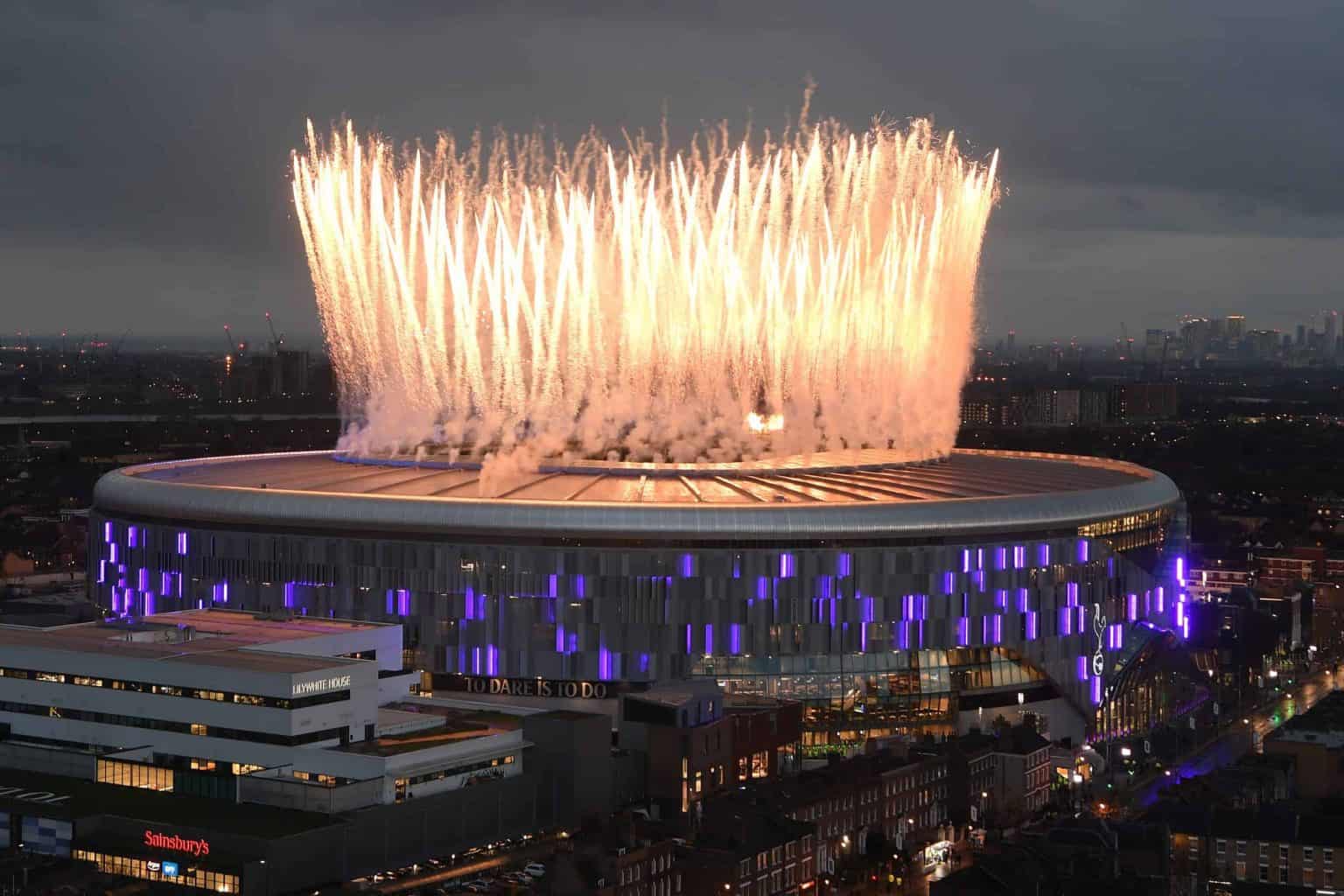 Tottenham Hotspur stadium offers truly unforgettable match day premium experiences from just £105 pp. Whether you're looking to relax in an informal lounge setting or enjoy pure match day luxury there's something for everyone at The Showdown 4.
I registered for early access to tickets, how do I receive this?
If you have registered your interest for the game, you will be prompted as soon as the relevant booking window opens with your opportunity to buy tickets.
As a Seasonal Member, what are my ticket benefits?
As a Seasonal Member this highly anticipated fixture is included as part of your membership, but you will need to book your seats.

The Seasonal Members' priority window will open on Tuesday 1st August at 12pm, opening up for General Sales two-weeks later.

N.B. Hospitality Members do NOT need to book places as they will be contacted by their account manager.
Seasonal members may…
Book the same number of tickets you currently hold at StoneX Stadium in the equivalent seat or hospitality category at Tottenham Hotspur Stadium.
Bookings will need be made by the lead client on your Seasonal Membership booking.
Upgrade to a different seat category or a hospitality package by requesting a call back from a member of our team.
Benefit from a 50% discount on unlimited General Admission tickets for friends or family in any seat category for a limited period of time
Benefit from a priority booking window, enabling you to book an unlimited number of additional tickets at 50% off before general sale begins. o This priority window will open on Tuesday 1st August at 12pm
I am a Harlequins supporter, how should I purchase tickets?
If you are a Harlequins supporter and looking to sit with fellow fans at The Showdown 4, we have allocated blocks of seats for away supporters to enjoy. Look out for communications from Harlequins with a ticketing link directing you to purchase specific seats.
Please note: Harlequins supporters are of course able to purchase any seat they wish at Tottenham Hotspur Stadium.
I am a Tottenham Hotspur Member, how do I purchase tickets?
We welcome all Tottenham Hotspur Members to join us at The Showdown 4.
THFC has been allocated groups of seats at the stadium, please await communications from Spurs with your ticketing link to purchase.
How will I receive my ticket?
Tickets will be distributed digitally 10 days before the event. Tickets will then be available to either a) print at home, or b) add to your digital device wallet.
I would like to attend The Showdown 4 with a group of 50 or more, how should I book our tickets?
If you are attending in a group of 50 or more, we have special group discount rates available to purchase. Please contact TheresaBouchier@saracens.net  to book.
Can I bring bags into Tottenham Hotspur Stadium?
Size restrictions apply to bags brought into the stadium.
Tottenham Hotspur Stadium operates a restricted bag policy and supporters are discouraged from bringing bags to the stadium.
Large bags greater than A4 in size (21cm long x 30cm high) are not permitted within the ground.
Only bags of A4 size or smaller (21cm long x 30cm high) will be permitted and all bags will be searched before admission.
Please click HERE for more information.
What items are prohibited from Tottenham Hotspur Stadium?
All visitors to Tottenham Hotspur Stadium, and their belongings, are subject to a search at the venue.
Prohibited items include, but are not limited to:
Bags which do not adhere to the specified Bag Policy (medical exemptions apply)
Bottles of any kind, glass vessels, cans, flasks
Food (Discretion may be shown for children's snacks)
Liquids of any kind (including water and alcohol. The stadium has multiple water fountains throughout)
Umbrellas greater than 1m in size
Laptop Sleeves larger than 37cm x 31cm in size and any laptop bags
Flares, smoke cannisters, air horns, laser devices
Unlicensed musical instruments and other devices capable of causing a disturbance or nuisance
Darts, frisbees (and similar items)
Dangerous or hazardous items
Illegal substances
Fireworks, flares, explosives or ammunition
Knives, blades, firearms and weapons of any kind
Scooters, skateboards and other skates
Flags, Signs or banners that do not meet our Flag and Banner Policy
Flagpoles greater than 1m in length
Spray paint, large industrial style 'permanent' marker pens
Transmitting devices
Professional cameras (including cameras with interchangeable lenses) and recording devices
Unauthorised fliers, illegal merchandise items, illegal charity collection utensils
Motorbike helmets
Animals (except service dogs and assistance dogs)
Prams and pushchairs (this may be assessed for each event – please check the relevant event page for further information)
Can I bring my own food & drink into Tottenham Hotspur Stadium?
No food and drink may be brought into the stadium due to issues of provenance, safety and rubbish generated.
What Food & Drink will be available at Tottenham Hotspur Stadium?
There are a wide range of food and drink choices available at the stadium. Click HERE for more information.
Look out for the feature bars around the stadium including:
The Dispensary (West Stand Level 5)
The Goal Line Bar (Market Place South Stand)
The White Hart (East Stand Level 5)
Beavertown microbrewery and taproom (South Stand Level 1)
The Shelf (East Stand Level 1)
What payment methods are available at Tottenham Hotspur Stadium?
Tottenham Hotspur Stadium is a fully cashless venue and no cash is accepted for any purchase made within the stadium, including at the Tottenham Experience.
What Access is available at Tottenham Hotspur Stadium?
If you have any queries regarding accessibility parking at Tottenham Hotspur Stadium please contact supporterservices@saracens.net
If you have any queries regarding venue accessibility/aid, please contact access@tottenhamhotspur.com.
We welcome assistance dogs and have dedicated spending areas to the North and South of the stadium.
Accessible Toilets
There are 66 accessible toilets in the stadium, found throughout the concourses, hospitality lounges and in the Saracens flagship shop.
Ambulant accessible toilets are available in each of the public toilets throughout the stadium, which also has three Changing Places facilities.
Deaf and hard of hearing
All seats within the stadium are covered by radio-based assistive hearing system. The system is designed for supporters who have Telecoil hearing aids, with the 'T' setting.

Guests wishing to use this service can sign out a headset from one of our Accessible Entrances (1,5,13 or 17). This must be returned to the accessible entrance or a steward on departure.

Hearing loop systems are also fitted at selected catering kiosks and within certain check outs at the flagship shop, Tottenham Experience.
Blind and partially sighted
Audio descriptive commentary is available to supporters via the use of a receiver and headset. Guests wishing to use this service can sign out a headset from one of our Accessible Entrances (1,5,13 or 17). This must be returned to the accessible entrance or a steward on departure.
Sensory Suite
Should you need respite, we have a Sensory Suite situated in the North Stand, block 416, and offers a comfortable and calming environment for supporters on the autistic spectrum or with sensory impairment conditions to watch a match. We have recruited Sensory Suite supervisors with experience in both disability and autism awareness to facilitate guests on the day and provide assistance where needed.
At the current time, the Sensory Suite can accommodate a maximum of three customers, including one personal assistant.
Will wifi be available at Tottenham Hotspur Stadium?
Wifi is available throughout the stadium. Simply select the Wi-Fi network named 'Stadium_Guest' in your phone's settings that will then bring up a registration page – once you have accepted the terms and conditions for using the Wi-Fi, you are then automatically connected.
Age Restrictions
There are no age restrictions, however, all children aged 2 and over require a seat. Infants under 2 do not require a seat but will require a free "babes in arm" voucher. Please make your booking first before sending your file number to supporterservices@saracens.net to request the voucher.
Lost Children
If you become separated from your child, please notify the nearest steward immediately, providing as much detail as possible (name, age, appearance, place last seen).
Baby Changing
There are several changing facilities within the stadium, situated either inside one of our accessible toilets or one of our medical rooms. Please speak to a steward once inside, for your nearest one.
Push Chairs
There are no facilities within the stadium for storing push chairs.
What time will I be able to enter Tottenham Hotspur Stadium?
The stadium + ticket office will open at 12H30 on match day. Fans will find the ticket office located at the North-West Corner of the Stadium.
Make sure you leave enough time to go through stadium security on your arrival at the ground. All supporters must enter the stadium through the turnstile specified on your match ticket.

Fans are encouraged to take their seats in the stadium bowl 30 minutes before kick off.

Please note there is no re-admittance to the stadium once your ticket has been scanned.
Will I be able to park at Tottenham Hotspur Stadium?
Parking is limited, but is available to purchase on a first-come-first-serve basis. Parking is operated by a third party, and requires online booking, the link of which will be shared once live.
What is the easiest way to travel to Tottenham Hotspur Stadium?
There are numerous ways to travel to this North London stadium. To review options, please visit