FEATURE INTERVIEW | Alex Lewington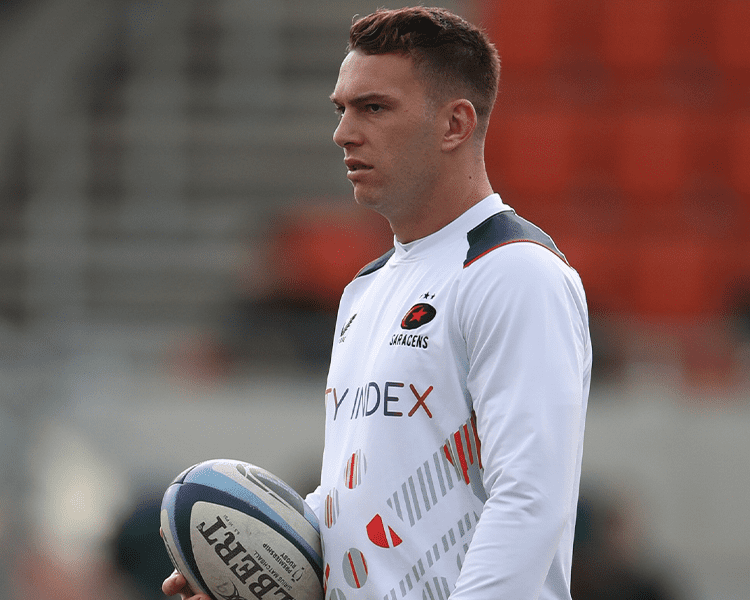 Alex Lewington celebrated a major personal milestone with Saracens when he became the club's latest centurion against Gloucester.
The wing, a popular and respected figure at the club, marked his 100th appearance with another performance we have come to expect from him in the 19-16 victory at Kingsholm.
Lewington, 31, brought a level of professionalism that Sarries supporters have come to expect from him since he signed for the club in 2018.
"To hit that milestone last week was really special and it's something I didn't think I would achieve this quickly when I joined the club," said Lewington.
"I probably won't appreciate it until my career is over and have a moment to think about it, with the quality of players here is exceptional and there is real competition every week to play
"So I am incredibly proud with how things have gone here."
His rugby journey has been one of resilience, desire and determination to succeed with an ability to score tries part of his make-up as a player.
The former Notts County FC Academy defender has forged a reputation as a clinical finisher in the Premiership, doing something he always loved to do when he first fell in love with rugby.
"As a boy I started playing rugby to score tries and that is still there," said Lewington.
 "It's so hard in the Premiership as a winger now, once you have played and teams now who you are it's tough to do what we do.
"You almost have to reinvent yourself because when I started people didn't know who I was and I took advantage of that.
"People are aware of what you do and what you bring after a while and it's a reminder to keep making the contribution to the team when you are on the field."
Lewington has not had it easy forging a career in the professional ranks but has emerged as a widely respected figure at Saracens and in the Premiership.
His time with Leicester Academy saw him have a spell with Nottingham on-loan outside the top-flight before he pitched up at London Irish where he established his try-scoring reputation.
"That was a brilliant move for me and I always encourage the younger players here to go out on loan and become the star players in those teams," said Lewington.
"I got real confidence and belief playing at that level. You need to know you are more than capable at that level to push to a higher level and that's what happened to me."
Lewington played for England U16s with teammate Owen Farrell before he signed with Sarries and quickly emerged as fans favourite with his commitment to the cause.
He made a try-scoring debut when he crossed twice for the club against Newcastle away and scored 11 tries in his debut season.
"It is nice to be recognised but it's not why I do it," said Lewington.
"I love playing, being around the players, the coaches and the staff but it is really encouraging when the fans get behind you.
"I can hear it on the field because of the position I play and hearing those home fans, who watch you every week, and hearing the love of the Saracens fans is really special.
"It is something I don't take for granted and will miss when I finally stop playing."
As a player arriving from outside the club, he has real insight into the unique and renowned culture that drives everything at Saracens.
"I am a big advocate for the club and I enjoy being around here and doing what I do but the culture at the club comes from everyone here," said Lewington.
"At first you assume there is this brilliant culture and there is, but you start to realize that it needs adding to all the time.
"Everyone has their role in delivering it and it's only when you have been here a while and relax into it that you have to play your role in the culture.
"It's that collectively that really drives the culture at the club."
And, Lewington is very much a part of the Saracens way.