fourfive Group Ltd become Official Wellness Partner for 2022/23 Season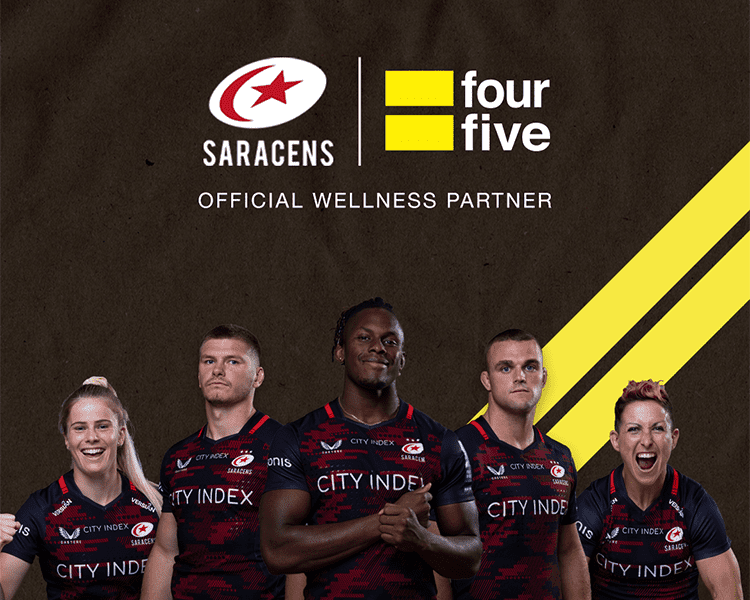 Saracens is delighted to announce the partnership renewal with fourfive Group Ltd, who have become the Official Wellness Partner for the 2022/23 Season.
Supporting the Men, Women and Mavericks, fourfive is the latest partner to support all three elite teams at StoneX Stadium.
Founded by former Saracens players George Kruis and Dom Day, fourfive aims to help people lead healthier, happier lives through the power of CBD and Vitamin supplements.
fourfive will support the players of all three Saracens teams throughout the 2022/23 season with their range of products, helping them to perform at their best in elite level sport.
Lucy Wray, Saracens CEO is delighted to renew the deal with two familiar faces.
"George and Dom will always be part of the Saracens family and we are extremely proud of them and their achievements in their careers after rugby. The FourFive products are first class and it is exciting to see how fast the company is growing. The passion and ambition for their company is so brilliant to see."
George Kruis, Co-Founder of fourfive added: "As an ex-Saracens player I know the level of care that is provided by the club to the players. For our products to be recognised by the team nutritionists as some of the best out there, makes us incredibly proud. 
Our products have been developed for maximum efficient absorption, with only the best ingredients so we are delighted to continue to include Saracens in the growing number of clubs."