Grant relishing full time environment with Scotland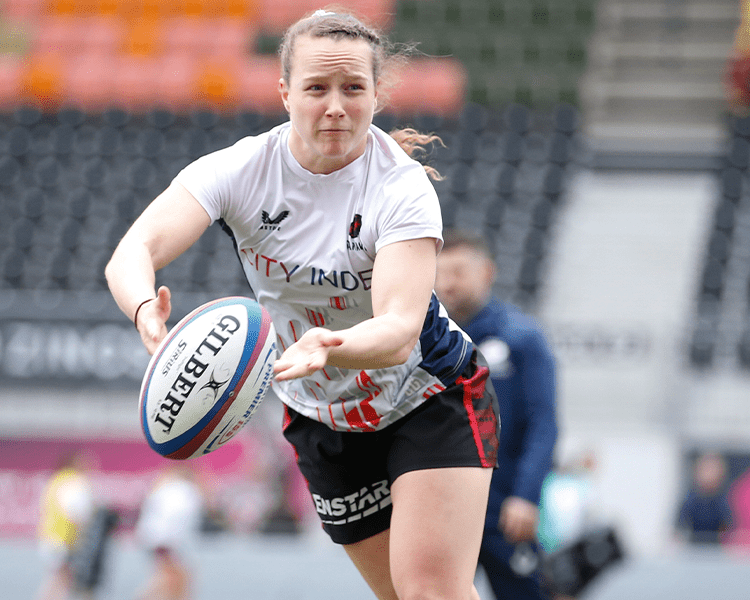 Having impressed throughout the season so far for Saracens Women, wing Coreen Grant is making her mark on the international scene too.
Grant scored her first try for her country in round two of the 2023 Six Nations Championship, having made her first start for her country the week before against England.
Grant, alongside club teammates Jodie Rettie and Louise McMillan, was amongst the group of players who were awarded full-time Scottish contracts earlier this season and she explained that culture within the Scottish camp was incredibly important.
"Competition is great. It's what drives us to be better. It's a lot about the culture. The Saracens support is incredible. The fans are massively dedicated, and it gives us a real sense of belonging with the club. It's a thread I've found with Scotland too. We want to make the fans proud really."
Touching on the full-time contracts in the Scottish game, Grant admitted that she was thrilled to have received one, but that being part of a community was the reason why she played the game.
"For a lot of us, it's our job now which is brilliant. That's not the reason we play rugby though. We play rugby because we love it and because of the community we find within it. Stepping on the pitch alongside my teammates is so important. I want to put on a display that my friends, family and the fans are all proud of."
Grant was part of the Scottish squad that went to the Rugby World Cup in New Zealand and, having made the step up from the U20s to the senior squad a few years ago, she explained that it was a huge honour to represent her country.
"It feels like it was quite a while ago that I was first called up, but it was so exciting. I'd been involved with the under 20's for quite a while but the girls made the step up really easy. It's what every athlete wants to be able to represent their national team."