Hannah Casey, the latest Saracens Women's player to reach the 100 Club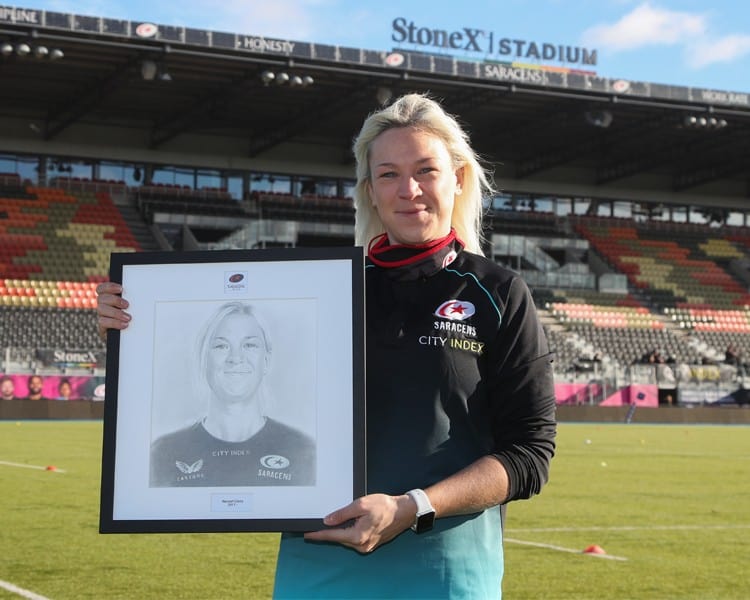 Hannah Casey became the latest player for Saracens Women to reach the 100 Club as she completed a century of appearances in the recent win over Worcester Warriors.
The former Ireland international, who has been a stalwart in the Sarries midfield for almost a decade is a firm fan favourite at StoneX Stadium so we asked her to pick the top three matches from her time in North London! 
Season: 2013/2014
Saracens 13-14 Richmond
Back then we just played within the league table and there were no semis or finals so it was just top of the table that won it. It came down to the final round game which would determine the winner of the league and we lost by a single point. It was such a hard game and soul destroying to get so close but to lose….so that game will always stick with me and it has definitely helped to motivate me as well as making the times we have won even sweeter!
Season: 2018/2019 
Saracens 31-28 Harlequins
This was an intense match and after losing at The Stoop by three points earlier in the season, we had a point to prove. It didn't start off well and we were 16 points down with only 15 minutes to go but we pulled it off and won 31-28!
It was pure grit and determination from the team to produce the come back,I even channelled my inner forward with a pick and go try so that was pleasing!
Season: 2018/2019 
Saracens 33-17 Harlequins (Final) 
Favourite game.. how could it be any other one! Everything just clicked as a team and we came out firing. I remember being in the Franklin's Gardens changing rooms before the game and I was so relaxed and ready to do my job. I love the hard games and to really be tested which Quins alway provide. To win the title on my returning season was so special.
Saracens Women are currently top of the table as we approach the second half of the season, and everyone at StoneX has their fingers crossed that Hannah will be adding to this list come the end of the 2021/22 campaign!