It's been a really good challenge for me - Rettie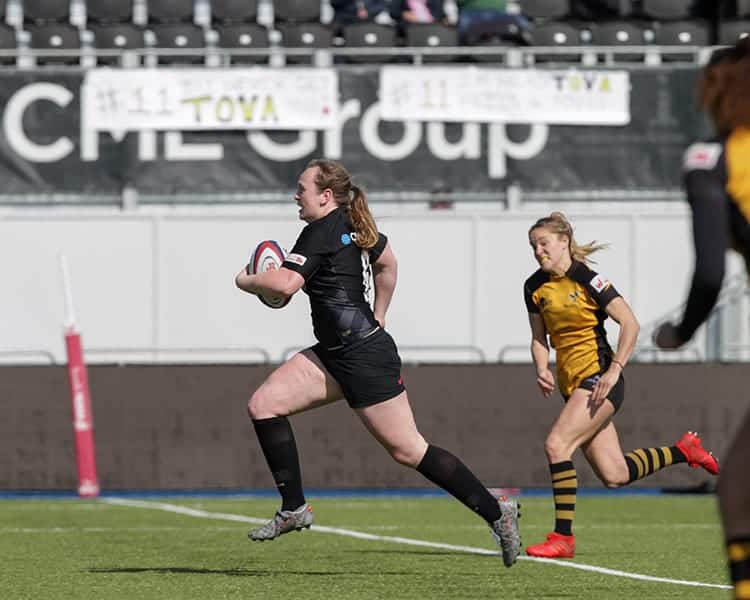 With pre-season having started in early July, it has been a long shift for a number of the Saracens Women squad in the build-up to the 2019/20 Tyrrells Premier 15s season.
Jodie Rettie has been involved from the very beginning and while it's been a tough few weeks, she is well aware of how crucial this time has been ahead of the opening round of matches.
"It's been really good to get some time in and get prepared for the season in terms of fitness," she said.
"Also just making sure that we're embedding new players in and making sure they're aware of the style that we want to play and be game ready for Bristol next week."
With the arrival of those new faces at Allianz Park has come an added responsibility on returning players like Rettie. Not only to maintain their own standards but to also be positive influences and leaders, especially with a number of senior players away during the summer.
"I think it's been a really good challenge for me personally, helping others come along and stepping into that position.
"Nice to have more Scots in the squad!"
"It's a good opportunity to provide leadership because with players away on tour or for whatever reason then it's good to know we have that strength in depth of players that are happy and comfortable in those leadership positions."
One of those new faces is Rettie's fellow Scotland international, Lisa Martin. The Scottish playmaker brings a wealth of experience at both international and domestic level and Rettie is confident she will make an impact once the season starts.
"Nice to have more Scots in the squad!" Rettie joked.
"She brings a lot of leadership skills. She's really calm and collected when posed with different scenarios on the pitch. She'll bring a level of confidence and experience that will benefit us greatly on the pitch."
While the season starts on the road to Bristol Bears Women on Saturday 21th September,  Saracens Women will be back at Allianz Park a week later against Richmond FC (Sunday 29th September).
Having come through a number of close matches last season, the utility forward is well aware of how valuable it is to take advantage of home comforts.
"You always get excited to play games in front of your home crowd. The way the crowd gets behind you always brings a new level to the way that you can play, especially if it's getting to the last few minutes and you've got the crowd behind you. It makes a massive difference.
"Being on home turf will be fantastic and it's a great advantage. You can't knock it when you play here, it's great facilities and the atmosphere is great when you come."
Watch world-class rugby at Allianz Park for as little as £5! Make sure you get your tickets HERE!