International Women's Day: Spotlight on twelve months of huge success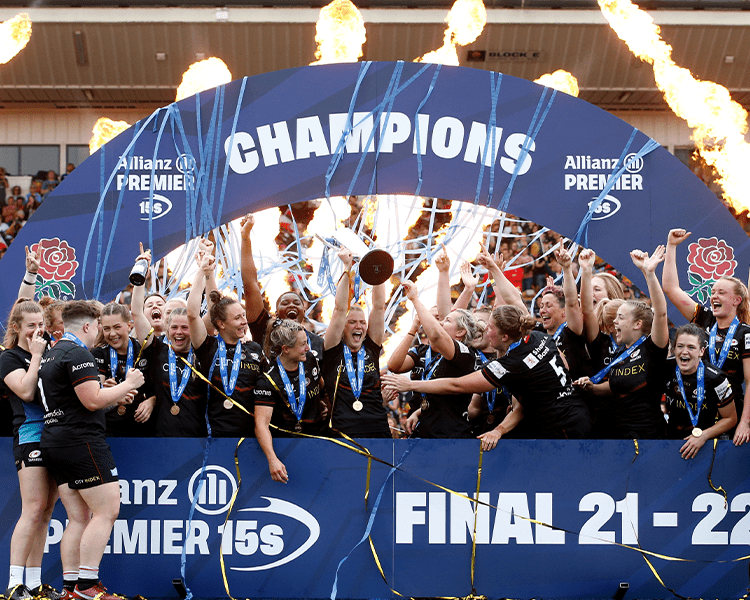 It has been a huge twelve months of success for women's sport, with record attendances, world accolades and landmark achievements.
From the Lionesses winning the Euros to the Red Roses' record breaking 30-match unbeaten run and a sold-out Eden Park for one of the all-time great Rugby World Cup finals between England and New Zealand, there have been plenty of landmark moments.
The same can be said of the last twelve months at Saracens too. From the rugby side, the highlight on the pitch is undoubtedly the Premier15s final at Sixways, where Alex Austerberry's side regained their title with a 43-21 victory over Exeter Chiefs, in front of a record crowd for a Premier15s final.
The Rugby World Cup saw nineteen Saracens stars representing seven countries in the tournament, with 22 of the 26 matches played having representation from at least one player in the current Saracens squad.
That interest and hype around the side and women's rugby in general has continued this season, with women's seasonal membership numbers growing from 31 to 856 and a club-record 2992 people attending The Duel against Harlequins. With seasonal memberships set to soon be launched for the 2023/24 season and ahead of a home world cup in 2025, there's never been a better time to throw your support behind the side!
Nine Saracens stars have also been named in the Red Roses squad for the upcoming TikTok Six Nations, including three potential debutants that all started their rugby journey at Saracens.
It's not just on the rugby field that there has been significant milestones in the last twelve months. Saracens Mavericks Netball have never been more aligned with Saracens Group, as they continue to develop and evolve in the Netball Super League. The season opener this year in Nottingham sold out, whilst 25 players produced by the Mavericks pathway have gone on to play in the Netball Super League over the last five years.
Saracens Mavericks continue to 'build from within' as one of the key Saracens Group mantras, with former player and assistant coach Camilla Buchanan taking the reigns as Head Coach this season. Captain Sasha Corbin has also started her tenth season as Mavericks captain, having first played for the club in 2016.
The 2022 season saw some nail-biting matches and an impressive victory over Surrey Storm. So far in 2023, Mavericks have secured two victories at home against Leeds Rhinos and Celtic Dragons as they look to introduce a new structure and style of play.
This weekend, the side will also embark on a landmark fixture against England Thorns, becoming the first Netball Super League side to take on the men's team.
The Saracens Foundation and the Community Teams have also had a huge role to play in the last twelve months, with huge attendances and girls only camps and significant interest in pre-match festivals and tournaments at women's matches.
Saturday's match against Sale Sharks also saw the Gallagher Project Rugby festival take place ahead of the game, inspiring girls from all walks of life to get active and learn how to play rugby.
The Empower Her project by Shawbrook Bank and the Saracens Foundation have also been shortlisted for Sport Industry Awards, as Saracens Group and its partners continue to be as diverse, welcoming and inclusive as possible.