Josh Ibuanokpe: Nigerian roots, education and rugby It's not uncommon to see British-Nigerians excelling in professional sport.
Six of England's 2017 Under-20 Football World Cup-winning squad were of Nigerian descent. Ex-track and field athlete Christine Ohuruogu, born to Igbo parents, is an Olympic gold medallist. Former unified heavyweight champion of the world Anthony Joshua has paid homage to his African roots with a tattoo of the continent on his right arm. Closer to home, Saracens, England and British & Irish Lions lock Maro Itoje speaks very fondly of his heritage.
As does Josh Ibuanokpe whose family hail from the African country.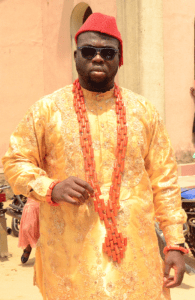 Sarries' summer signing is very much a family man, proud of his Nigerian ancestry. So much so the 23-year-old became envious of his young nephew when he was gifted his nation's football shirt ahead of him.
"My girlfriend actually bought my Nigeria top for me. I really wanted one for a while but I didn't think they made them in my size!" he chuckled, dusting the Super Eagles badge emblazoned on his chest.
"My mum bought one for my nephew and I was so jealous - he's six but I was so jealous! Literally she bought it for his birthday and I was like 'as if he's got a Nigeria shirt!'.
"My girlfriend saw that and bought one for me! I haven't had my day made like that in a long time."
Born in south London, Ibuanokpe's mother and father were born in Nigeria. As were his brother and sister.
Last year was the first time he had made the 4,000-mile journey to West Africa due to the passing of his grandmother. It was a trip he describes as 'a big experience' and a place that 'felt like home'.
"My mum bought one for my nephew and I was so jealous - he's six but I was so jealous!"
"I'd heard so much and so many things came together, so many little stories," he said.
"It was nice to go where my mum grew up rather than just the big cities which was quite cool. It's always nice to go home – even though I'd never been it still felt like home. There was so much culture that I'd seen from my family in England but this was everyone.
"It was a very good experience and I'd love to go back again. Hopefully when I get older I can find time to go a lot more and hopefully my parents can as well as they haven't been back a lot."
Rugby is not particularly popular in Nigeria to say the least. The country is 70th in the Men's World Rankings with only a handful of players eligible to play for the international side plying their trade in the Gallagher Premiership.
Ibuanokpe is one of those, first picking up a ball in Year 7 at Dulwich College. The sport was foreign to his family and his parents were keen to ensure his studies were priority number one.
"I wouldn't call us a rugby family to say the least," Ibuanokpe explained.
"It's always nice that not just my parents but my brother and sister, my brother's wife and children, all support me; they support me more than they support rugby if that makes sense which is always nice because I know they're coming to watch me more than anything else!
"When I started playing my parents were like 'don't forget why we sent you there… for your studies' and 'If it gets too much you'll have to let it go' but I was always someone who thought if both could be done then I'd be the one to do it."
The juggling of school and playing rugby stayed with Ibuanokpe throughout his time at Dulwich College where he was spotted by Harlequins and offered an Academy contract.
At The Stoop, he undertook a Physics degree at the University of Bristol which was reliant on the tighthead prop training on his own, doing his own strength and conditioning, whilst in full-time education mode.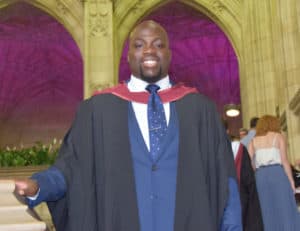 A Science was always the top of Ibuanokpe's list of subjects to study but one of the oldest academic disciplines wasn't necessarily his first choice.
"I was ok at it in school. I originally wanted to do Economics but with my parents both being sciencey - my mum is a mathematician and my dad is an engineer – and now both being into computing – my mum is doing a PhD in big data and my dad is working in a Fintech company.
"They always pushed me towards the more traditional sciences rather than economics. My mum kept pestering me and I was like 'ok fine, I'll ask them if I can change my course!', they accepted and they let me change."
Clearly from intelligent stock, the ex-England youth international would return to full training at Quins during study leave. Certainly a difficult transition, but did he ever think of giving up one or the other?
"When things are hard in pre-season and its summer you're always going to think about it; similarly, when you have exams over Christmas or in your five-week break… what I was lucky to do well was I didn't panic about stuff – when it came to exam time I worked hard and when it came to rugby I tried to work hard to. There's only so hard you can work when you're juggling the two."
Thankfully for Ibuanokpe, he graduated in the summer leaving one focus.
"There's a big weight lifted in that sense in terms of juggling the stress and strain of study and professional life.
"There's a big, big, big reputation that comes with wearing the Saracens shirt."
"That being said I'm doing an Open University course (studying Maths) now so I don't know how much rest I'm giving myself but it'll definitely be a lot less hands on than a full-time course!"
Perhaps not.
A change in field coincided with a new setting for his career in rugby.
His hard-working nature has continued at Saracens, the proof being the qualified physicist has lost '7-8kg that sort of region' in weight since arriving in July.
He is now settled at the club after a long, arduous pre-season and knows an opportunity is there for the taking while five props – two number threes in Juan Figallo and Vincent Koch – compete at the 2019 Rugby World Cup.
"That was one of the things that I was told before I came that there was a big opportunity to be involved from the start, maybe get thrown straight in unlike some other cases where you might go to a club and wait for your time.
"It's there for the taking and obviously when those guys come back it will be a case of 'ok, I've established that this is what I can do' and then go from there. They're World Class players which is why they're off to the World Cup but hopefully I can show what I can do in my own right."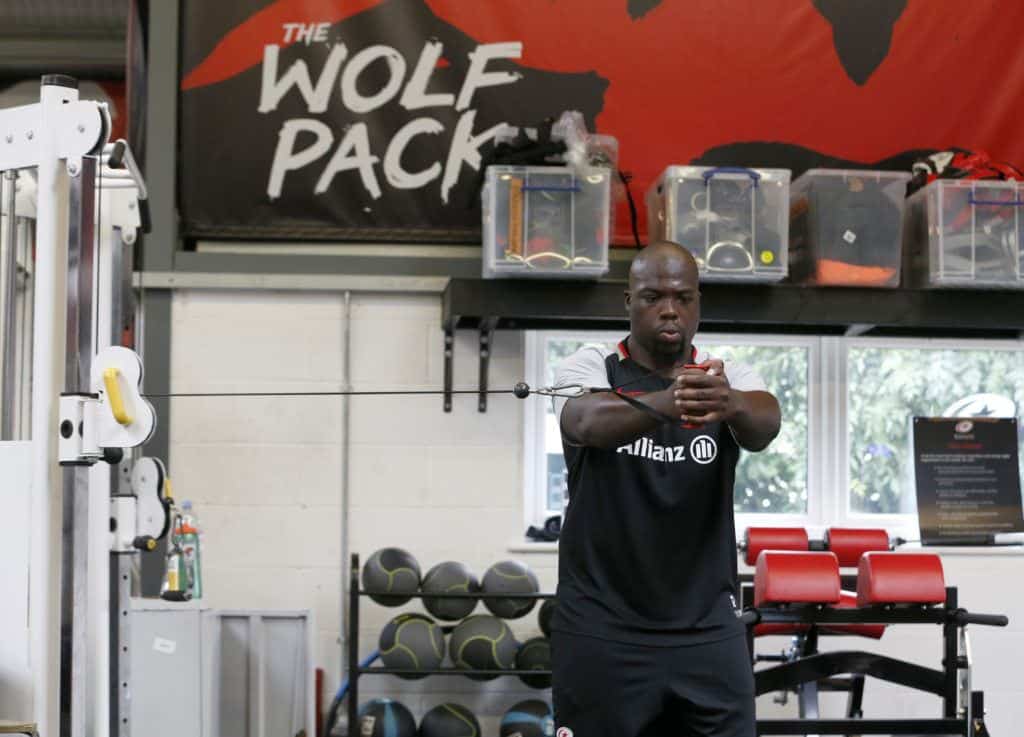 Ibuanokpe's first outing in a Saracens shirt will come in the 2019/20 Premiership Rugby Cup – a competition the Men in Black reached the final of last term.
It's safe to say he's excited to get going.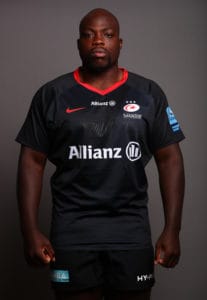 "It'll be massive. It's even weird to look at myself in the headshot, it's pretty awesome.
"It's one of those things you never think you're going to be, especially as a Quin. It's cool because there's a big, big, big reputation that comes with wearing the shirt and it all comes from earning people's respect.
"The lads have been very welcoming, but you have to earn people's respect especially in a place with such high standards. I'd say I'm still trying to do that, I don't think my work is done. People here are hard to impress and that's always a good thing as it pushes you to be better, it pushes you to reach maximum potential."
And in his attempts to earn the squad's veneration, Ibuanokpe will gain Saracens family members along the way.
"That was one of the big things about joining – the family thing. It was very clear to me that it wouldn't just be me joining Saracens it would be my whole family, my girlfriend, and everyone would be involved with Saracens.
"That's one thing I really love. I think sometimes, not just in sport but business in general, that side of things can get lost and the fact it's so important here means a lot to me."
Watch Josh Ibuanokpe in action in the Premiership Rugby Cup. Book your tickets for Saracens Men vs Sale Sharks HERE!