MATCH REACTION | Alex Austerberry (AP15s Rd12)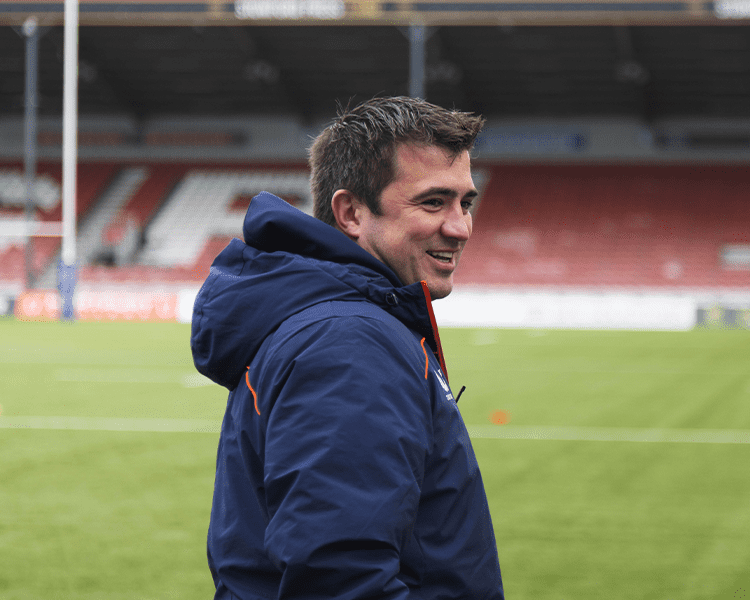 Director of Rugby Alex Austerberry couldn't hide his delight, as he saw his Saracens side and Gloucester-Hartpury their first defeat of the season at Kingsholm.
A pulsating match saw the momentum ebb and flow throughout, as Saracens eventually held on to pull clear, with Austerberry crediting his side for sticking in the battle.
"I'm immensely proud. That performance was full of character. There were times when we were on top and times when we were under the pump. I'm not quite sure it was the full 80-minute performance. There are bits for us to still improve, but you can't question our commitment or desire throughout."
A physical opening period saw Gloucester-Hartpury hit the front, before Marlie Packer responded on the brink of half-time, to pull her side within reach, before a blistering second half burst.
Austerberry felt that his side found the blueprint to play at the end of the first half, as they imposed themselves physically on their hosts.
"We just felt that the blueprint was given to us at the end of the first half. We needed to go to the line, be direct and challenge them upfront. We felt that we were a bit too lateral in the first half but starting that second half well has been a huge focus for us."
"We've come out of the sheds slowly in some games, so it was important we were fast today. Ultimately, everything we have spoken about post-Christmas has been sticking to our standards. Our style is being physical and being direct, so it's important that.we don't lose sight of that."
With Zoe Harrison unavailable ahead of this one, Flo Williams came into the side at fly half and produced a near-immaculate display off the tee. Austerberry was full of praise for his fly-half, for the way she steered the side throughout the game.
"We trust Flo. She's shown what she can do, and she applied it really well. One of the strengths of her game is her goalkicking, so to get those nudges at those key times was critical. Her influence with her kicking and around the park was brilliant, but not unexpected at all."
The player of the match though was Marlie Packer, who provided leadership and physicality throughout, with Austerberry believing that his co-captain is just getting better with age.
"Marlie is an outstanding character who happens to be very good at rugby! When you combine those two things, there is nobody else that you would rather be in the trenches with. Her quality, her aggressiveness and her physicality are just outstanding. Her understanding and her character just rubs off on the younger players and then she comes up with those critical moments as well."
Packer has been one of the best players in the game for years now, with Austerberry paying tribute to the flanker for how she has evolved her game.
"She's been at the top of her game for such a long time and that's testament to her. Your game evolves as you get older and her intelligence and ability to get on the ball in space is wonderful. The league is only getting harder and it's bringing the best out of her."