Mavericks Preview | Gibson relishing home crowd support (NSL Rd2)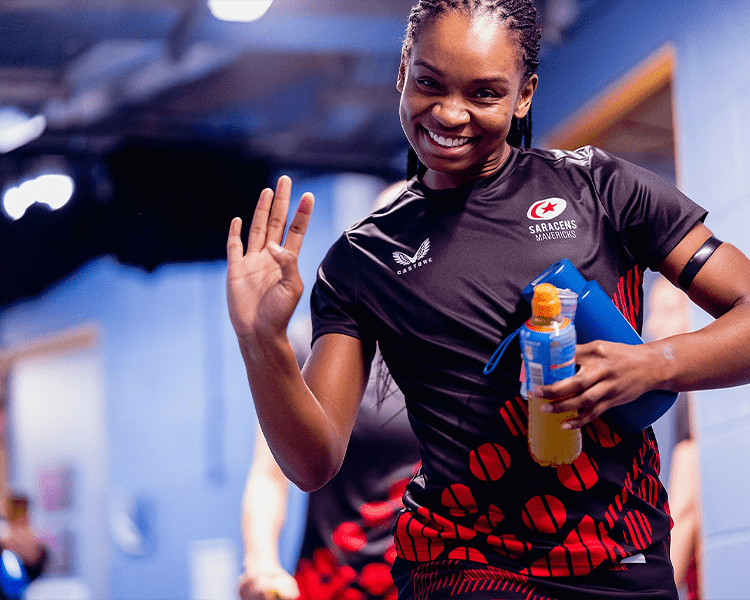 A week on from an opening day defeat to Severn Stars, Saracens Mavericks Netball will be hoping that home comforts will be all they need to pick up their first victory of the season at HSV.
Whilst last weekend's season opener was classified as a home fixture, this is the first time that the side will play at Hertfordshire Sports Village this season.
Camilla Buchanan's side take on a Leeds Rhinos side this weekend, who still bring something of the unknown to the court. Like Mavericks, they started the season with a loss. However, both sides showed glimpses of what they could do on court in those opening matches.
Reflecting on the match against Stars, Jodie Gibson felt that her side hadn't been clinical enough to secure the victory.
"To compete in this league, we need to create more scoring opportunities in attack. At times, we weren't clinical enough with the options and decisions we made in attack. This has been a focus this week."
Ahead of tomorrow's match, Gibson has challenged her side to be able to adapt on court.
"In the game against Leeds Rhinos, I want to see us adapt quicker to changes made by the opposition and to be fearless for four quarters in attack and defence."
That HSV crowd could be the difference maker for Mavericks and Gibson beamed when highlighting their importance to her side.
"My favourite thing about playing netball at this level is being able to play home fixtures in front of an incredible Saracens Mavericks crowd! Our fans are our eighth player. They bring the noise and the energy every single match. We love you!"
Both sides will be looking to secure that all-important first victory of the season on Saturday to kickstart their campaigns. Gibson is expecting a physical battle on court and has challenged her side to do the basics well.
"I am expecting a hard fought and physical game which excites me because this is what we train for. We need to ensure we execute the basics and our game plan well against Leeds Rhinos."
Gibson was quick to credit the Rhinos side and their players across the board but was confident that her side will be the one's celebrating once the final whistle goes.
"They have some great ball winners and a target shooter in Ellie Bird but I'm confident if we can be consistent for four quarters, we will be celebrating our first win of the season at the end of the final whistle."