MEET SAM DUNSTAN, OUR VERY OWN RUGBY-PLAYING BAKER!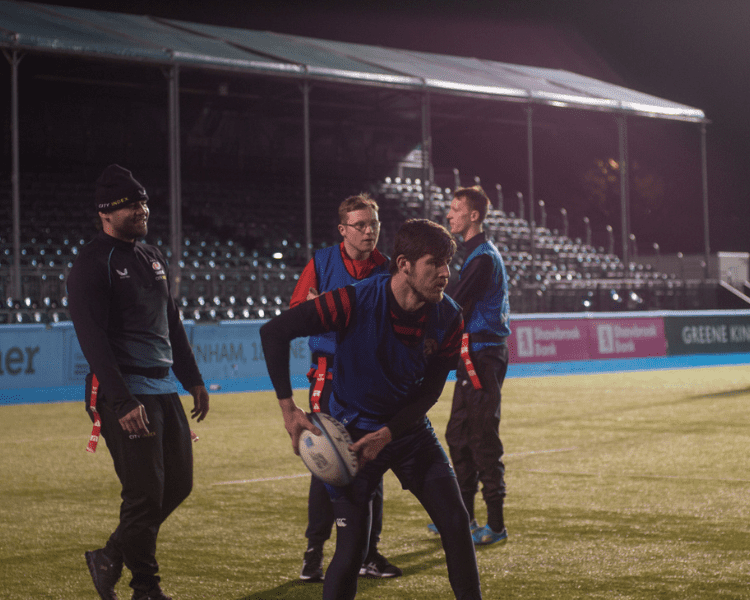 Following the launch of our new EDI policy last week, we had a chat with our Saracens Foundation department to find out how we were implementing this within our work.
Meet Sam Dunstan…
Sam Dunstan is 22 years old and has a hearing impairment. He has been a member of Sarries RFC, our disability rugby club for young people aged 16 to 24, for a number of years and as a consequence has grown both on and off the pitch. During his time with Sarries RFC, Sam has attended numerous workshops to develop his personal skills, as well as taking part in the fitness testing. Despite his impairment, Sam has always shown great listening skills and has also started to develop great leaderership skills on the pitch.
Project Rugby is a Premiership Rugby initiative delivered via the 13 Premiership Clubs with the aim to increase participation in the game by people from underrepresented groups, such as those with impairments. The programme, funded by Gallagher, engages with thousands of participants per year across England.
Sam attended a Project Rugby festival where there was a showcase of mixed ability contact rugby. After seeing this, Sam felt Inspired and wanted to give this a try himself. A friend recommended the mixed ability rugby team at Chobham RFC, and so his family contacted the manager of the team.  Sam has been playing with Chobham Chargers on Saturday mornings since Autumn 2021. By having access to multiple rugby sessions a week, not only have Sam's rugby skills developed, but his fundamental and social skills have also developed. Due to Sam's impairment, during the contact sessions, Sam must wear a scrum cap to protect his cochlear implant. This is a great example as to how rugby is a game for everyone.
Sam has been invited by the team to represent them in an International Mixed Ability Tournament. The tournament takes place in Ireland, running over 4 days, at which Chobham Chargers will be competing against 23 other teams from Spain, Canada, Belgium, Italy, Argentina, Ireland, Scotland, Wales, and England.
Sam has stated he is aiming to work in the sports industry as an assistant coach. He has signed up to two separate coaching courses to help him develop towards his dream career. Sam's confidence on the pitch grows each week as well as his ability to demonstrate Saracen's core values.
Recently, Sam was invited to talk and discuss more about how Sarries RFC has impacted his life  at a charity dinner where over 150 people attended. Sam showed great charisma and confidence to speak in front of so many people.
Outside of rugby, Sam is also a very keen baker. Sam works at CJ's Bakery as a chef producing a variety of cakes and biscuits. CJ's Bakery is a fully inclusive bakery which provides plenty of opportunities for those with impairments to learn and develop their kitchen skills.