MAVERICKS PREVIEW | Ecuyer-Dale targeting improved ball retention against Rhinos (NSL - Rd12)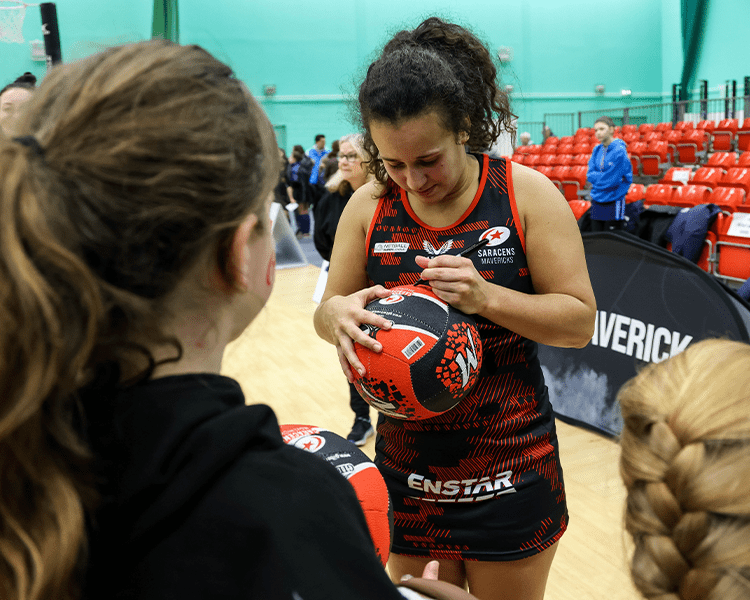 After a week's break from NSL action, Saracens Mavericks will be looking to respond after defeat last time out, as they make the trip north to face Leeds Rhinos.
Last time out against London Pulse, Mavericks were guilty of making a slow start, as their London rivals hit the front and never relinquished their lead. Speaking after reflecting on that match, vice-captain Beth Ecuyer-Dale explained that her side learnt a lot from the match, especially when it came to responding to a loss of possession.
"The main takeaway for us is about how we take control in the moments when a team gets a run of goals against us. All teams are going to lose possession, that's the nature of the game, but it's about our response and not letting that one possession loss turn into several consecutive ones."

Heading into the second half of the season, Mavericks are targeting continued improvement, with Ecuyer-Dale highlighting that the improvements her side have made should help them be more competitive in the upcoming fixtures.
"We are aiming to stay in games for longer by repeatedly making better decision, offering cleaner options to ball and playing to open up the court. This improvement will hopefully enable us to keep the scoreline tight within the quarters and put us in a position to contest for wins in games."
Mavericks managed to secure victory against Rhinos earlier in the season and Ecuyer-Dale believes that her side can take a lot from how low their error rate was in the fixture.
"Although we have reviewed some tactical elements from our prior meeting, we have not discussed the result of the game. We can take confidence in the fact that it was one of our most clinical performances in terms of our error rate and we got the result we were looking for. We can also take confidence from having had an intense training week in preparation for this match."
Rhinos, like Mavericks, went through a significant change of personnel in the off-season and have also been a side on the up. Ecuyer-Dale is anticipating another tough challenge and one that will make her side have to think their way through the match.
"Having already played Rhinos this season, we know that they have a great ability to win ball and they can score quick goals against teams. We know our defensive game is going to have to be aggressive from the start and it provides us with an excellent chance to challenge our decision making and ability to hold possession in attack."
With a long trip up to Leeds ahead of first centre pass, Ecuyer-Dale can't wait to get out on court.
"I'm really excited for this rematch I think it's going to be a real contest."