Saracens announce five-year extension with Shawbrook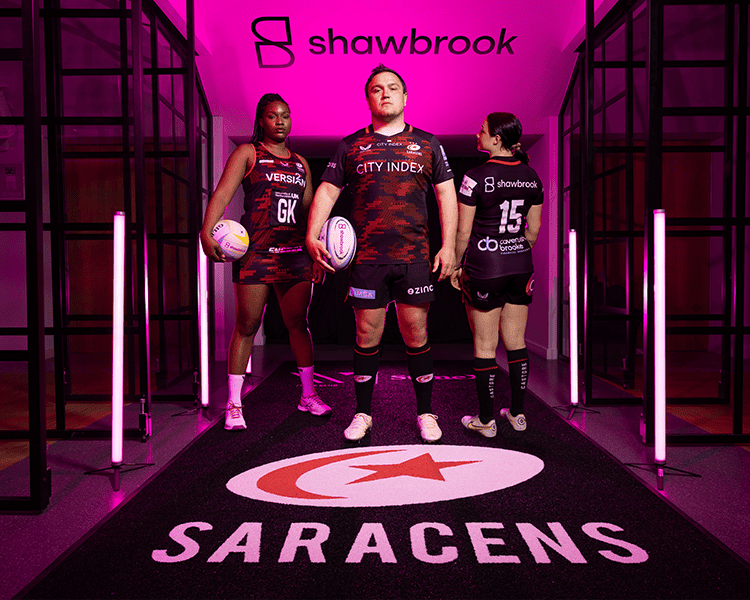 Saracens are delighted to announce a new five-year sponsorship deal with our Principal partner, Shawbrook. This commitment from Shawbrook sees the Club's Official Banking Partner extend their continued support across all three Saracens teams until at least 2028.
The partnership extends beyond the field of play with Shawbrook making a real difference in our local communities, working closely with Saracens Foundation and Saracens High School to positively impact the lives of the next generation. Shawbrook's commitment to their work within the community aligns with the Club's own ambitions to enrich lives through sport and entertainment.
Since 2021, the specialist bank, known for its savings products and the financing it provides to businesses, professional property investors and consumers, has demonstrated its commitment and support towards the growth of Women's Sport. This desire to level the playing fields on and off the pitch and court has not only impacted the entire Saracens community, but has been recognised on a national scale with the Empower Her project being nominated for a 2023 Sports Industry Award.
The Empower Her project, proudly funded by Shawbrook, is a programme delivered by Saracens Foundation to inspire the next generation of future female leaders through sport. The project pairs fifteen 16–24-year-old females with Saracens Women's Rugby and Saracens Mavericks Netball elite athletes.
The project, developed in conjunction with Shawbrook, aims to tackle gender stigmas through both sport and business with measurable, life-changing impacts on the participants. The collaboration between Saracens and Shawbrook has pioneered nationwide impactful campaigns and supported the development of future female role models.
The long-term agreement will see Shawbrook become the new Lead Partner of the Saracens Mavericks in 2024, demonstrating the growth of the partnership as well as their fantastic commitment to Women's sport and the groups Netball Super League team.
The partnership will see Saracens Official Banking partner positioned on the back of shirt for both the men's and women's rugby team and soon to be featured on the front of dress for the Mavericks.
As part of their drive to level the playing field for both men and women, Shawbrook have made a consolidated effort to provide readily available data for both Saracens rugby teams, as many supporters will have seen with the Shawbrook Stats Centre on the club website.
Lucy Wray, Saracens Group CEO, said:
"We are extremely happy at Saracens to be extending our relationship with Shawbrook Bank. From the outset of this partnership, Shawbrook have been 100% engaged from the very top of the organisation in how, together, we can have as big a positive impact as possible across women's sport, equality and inclusion. They are brilliant people. To have Shawbrook not only extend their partnership with us, but increase their commitment by becoming the new Lead Partner of the Saracens Mavericks Netball team is a true testament to the strength and devotion towards growing the women's sport. At Saracens, we continually look for partners that share in our mission and practice our core values on a daily basis. Shawbrook are a living example of everything that embodies what we at Saracens are trying to achieve."
Neil Rudge, Head of Enterprise at Shawbrook, said:
"It's been a pleasure to work alongside the Saracens family for the past three years, supporting all three elite sports teams as well as collaborating with Saracens Foundation across a number of incredible community programmes. All three teams have achieved a huge amount on the pitch and the court during the past three years and Shawbrook staff, customers and partners have had the privilege to enjoy some remarkable sporting moments. At Shawbrook we're particularly excited to see the rapid rise of women's rugby and netball in terms of both participation and audience numbers.  Netball is already the largest female sport for participation in the UK and the elite game is rightly attracting rapidly growing audiences for both Super League and International fixtures. Shawbrook has supported Saracens Mavericks over the past three years and we're now incredibly excited to extend that investment to become the club's Lead Partner. Our collaboration with the Saracens Foundation on the Empower Her project, designed to develop the next generation of female leaders through sport, demonstrates the potential of this partnership to create valuable opportunities for local communities.  With the ongoing participation of Shawbrook staff, partners and customers, these initiatives - which now include the Saracens High School - will continue to gather momentum over the next 5 years."