SARRIE'S SWING: ROLLING UP TO COURSE COMPLETION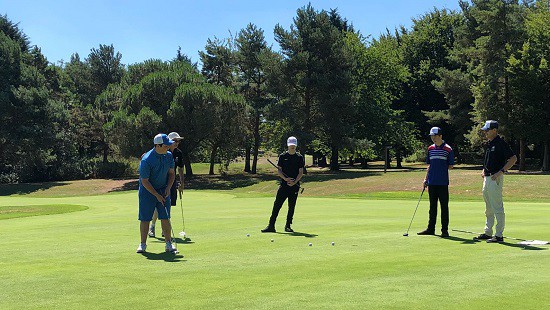 Sarrie's Swing is Saracens Sport Foundation's disABILITY golf programme, in partnership with Herts Golf Development and Essendon Country Club. Used as an outreach programme, Sarrie's Swing is delivered in SEN secondary schools to individuals with high functioning disabilities, with an aim of transitioning the participants into a disABILITY golf academy.
Following on from the successful outreach sessions at The Valley and Pinewood schools, Sarrie's Swing have been running their roll up sessions at Essendon Country Club throughout August. This is the next step in our disABILITY participants becoming members of the junior academy at Essendon, with these sessions helping to develop their golfing ability, introducing them to real equipment, and what it is like to play on the golf course. The roll up sessions put the emphasis on the participants to attend and prepare them for the final stage of the programme which is graduating into a disABILITY golf academy.
Head Professional at Essendon, Ian Taylor, who is delivering the sessions had this to say:
"It's great to see the development from the lads that have progressed on from the schools programme. We have introduced all of them on to the main course whilst using full equipment. They are eager to learn and full of enthusiasm which makes my time delivering the sessions even more enjoyable. They are a great bunch of lads and I am excited to see their progress."
We hope that the participants enjoy the rest of the roll up sessions and look forward to supporting their transition into becoming full members of Essendon's fantastic Junior Academy.
For more information about the programme or to get involved, please email disabilitysport@saracens,net or call 0203 675 7278.