Our Partners
Saracens are proud to work in partnership with a range of companies and suppliers, all striving for excellence in their field.
GUARANTEE YOUR SEAT AT EVERY HOME GAME
2023 / 24 MEN'S RUGBY Seasonal Memberships
SHARE IN THE MOMENT NEXT SEASON WITH A SEASONAL MEMBERSHIP
Mens seasonal memberships include:
ALL MEN'S PREMIERSHIP HOME GAMES AT STONEX STADIUM
THE SHOWDOWN 4 AT TOTTENHAM HOTSPUR STADIUM
ALL MEN'S EUROPEAN CHAMPIONS CUP POOL MATCHES AT STONEX STADIUM
ALL MEN'S PREMIERSHIP RUGBY CUP POOL MATCHES AT STONEX STADIUM
ALL MEN'S KNOCKOUT GAMES AT STONEX STADIUM
BUY ONLINE
CALL 0203 870 3303 TO BUY OR RENEW NOW
All Men's home games at StoneX Stadium
The Showdown 4 at Tottenham Hotspur Stadium
European Champions Cup pool matches at Stonex Stadium
Premiership Rugby Cup pool matches at Stonex Stadium
All knock out games at Stonex Stadium included
Members priority booking week for additional tickets with 25% off all tickets (18th - 25th July for 1st batch of Premiership fixtures)
International Ballot Access
One use 10% discount on selected Saracens products (online use only via discount code)
Invites to exclusive events featuring club executives, players and coaches
Club E-Newsletter
Discount on a Stadium Tours - including the Priory Collection at StoneX Stadium
Additional discounted tickets for knockout fixtures*
Includes priority access to "The Showdown 4" + 50% off additional tickets*
Easily and Fully transferable memberships – send to a friend if you can't make a game
Free access to Academy & Storm fixtures at StoneX Stadium
U16 Members to win the opportunity to be a mascot on a match-day
*Terms and conditions apply. 
HOW TO RENEW
LOGIN HERE to your ticket acoount.
Review your reserved membership(s) and parking reservations, click "Add to Basket" and proceed through the checkout steps.
If you wish to purchase your membership for 2x seasons, select the 2x season price class dropdown before checkout.
SEAT MOVES
All members can move their seats for next season including into the 1876 Stand. To request a seat move please contact us and a member of our team will be happy to assist you.

ADDITIONAL MEMBERSHIPS (INCLUDING FREE U12 MEMBERSHIPS)
To purchase more memberships including a free U12 Membership please contact us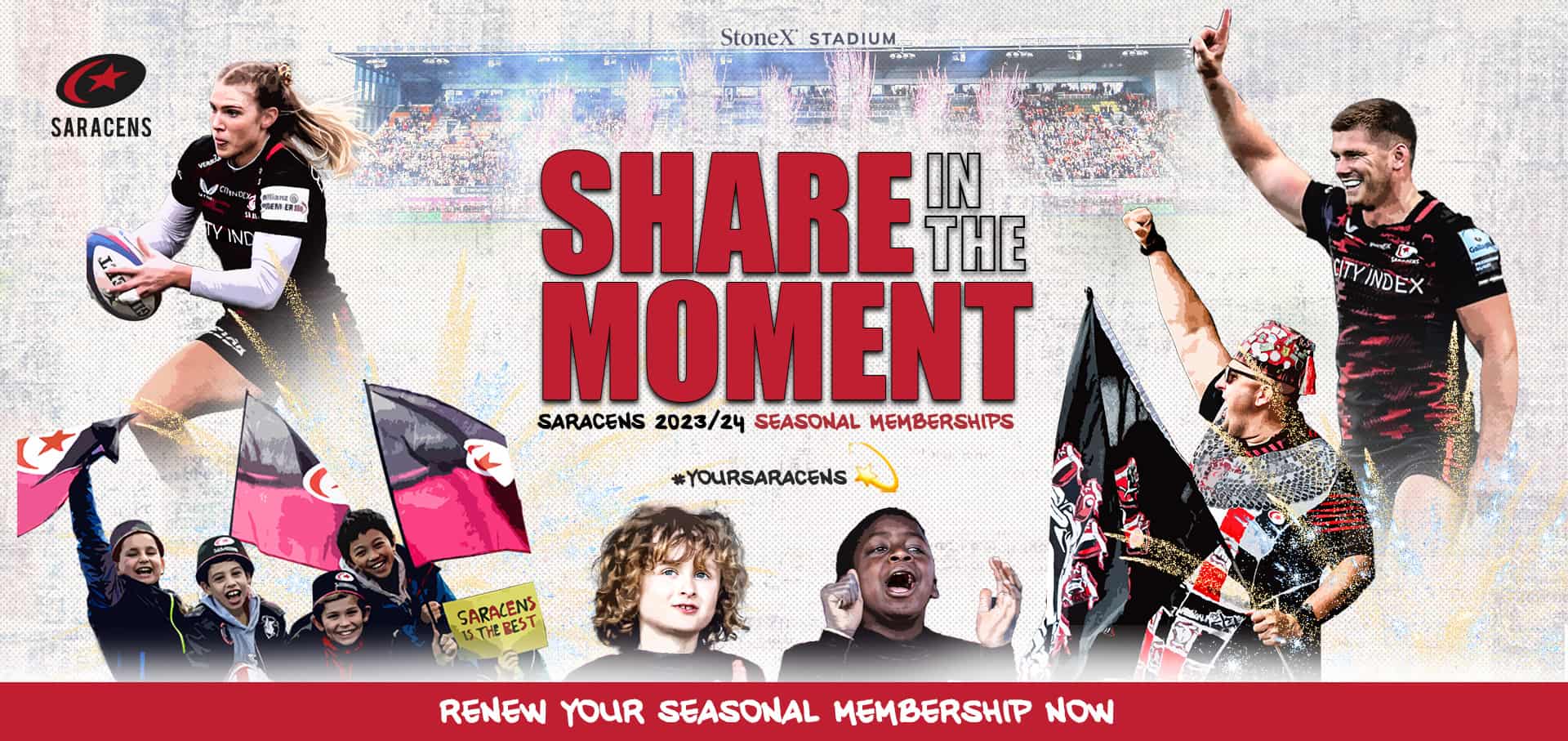 Experience Match days in style
SEASONAL Hospitality Memberships
With a range of hospitality packages on offer there's something to suit all supporters whether you're looking to entertain clients or mark a special occasion with family and friends.
SEASONAL HOSPITALITY PACKAGES
ENQUIRE ABOUT SEASONAL HOSPITALITY MEMBERSHIP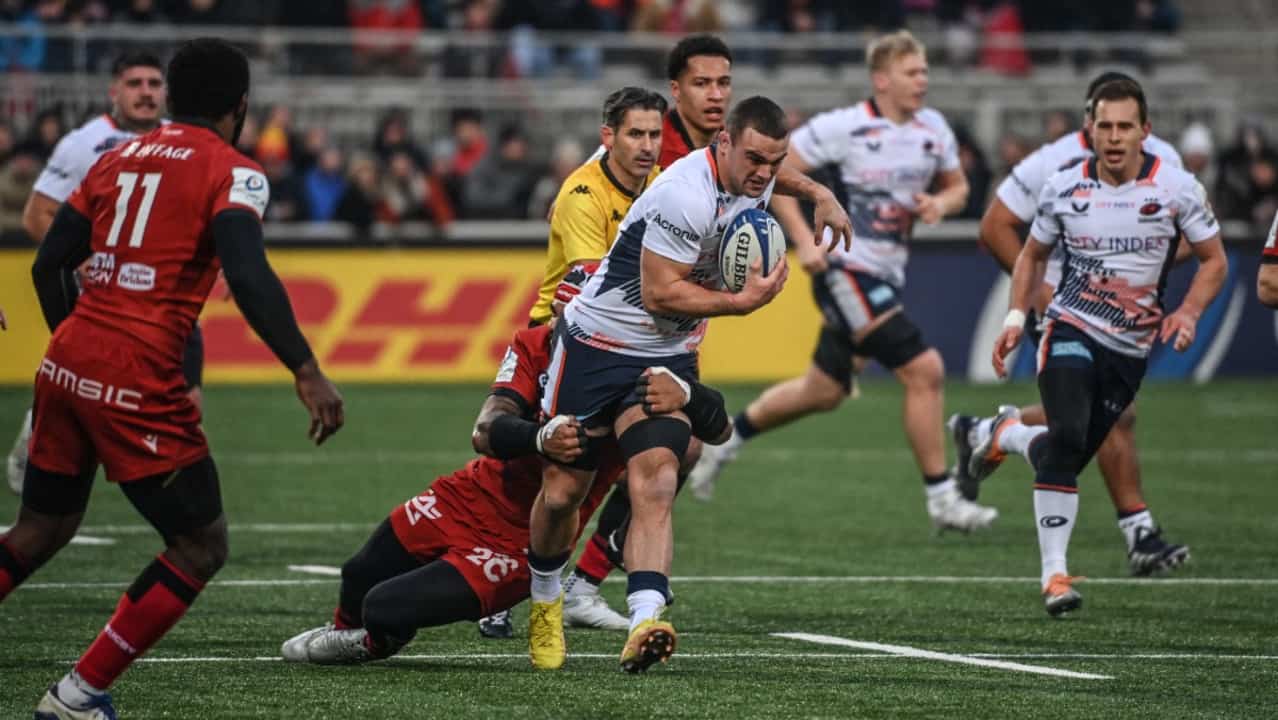 What matches are included in the 2023/24 Seasonal Memberships?
The 2023/24 Saracens Seasonal Membership includes access to all Saracens Men's games at StoneX Stadium & Tottenham Hotspur Stadium (including knock-out fixtures) in the Gallagher Premiership, Premiership Cup, and Heineken Champions Cup.
However, individual touring/friendly/warm-up fixtures are NOT included in the package.
When will the membership start?
Your membership begins as soon as you have renewed/purchased your membership and will allow access to home games from the first of the regular mens season (as outlined above) typically starting in September 2023.
As a current Seasonal Member can I move into the 1876 Stand?
All members have the opportunity to move your seats for next season (including giving our brand new 1876 Stand a try).
To explore a seat move please contact us and a member of our team will be happy to assist you.
I am a current Seasonal Member and want to buy additional memberships. What are my options?
Do I have to pay in one go or can I finance the Seasonal Membership?
If you want to finance your Seasonal Membership you may do so via our approved finance company V12 Finance. This will include an arrangement fee, with the option to spread the membership cost over 4, 6, 8 or 10 months.
Who is eligible for concession Seasonal memberships?
Over 65s (on 1st September), U16 (so under the age of 16 on 1st September) and U24 (U24 on 1st September). Seasonal Members will be required to provide evidence of DOB.
Do I need to carry ID if I purchase a concession ticket?
Any supporters purchasing age-related concession prices are advised to bring a form of identification with them to the match. Misuse of a Seasonal Memberships may result in the holder being refused entry to or ejected from the ground in respect of a particular match and/or the cancellation and withdrawal of their Seasonal Membership.
Are Women's games included in the Mens Seasonal Memberships?
Saracens Women's home games are not included in the membership but current members may pay £40 (RRP£80) to access all Allianz Premier 15 home games. Details of how to buy a Women's membership will be provided in renewal emails.
I am trying to buy my Seasonal Membership but my payment is being declined/blocked. What should I do?
Ticketmaster use 3DSecure for online payments for added protection. Please ensure that the phone number and address on the booking match those registered on your card.
Please also ensure that you include a 0 at the start of your phone number. If you continue experiencing issues, please email our Supporter Services team at supporterservices@saracens.net who will be happy to help.
How will I know if my purchase has been successful?
A confirmation email will be sent to the lead booker. Please note that this could take up to 48 hours to receive.
How will I know if my purchase has been successful?
A confirmation email will be sent to the lead booker. Please note that this could take up to 48 hours to receive.
If I can't make the game can I transfer my ticket to someone else?
All Men's Seasonal Memberships are fully transferable, so if you can't make a game you can easily (digitally) pass it to a friend to use
When do I find out about priority tickets for The Showdown 4?
Ticket information will be communicated to members via email in due course.
I would like to buy Seasonal Memberships for my children. Is there any restriction as to where they may sit?
StoneX Stadium is a family-friendly venue and, as such, children can hold a Seasonal Membership in any category of the stadium. Please note, U16s must be accompanied by an adult at all games.
Next season, our seasonal membership will offer a FREE U12s tickets option with a full-price Adult/Over 65 or U24 Membership. Please note, these U12 tickets are limited to 500, allocated on a first-come-first-serve basis.
Will I receive a new Seasonal Membership card for the 2023/24 Seasonal?
All Seasonal Members will be provided with a digital Seasonal Membership card that they can download to their phone / digital device free of charge.
Members can also opt to have a physical membership card for £10 that they will receive before the first game of the regular season.
What accessibility options are available?
StoneX Stadium is an accessible stadium which caters for wheelchair users and ambulant disabled supporters. For more information please click here. For further information please contact the Club directly on 0203 870 3303.
What happens if I lose my Seasonal Member card during the season?
Please email Supporter Services and we will be able to replace your card.Please note there will be a £10 administration fee per ticket. You may decide to take a digital replacement instead for free. You can still attend the game, details of how to obtain a temporary ticket will be published on the Saracens site closer to the start of the season.
I want to tell the Club about my experience, how do I do that?
Your feedback is extremely important and allows us to keep improving the experience at StoneX Stadium. As a Seasonal Member you will receive a "post-match survey" via email after every home game where you can feedback on your experience.
Can Seasonal Members upgrade their tickets on a match-by-match basis?
Seasonal members will be able to upgrade their seat category for any game (based on availability) via their online ticket account.
I have an concessionary ticket but want to change concession type or bring an adult – how do I upgrade my ticket?
Yes, you can upgrade your ticket online. Or you may come to the Ticket Office at Gate B on match day where we can process this for you. The Ticket Office opens 2 hours before kick-off. The amount to pay will be the difference between the season ticket price and the full match day price for the game.
Can I spend my Saracens Rewards points on a Seasonal Membership
Unfortunately no, however you can use these points towards additional match tickets, retail items and Saracens owned F&B concessions (Olympic Bar) at StoneX Stadium.