TEAM NEWS | Saracens Women v DMP Durham Sharks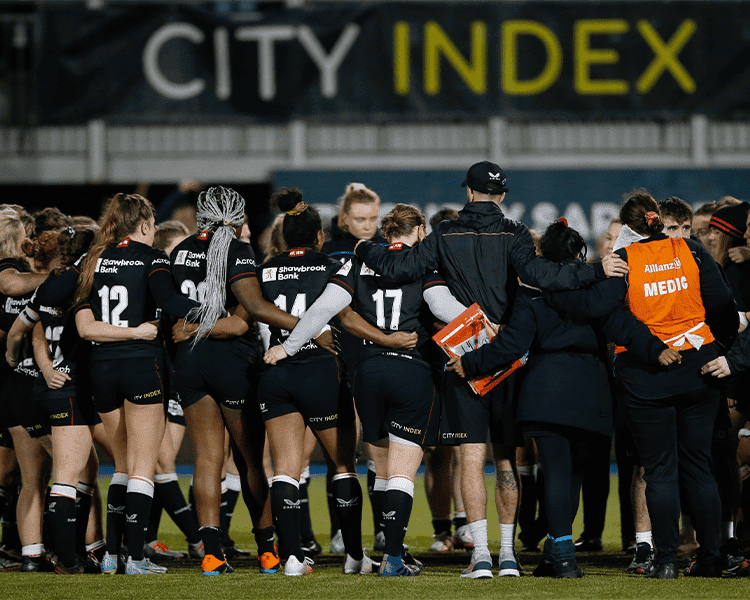 Head Coach Alex Austerberry believes his team are entering a new chapter as they get 2022 underway this weekend against DMP Durham Sharks.
The Women in Black, who last took to the field on 12th December against Harlequins have had an extended festive period so will be raring to go on Sunday afternoon.
Hannah Botterman, May Campell and Alex Ellis start in the front-row, and Sonia Green partners Tamara Taylor in the second-row who faces the side she has been on loan with recently. 
Katie Barnes comes in to the back-row, with experienced duo Kat Evans and captain Marlie Packer also at the base of the scrum.
Carly Waters is at scrum half, with Holly Aitchison operating in the number 10 shirt as she continues to prove her impressive skill set after an outstanding Autumn with the Red Roses. 
The returning Cara Wardle and Hannah Casey are in a physical midfield, and the back-three of Chantelle Miell, Rachel Laqeretabua and Ella Wyrwas will be eyeing up some try-scoring opportunities. 
There is plenty of firepower on the bench, with Poppy Cleall due to be called upon and there is some highly positive injury news as captain Lotte Clapp returns to the match day squad. 
Austerberry says the squad cannot wait to get back out on the pitch on Sunday. 
"The break for the Christmas period both came at a good time and a terrible time. We had a really intense couple of months with bodies in need of rest and recovery but you never want to go in to an extended break off the back of a defeat. 
The Sale fixture being postponed due to Covid meant we did not have the chance to bounce back from our last outing. That said absence makes the heart grow fonder and to start 2022 in front of our fans at StoneX and apply some of our learnings is great.
The group is revitalised and focused on ensuring we build on the positive platform we have built and ensure we continue to develop and learn during the second half of the season. There are lots of challenges that lie ahead and we will embrace those as we strive to maximise our potential and performance. 
DMP at home is the start of this chapter."
Saracens Women Team to play DMP Durham Sharks:
1 Hannah Botterman
2 May Campbell
3 Alex Ellis
4 Sonia Green
5 Tamara Taylor
6 Katie Barnes
7 Kat Evans
8 Marlie Packer (c)
9 Carly Waters
10 Holly Aitchison
11 Chantelle Miell
12 Cara Wardle
13 Hannah Casey
14 Rachel Laqeretabua
15 Ella Wyrwas
Replacements:
16 Sarah Bebbington
17 Kelsey Clifford
18 Donna Rose
19 Cece Gordon-Hill
20 Poppy Cleall 
21 Ellie Lennon
22 Alysha Corrigan
23 Lotte Clapp