TEAM NEWS | Saracens Women vs Sale Sharks (AP15s – Rd 13)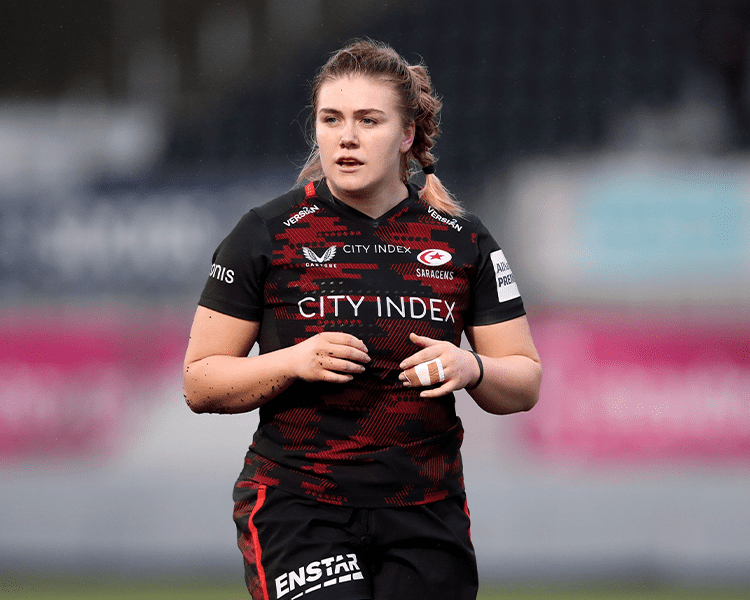 After a seismic victory over Gloucester-Hartpury last weekend, Saracens Women know that they will need to back that result up at home against Sale Sharks tomorrow afternoon.
Last weekend, the side showcased a grit and steeliness in their performance, to secure a huge result.
With just two rounds until the Six Nations break, prop Mackenzie Carson believes that it is crucial that her side finish this block of matches on the right note.
"It's super important. We had a bit of a rough start to the season, but we've found our feet now, especially last weekend against Gloucester-Hartpury. That's going to lead in now to these last league matches before Six Nations and the cup, so it's really important for us to lead into that period on the right note."
Sale though, will pose a significant threat, having run Harlequins close last weekend. Whilst Saracens delivered a statement victory at Heywood Road a few weeks ago, tomorrow is set to be another physical affair, with the side needing to be alert from the off.
"They've got a really active backrow and a threatening back three. They have threats all over the park and quite a big American contingent, so it's going to be about shutting down those threats and not giving them any room to work. That defensive effort is going to be really important this weekend," Carson explained.
Ahead of this one, Director of Rugby Alex Austerberry has made a number of changes to his side.
In the front row, Carson is joined by Jodie Rettie and Kelsey Clifford, fresh from her inclusion in the England squad.
The second row is all change, with Fi McIntosh returning to the side, alongside Grace Moore. The backrow sees Georgia Evans and Marlie Packer continue on the flanks, whilst Poppy Cleall reverts back to number 8.
Leanne Infante starts at scrum half alongside Flo Williams, with Cara Wardle starting at outside centre in place of the suspended Sydney Gregson.
The backline is otherwise unchanged, with Lotte Clapp, Coreen Grant and Jess Breach continuing in the back three.
Amongst the replacements, last week's starters May Campbell and Alex Ellis will be looking to make an impact, with Maya Montiel, Catha Jacobs, Sharifa Kasolo and Louise McMillan all named amongst the replacements, as Austerberry opts for a 6-2 split.
The two backs replacements are Ella Wyrwas and Isla Alejandro.
Victory over Gloucester-Hartpury last weekend has re-energised the race for the top two, with Carson explaining that it is important that her side end on a positive note ahead of the Six Nations.
"It's huge. We've still got DMP to come, but to end on a high at home is super important leading into the tail end of the season. We love to make this a tough place for people to come, so we want to keep riding that wave. That reputation of being difficult to beat is really important to us."
Saracens Women's Team vs Sale Sharks
1. Mackenzie Carson
2. Jodie Rettie
3. Kelsey Clifford
4. Fiona McIntosh
5. Grace Moore
6. Georgia Evans
7. Marlie Packer (co-captain)
8. Poppy Cleall
9. Leanne Infante
10. Flo Williams
11. Lotte Clapp (co-captain)
12. Sarah McKenna
13. Cara Wardle
14. Coreen Grant
15. Jess Breach
Replacements
16. May Campbell
17. Maya Montiel
18. Alex Ellis
19. Catha Jacobs
20. Sharifa Kasolo
21. Louise McMillan
22. Ella Wyrwas
23. Isla Alejandro
You can purchase tickets for tomorrow's match here.