Women's Pathway Continues to Grow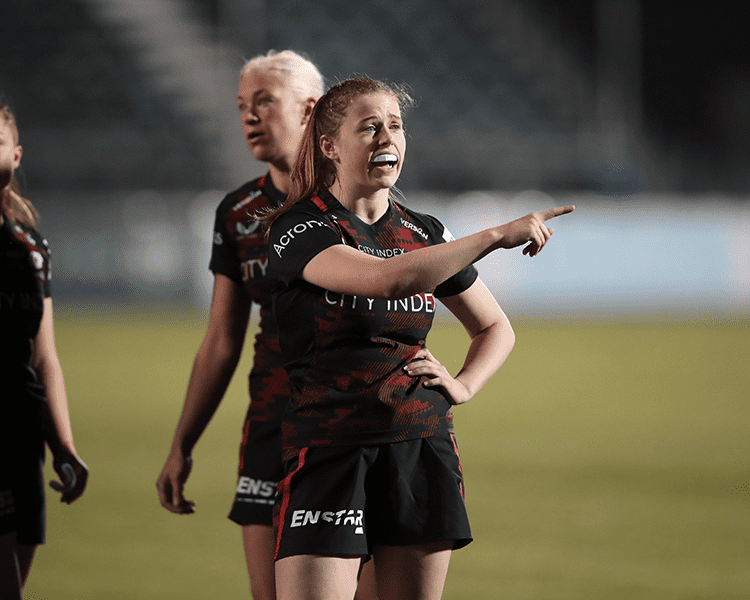 Zoe Harrison, Ella Wyrwas, Hannah Botterman. They all may now be household names and mainstays of this Saracens Women's side. However, their journey into elite rugby started out as part of the club's pathway programme.
Headed up by Niamh McHugh and Women's Head Coach Lewis Sones, who also acts as Performance Pathway Manager, the programme is continuing to reap its rewards within the Saracens playing squad.
The matchday squad against Gloucester-Hartpury had several pathway graduates in it, with a number of other young players starting to make the transition into the senior setup from the pathway during the Allianz Cup and early round of the Premier15s.
"It's starting to really come to fruition in terms of the development and time we've put into our pathway programme," explained Sones. "Our Centre of Excellence programme and Oaklands College Programme have been crucial."
Katie Johnson made her own bit of history in the opening round of the Premier15s, when she started against Loughborough Lightning a day after her nineteenth birthday. Sones praised the young starlet for how she has adapted to the rigours of senior rugby, alongside fellow Oaklands College graduate Chloe Flanagan.
"Most recently, it's been Katie Johnson and Chloe Flanagan coming through, which has been really positive. Chloe has really showcased her work ethic and pushed on from that college programme into the senior team. That team is already filled with players who have already come through the pathway as it has evolved over the last few years."
The pathway has been continuing to develop, with Oaklands College allowing 16–18-year-olds the chance to forge their way in the game, alongside their studies, with regular matches in the AoC League.
"It's at a great stage. There are currently nearly 30 full-time players involved with Oaklands College and it's a chance to introduce those youngsters to coaches and systems that are part of that full-time professional environment," Sones highlighted.
Importance is placed on education as the priority alongside the rugby development of players, and Sones feels that the programme at Oaklands College is now in a perfect place to push on to the next level.
"It's a time to start growing now, with players knowing that that opportunity is there to play alongside their studies. That always has to be a balance alongside the rugby opportunity but it's all about giving those players the fundamental opportunity to develop and accelerate their development. We want to give them the best opportunity we can in senior rugby and hopefully in the Premier15s."