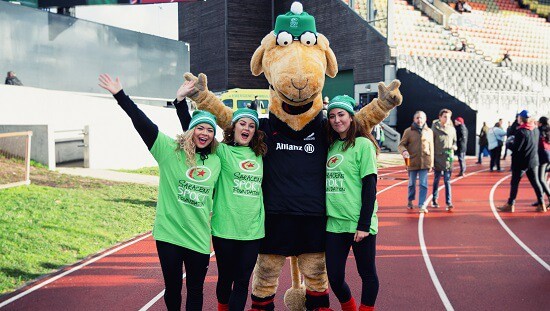 2018 has been an extremely successful year for the Saracens Sport Foundation both in events and in programmes.
From Foundation Matchday to the inaugural Cycle for Change, the Foundation events have been a bonanza of fundraising this year. Raising over £76,492.67, Foundation Matchday was a huge event for the Foundation. In May we raised over £50,000 and in December, for the first ever Festive Foundation Matchday, we raised £26,371.61 – £6,000 over our target!
We hosted the inaugural Saracens Cycle for Change in June 2018. It was an ambitious goal to run our own cycle challenge and the first year was a big success with some very loyal supporters taking part and raising money for the Foundation. Over £38,000 was raised by our participants – a monumental effort!
We also had runners in the British 10K, Royal Parks Half Marathon and the London Marathon who all completed the challenges and raised £16,873.23 all together. We have had some amazing support from individuals completing challenges like Half Tough Mudders and the Great North Run in aid of the Foundation too.
Finally, our Lord's Taverners and Bunbury's Cricket Days smashed their fundraising targets and raised over £28,000 on the days.
None of our success with our events would be possible without the support of donors, fundraisers and willing participants! Our ability to keep our programmes running and making a difference in the North London and Hertfordshire communities is down to our supporters who buy raffle tickets, run crazy distances and pledge to help us continue our work.
We couldn't do what we do without you, so thanks!
Here's to 2019 when we have loads of exciting things planned including the Saracens Cycle for Change 2019 on the 9th of June, Saracens Charity Dinner on the 26th of March and Foundation Matchday on the 4th of May.
We can't wait!!
Roll on 2019.