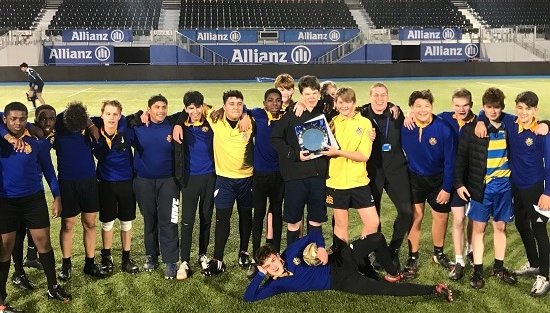 As we approach the conclusion of the first academic term, Thursday 12th December saw Allianz Park host the BLAST Programme's Year 10 and 11 Finals!
After a thrilling couple of months league fixtures being completed at Allianz Park, students had the opportunity to lock horns to claim the year 10 and 11 titles. The BLAST Programme looks to engage new to rugby secondary schools within North London and through; curriculum, extra-curricular delivery, teacher training, competition opportunities and transitional guidance. We aim to put each school in a position of sustainable rugby delivery.
In the year 10 competition, Finchley Catholic and Mill Hill County powered into the final where Finchley Catholic claimed the title with a 20-5 victory. Both sides demonstrated excellent collision skills as well as finishing some excellent, well worked tries. Finchley Catholic have continued to show excellent consistency whilst Mill Hill County showed great progress themselves.
The year 11 league final was a fiercely competitive game between Wren Academy and East Barnet. These  two sides had come up against each other previously in a closely contested match, but this one had an edge under the Allianz Park lights. After excellent work both attacking and defensively,  Wren Academy came out on top, winning 25-15. The development of both students and staff alike was evident ,with some outstanding technical play, clear for all to see.
Going into 2019, BLAST will be reengaging with a number of schools in the North London area as well as supplying opportunities to year 7, 8, 9 and 6th form boys to play at Allianz Park next term.
For more information about the BLAST Programme please contact: joshward@saracens.net