Agbeze and Fowler flying in for Fast5s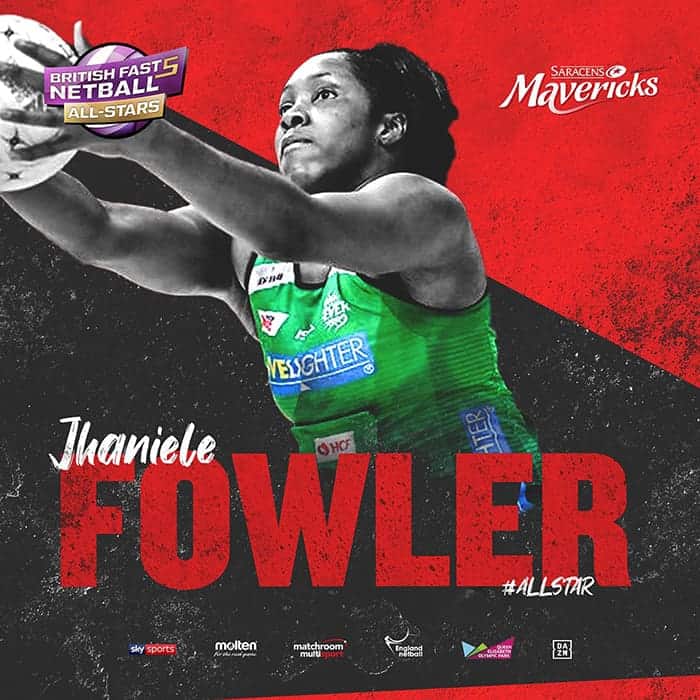 Saracens Mavericks have confirmed that former England captain Ama Agbeze and Jamaican shooter Jhaniele Fowler-Reid will be part of their British Netball Fast5 Netball All-Stars squad.
Ama Agbeze captained England to their Commonwealth Games gold in the Gold Coast in 2018 and was appointed MBE earlier this year.
Agbeze currently plays for London Pulse in the VNSL but has previously had stints playing in Suncorp Super Netball and the ANZ Premiership. The defender has amassed 100 caps for England, with her first coming in 2001.
Fowler-Reid is a world-class player who has been the leading goalscorer for the last two seasons in the Suncorp Super Netball in Australia. The 30 year old, who currently players for West Coast Fever, was first capped for the Jamaican national team (the Sunshine Girls) in 2010 and has gone on to be capped over 60 times by her country.
The Fast5 Championships on Saturday 12 October at the Copper Box Arena in London features the eight best Superleague teams taking each other on in one afternoon of netball.
Saracens Mavericks Director of Netball, Kat Ratnapala, said: "Fast5 is a competition full of excitement, drama and skills and I can't wait to hit the court with this squad.
"Obviously we are missing our Roses Internationals and the competition is slightly early for Jodie to return from rehab, all of whom will be missed.
"A massive welcome to Jhaniele and Ama and I'm sure our travelling Saracens Mavericks fans will give them a very warm welcome."
SARACENS MAVERICKS FAST5 SQUAD
Sasha Corbin, Kadeen Corbin, Georgia Lees, Jo Trip, Beth Ecuyer-Dale, Paige McCalla, Steph Collard, Chloe Essam, Ama Agbeze, Jhaniele Fowler-Reid