Woolstencroft hopes for another fruitful campaign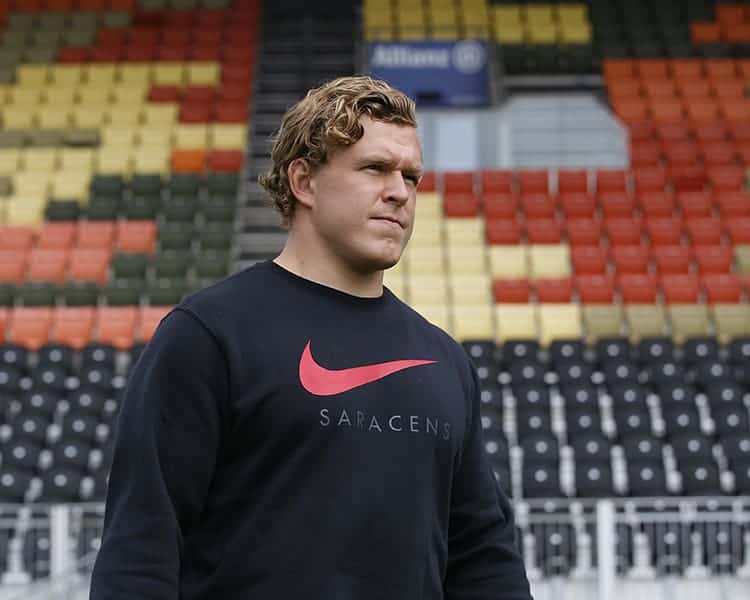 Tom Woolstencroft enjoyed a fruitful first season at Allianz Park.
The hooker joined from London Irish last summer and helped Saracens to success in both the Gallagher Premiership and Heineken Champions Cup, appearing in the final of the former.
"I loved my first year at Saracens, I ended up playing more than I thought I would," he said.
"With the nature of internationals and a big contingent of our squad being away for those, there is a big responsibility on other members of the team to step up.
"I actually really embraced that and enjoyed taking the club through those blocks and we got some really good results. They were some of my best weeks playing in those games.
"I think I coped with the step up. I hadn't played as many Premiership games the year before when I was at London Irish so I was apprehensive at first but after the first few games I felt confident and got up to speed."
Woolstencroft was also influential in Sarries reaching the Premiership Rugby Cup final where they came up against this weekend's opponents Northampton Saints.
The tournament has kick-started the 2019/20 season and for the Somerset man it's a chance to continue developing his game, especially with the likes of Jamie George and Jack Singleton at the Rugby World Cup.
"I feel the more game time I can get, the more experience I can get, especially in the set piece area, that's only going to help me."
"I loved the Rugby Cup campaign," he said. "It was a massive opportunity for the younger lads and guys like myself who haven't really played loads of top quality rugby to put a marker down and show the coaches what we're all about.
"In terms of where I'm at now, I still want to play as much as I can. I'm 24, nearly 25 and for a hooker that's still relatively young and I think there's still a lot of improvement I can make to my name.
"I feel the more game time I can get, the more experience I can get, especially in the set piece area, that's only going to help me. Once I get that I think I can really develop and push for those starting positions and push for more hopefully.
"This season I want to get the same game time as last year when I got lots. That's the nature of it, once you get a taste for it you don't want anything less. After last season I want to keep pushing. When the internationals come back my job is to really push them and back them better players and myself a better player.
"You look at the Sarries side and it's basically an international side, if you can establish yourself in that sort of squad then you never know what will happen.
"Once you've had a taste of success you want to replicate it but from our chats this season we need to keep focusing on improving."

PRESS NOTES | Alex Austerberry (PWR Rd-3)
Director of Rugby Alex Austerberry is expecting a full-blooded encounter as his side make the trip to face Harlequins Women this weekend. Saracens Women have started the campaign with two bonus point victories and the DoR explained that he had been really pleased with a large portion of what he'd seen from his side. "It's […]

CLUB STATEMENT | Owen Farrell
Owen Farrell has decided to take a break from international rugby in order to prioritise his and his family's mental well-being. This means he will not be available for selection for the 2024 Six Nations. He will continue to play for Saracens and captain the club. As always, Owen will have the full support […]
Andy Christie nominated for Gallagher Player of the Month
Andy Christie has been rewarded for his brilliant form by being nominated for the Gallagher Player of the Month Award. The following four players have been shortlisted: Andy Christie (Saracens) Tyrone Green (Harlequins) Ollie Lawrence (Bath Rugby) Arron Reed (Sale Sharks) To cast your vote for Gallagher Player of the Month, click here: The shortlist was […]