Breach enjoying life in North London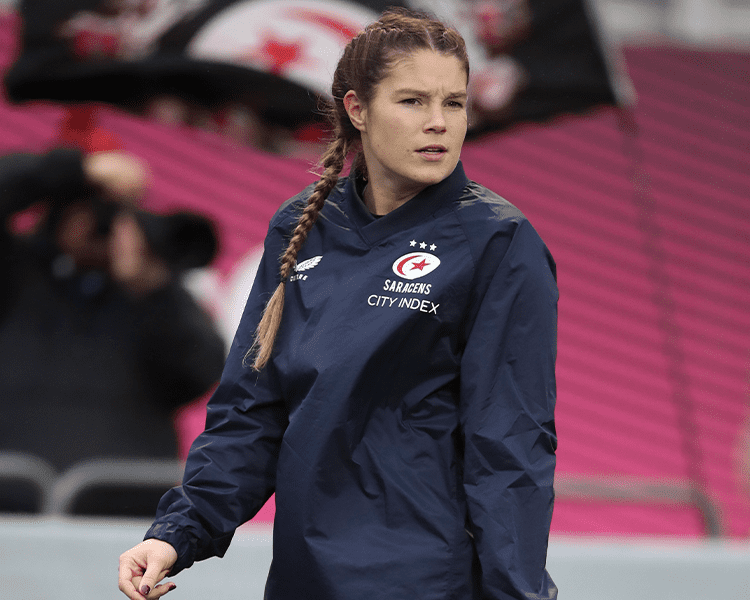 Having returned from the world cup in New Zealand, winger Jess Breach is slowly getting acclimatised to life in North London.
Breach made a try scoring start to life in a Saracens shirt against DMP Sharks in January and, after spending her whole career so far in the quarters of Harlequins, Breach admitted that it had been time for a change.
"It's certainly different but different is good. I was at Quins for six or seven years, so to have this new challenge is exciting."
Back when she was a teenager, Breach had attended trials with Saracens, before travel times impacted on her ability to commit to the club.
"It's really good. I've known a lot of the girls for a long time. When I was 18, I came to Sarries to trial when I was living at home with my parents. At the time, the travel time meant it wasn't an option for me to play for Saracens, and then when Aylesford Bulls became Harlequins in the premiership, I had that top level opportunity."
Breach already knows several of the Saracens squad from her time with the Red Roses, alongside Zoe Harrison. The pair have known each other for most of their rugby lives and Breach chuckled when admitting that having Harrison with her at the club had been a big positive.
"I hate her really," laughed Breach. "Joking aside, from when I came to Saracens before, all my friends from London and Southeast U20s are still here. With Zoe, Hannah and Ella, there are quite a lot of my friends here already."
"But Zoe being here was a pulling factor. It's nice to join a new club and already know someone so that they can show you the ropes. We like spending time together and we got on alright in New Zealand, so I thought why not do it at club level too!?"
It has not been the smoothest of starts to the season for Saracens. With last weekend's defeat to Exeter still at the forefront of people's minds, Breach acknowledged that her side needed to keep pushing forward as they seek to improve performances.
"Exeter was a tough game for all of us and it didn't go how we wanted it to. The whole league this year is really competitive. We as a team need to keep driving and getting better. The top four is really competitive but our aim is to get there and go from there. As cliché as it is, we just need to focus on every game as it comes."
Breach also spoke about her excitement at playing in The Duel in a Saracens shirt for the first time. Having experienced her fair share of clashes between her old club and Saracens in recent years, Breach highlighted how important it was to create an event out of women's matches.
"With me being new, I've obviously played in The Duel before but as an opposition player, so it's going to be exciting. It allows everyone to enjoy the day as an event and it shows just how much the game is growing that we can look to host these sorts of events."