Bryan handed first England U18 start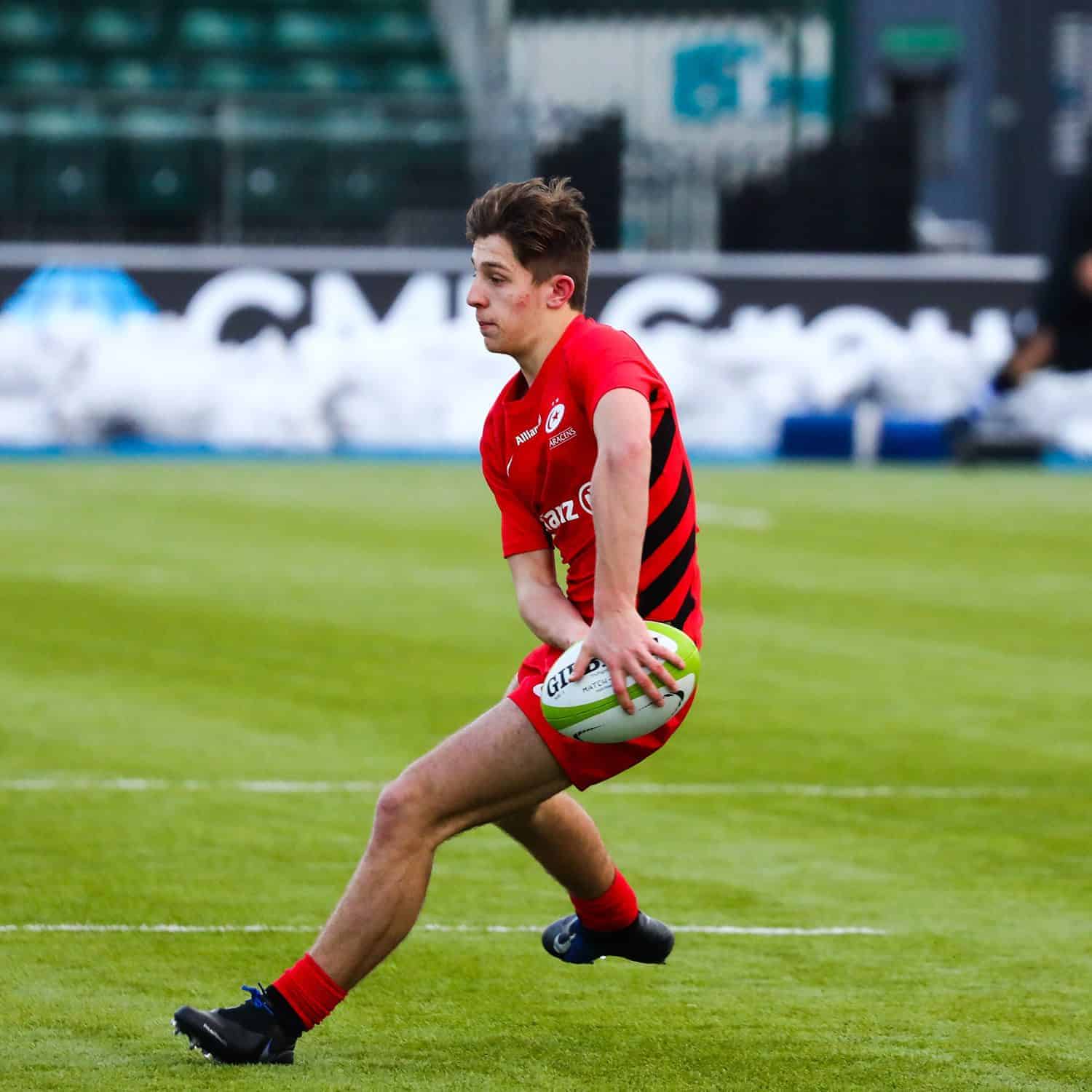 Sam Bryan will make his first start for England Under-18s against France on Tuesday.
The Academy scrum-half came off the bench for his first cap in England's U18s International Series opener in South Africa, scoring a late consolation against Argentina.
Jim Mallinder's side take on France at Paarl Gymnasium, Paarl (KO 15H00 BST).
The tour marks the start of the England U18 international season with the side ending the tour against hosts South Africa on Saturday 17th August.
Mallinder said: "We made multiple changes but the intention was always to give everyone even game time over the first two fixtures and for every player to start a game and we're really looking forward to them showing us what they can do at this level.
Bryan scored on his England U18 debut vs Argentina.
"There is a short turnaround between the two games and the players have been excellent in how they've recovered from the opening fixture, as well as their analysis of the game and preparation for Tuesday which is a vital part of these tours. We've trained well and are excited for the match. 
"We've also taken the players out to a nature reserve for a few hours where we got to see some incredible animals and that's helped them form relationships off the pitch as well as experience the environment around them. 
"Tuesday will be a massive test for us, we've seen France play and they are big, powerful and like to move the ball around. Defensively we'll be put under a lot of pressure, but we're looking to get our set piece right, build on the lessons of the first match and continue to play with attacking intent."
England men U18s to play France:
15 Oliver Melville – Sale Sharks (Sedbergh School)
14 Oscar Beard – Harlequins (Cranleigh School)
13 Will Joseph – London Irish (Millfield School)
12 Ethan Grayson – Northampton Saints (Northampton School for Boys)
11 Michael Dykes – London Irish (St Pauls College)
10 Charlie Atkinson – Wasps (Abingdon School)
9 Sam Bryan – Saracens (FelstedSchool)
1 Tarek Haffar– London Irish (St Pauls College)
2 John Stewart – Bath Rugby (Beechen Cliff School)
3 Joe Keohane– London Irish (St Pauls College)
4 Freddie Thomas – Gloucester Rugby (Dean Close School)
5 EthanStaddon - Bath Rugby (Beechen Cliff School)
6 EmekaIlione – Leicester Tigers (Rugby School)
7 Harry Taylor - Gloucester Rugby (Clifton College)
8 Will Trenholm– Harlequins (CranleighSchool)
Replacements
16 Archie Vanes – Leicester Tigers (BrooksbyMelton College)
17 Phil Brantingham– Newcastle Falcons (RGS Newcastle)
18 Fin Baxter – Harlequins (Wellington College)
19 Ewan Richards – Bath Rugby (MillfieldSchool)
20 Kit Smith – Leicester Tigers (Oakham School)
21 Daniel Eckersley – Wasps (BloxhamSchool)
22 Sam Edwards – Leicester Tigers (BrooksbyMelton College)
23 Orlando Bailey – Bath Rugby (Beechen Cliff School)
24 Louis Hillman-Cooper – Gloucester Rugby (Cheltenham College)
25 Alex Harmes– London Irish (St Pauls College)
26 Matthew Ward – Newcastle Falcons (Gosforth Academy)
U18 International Series fixtures (all times BST):
Friday August 9 2019 – Paul Roos Gymnasium, Stellenbosch
13h30   England U18 19-29 Argentina U18
Tuesday August 13 2019 – Paarl Gymnasium, Paarl
12h00   SA Schools A vs Wales U18
13h30   SA Schools vs Argentina U18
15h00   England U18 vs France U18
Saturday August 17 2019 – Hugenote High, Wellington
11h00   SA Schools A vs Argentina U18
12h30   France U18 vs Wales U18
14h00   SA Schools vs England U18