MATCH REACTION | Alex Austerberry (AP15S RD10)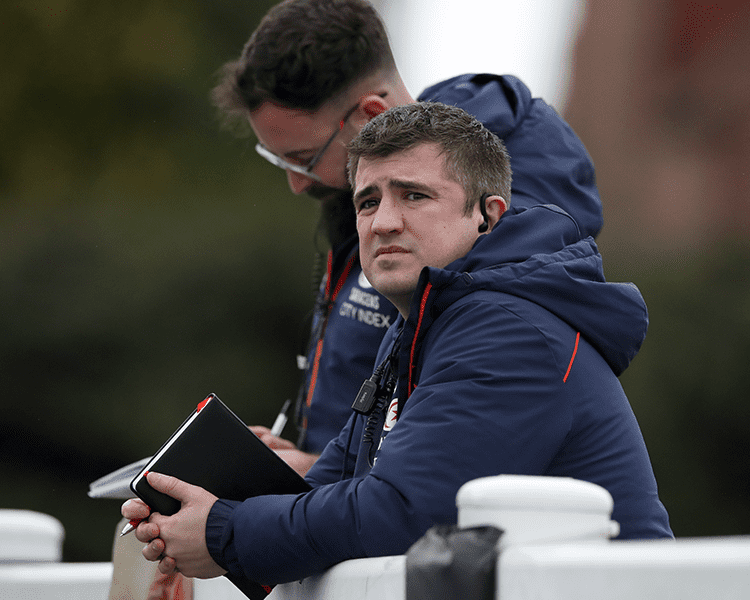 Director of Rugby Alex Austerberry was left satisfied after a twelve-try victory over London rivals Wasps.
A rapid start in the first half saw Saracens romp to a 52-point lead at the break, before scoring four more tries in the second half.
Reflecting on the performance, Austerberry singled out backrow Sharifa Kasolo and second row Catha Jacobs for praise.
"There were some real positives. Some of our turnover play and attacking play was really good. I thought Sharifa was outstanding. There was some really good stuff in there with some squad rotation. Some people really came in and put their hands up. Catha had some really good carries and was really physical."
It was a landmark day as well for hooker Jodie Rettie, who marked her 50th appearance for the side with a hattrick. Austerberry was quick to praise the Scotland international, who has continued to be a great servant to the club over the years.
"You always get an honest shift from Jodie. She's physical, she's hard-working and she's aggressive. She plays on the edge, but you want players like that in your team. Having started in the development group and worked her way up into the first team, it's a credit to her to reach that milestone. I'm delighted that she managed to get a hattrick as well."
There was also a return to action for experienced second row Sonia Green, who also managed to find her way to the try line. Austerberry was pleased to see Green return to the fold and highlighted the importance of depth in his squad ahead of a busy period of matches.
"Sonia found the tryline at the end. It's great to see her back and adding to her wealth of caps. She keeps extending the lead as our all-time appearance holder but it's great to see her back. It's a case of continuing to build the depth in the group. We need to make sure that everyone is fit and fighting going into this block of five games. It's a busy run-in, so it's important we have as many people fit and firing as possible."
Despite the comprehensive victory, Austerberry still wants to see more from his side heading into next weekend's rearranged fixture against Sale. Despite scoring four tries in the second period, Austerberry felt that his side hadn't fully controlled the half, with a few opportunities for more tries left out on the field.
"I felt that we let our standards drop a little towards the end and allowed Wasps to dictate things. It lacked a bit of flow in the last twenty minutes, and we left some opportunities out there," he explained.
"It's important though that we take that in the context of the full eighty minutes. There are good things there, but I felt that we should have controlled the second half a bit more."