MATCH REACTION | Camilla Buchanan (NSL Rd14)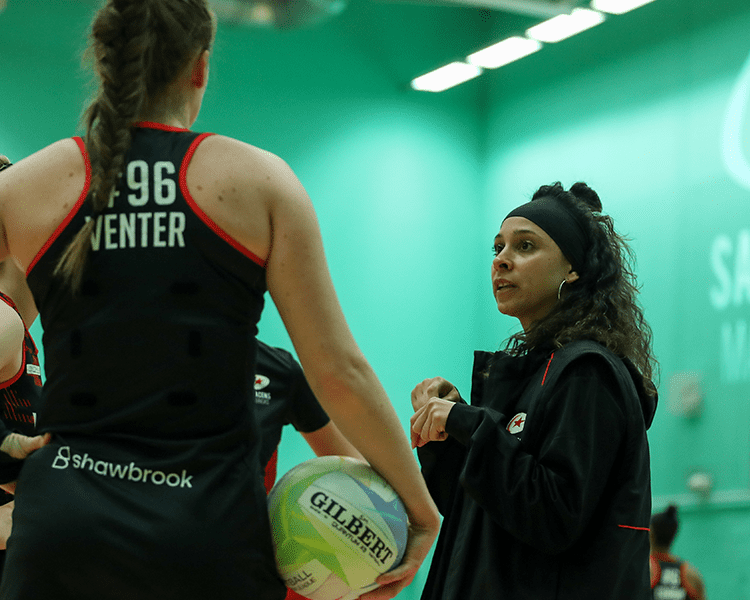 Head Coach Camilla Buchanan couldn't help but be proud of her side, as they found a way to win on the road again against Celtic Dragons. After an end-to-end match, Mavericks eventually pulled clear, and Buchanan was pleased with the improvements they'd shown since last weekend's defeat to Surrey Storm.
"It was a massive win. I'm really proud of this group. There were lots of components of the game that we've been working on but haven't been able to put on court. They really came to light today in places. We made hard work of it, but it was an important win."
In crucial moments, big players stood up for Mavericks, with Buchanan praising Razia Quashie for her work in defence and the impact of vice-captain Beth Ecuyer-Dale off the bench.
"I was so pleased with some of the individuals out there for stepping up and taking the lead in crucial moments. It gave the group time to reset and get back up to speed again. Beth was fantastic with her entry into the game and Razia Quashie really owned that circle. There were some real standout performances."
Quashie has returned from injury in some style so far, and Buchanan admitted that having a player of her calibre available was vital for her Mavs side.
"Raz is a winner and a real champion. When you need something pulled out the bag, she does. Sometimes it's just her sheer one-on-one brilliance that does the job. She's a real asset."
One of the big target points from last weekend was an improvement in the defensive systems and Buchanan was pleased with what her side did out on court, stressing that they need to minimise the errors on Monday night against Loughborough.
"As a whole, our defensive structure was a lot better, but we still have lots more in the tank. We'll look at today and build on the things we did really well. Against Loughborough, any ball we give away is going to be punished. They're a top-class side, but we've got class here too, so we'll do our best to bring it for the home crowd."