MATCH REPORT | Exeter Chiefs 29-19 Saracens Women (AC Final)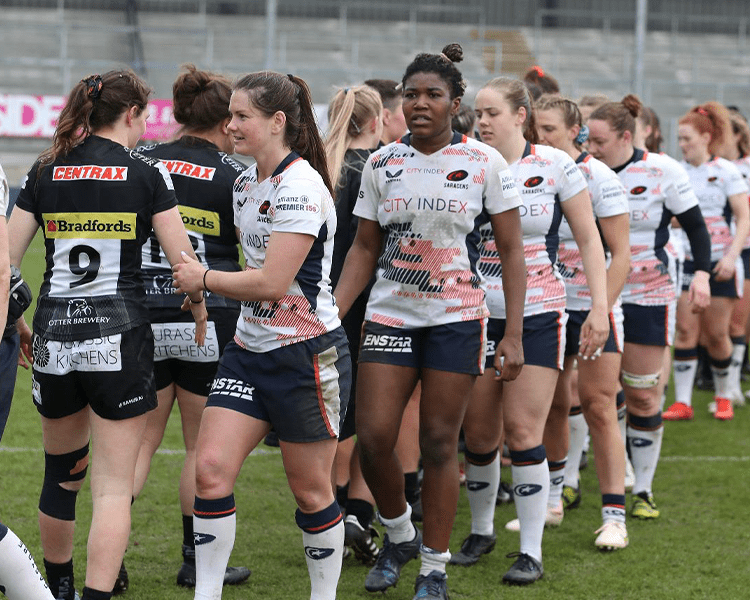 Sometimes, it just doesn't end up going your way.
In truth, this was one that may be seen as a match that slipped away from Sarries, but in the same vein, credit must go to Exeter Chiefs who put on a show in front of a home final crowd.
Sandy Park has long held an aura for Sarries as a place they have never secured victory at. However, you wouldn't have thought it as Saracens began in dominant fashion to silence the home faithful.
With Sharifa Kasolo and Catha Jacobs at their menacing best at the breakdown, Sarries were the side with their tails up.
That early pressure was very nearly rewarded too, as Sonia Green intercepted a stray pass and powered up to the line. With Saracens playing an advantage, Exeter's Lizzie Hanlon saw yellow for a cynical tackle on Leanne Infante and Sarries took full advantage, as Sharifa Kasolo powered over from close range.
Exeter were struggling for any foothold whatsoever, as Sarries looked to put their foot on the accelerator. Sydney Gregson continued to press and probe with several deft kicks, but the Chiefs defence held firm.
Exeter though, were clinical when it counted and worked their way into the 22 with a powerful driving game. With just over twenty minutes on the clock, they hit back through Cli Moloney and that seemed to kickstart the Exeter attack, with Linde Van der Velden powering over from close range shortly after.
Sarries though continued to stick to their task, with Gregson gathering off the restart to spur her side back into action.
With ten minutes of the half remaining, they hit back, as Sophie Tansley crashed over from close range, with Flo Williams levelling matters from the tee.
As the half drew to a close, Exeter retook the lead through a Liv McGoverne penalty.
As the game restarted, Sarries looked like they were on the backfoot, as Exeter upped the intensity and the power.
They thought they had scored, only for some superb last-ditch work from the pack to hold the ball up over the line.
Sarries were now penned back in their half, defending with everything they had as they continued to try and halt the Chiefs' charge.
With the clock ticking up towards the hour mark, the dam eventually burst, as Moloney barrelled over for her second of the afternoon.
In truth, this was probably the moment that Exeter secured the final, but Sarries continued to press, albeit with some hairy moments at the back.
After a stray kick was hacked through, Clapp had to show all of her skill and experience to swivel out of danger, as Sarries worked their way back up the field.
Gregson then latched onto a clever kick through, with Exeter receiving another yellow card, this time for Michaella Roberts at the breakdown.
Sarries were unable to capitalise though and in fact, it was Exeter who converted the pressure, with Katie Buchanan racing free and Panashe Muzambe dotting down to effectively end the contest.
Alex Austerberry's side may have been down, but they certainly weren't out, as they regathered yet another kick-off and looked to fight their way back once more.
With little over five minutes remaining, Kelsey Clifford found a gap and powered over to reduce the deficit, but time was against Sarries.
A final effort from a free-kick could have seen Sarries close the gap again but, as had become a feature in the second half, handling let them down at the last, allowing Exeter to kick the ball clear and claim the win.
Whilst this cup campaign didn't finish with silverware, there was still so much to be proud of for this Saracens group.
With a two week break until the same opponents make the trip to StoneX in the league, there is still plenty for Alex Austerberry's troops to take from this one.
Regardless of this afternoon's result, the future at Saracens, continues to look bright.