MATCH REPORT | Saracens Mavericks 50-62 Loughborough Lightning (NSL Rd15)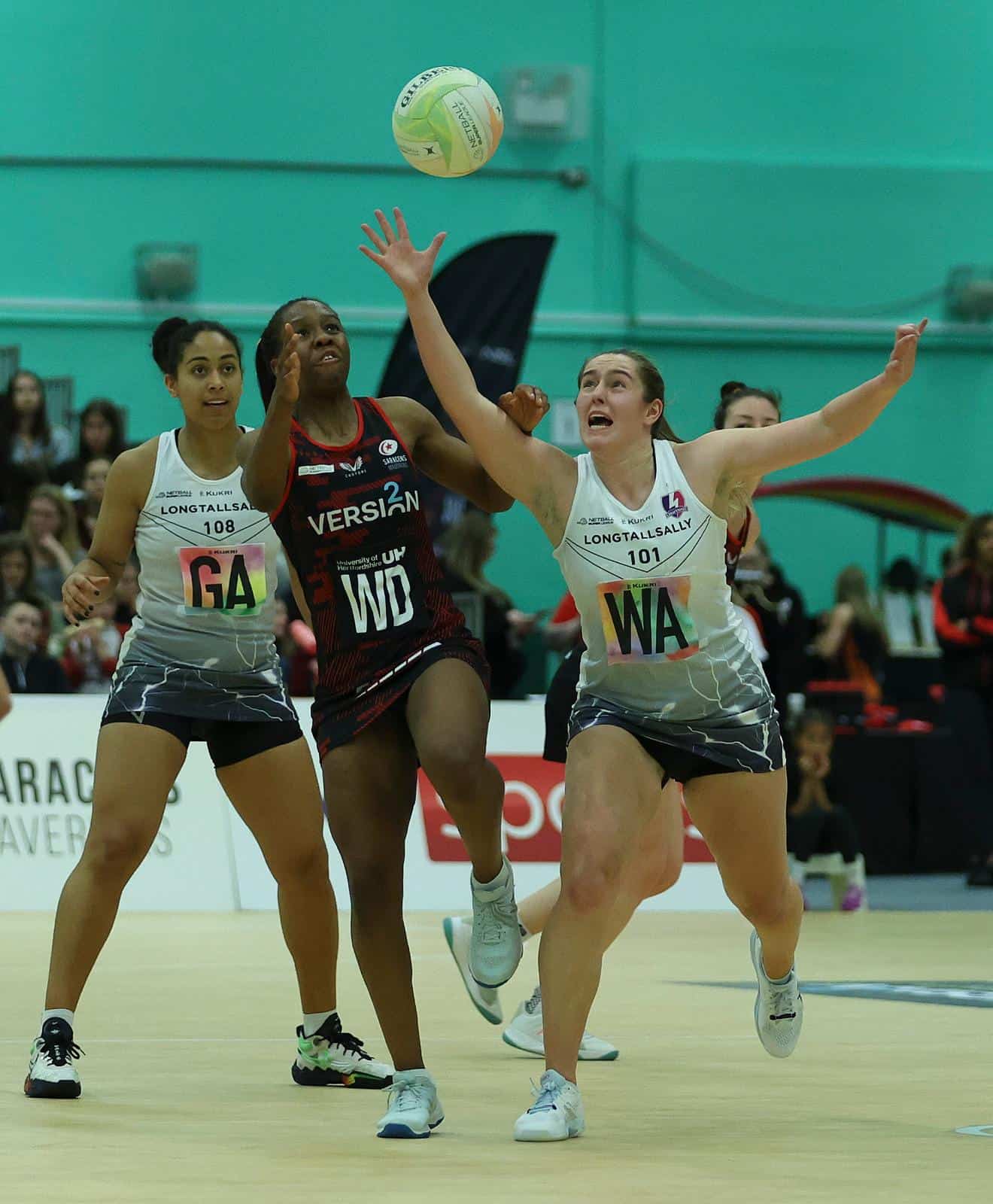 An improved performance by Saracens Mavericks in the second half wasn't enough to catch an in-form Loughborough Lightning who dominated the opening quarter at HSV.
Saracens Mavericks' Round 15 battle with last season's Super League runners up was the quintessential 'game of two halves' as a handful of offensive errors in the opening fifteen left the home side with an almost impossible task in the remaining three quarters.
Britney Clarke was named in the starting 7 at a packed Hertfordshire Sports Village on Bank Holiday Monday and was praised by Head Coach, Camilla Buchanan, for her 60-minute performance:
"She was outstanding today. Her availability, her timing and her composure in that circle - especially considering she's not had many minutes this season - I couldn't be prouder of that kid!"
Mavericks fans also showed their appreciation for Clarke, voting her Player of the Match in an online poll.
The experienced Razia Quashie mirrored Clarke's performance at the other end of the court, with impressive turnover, interception and deflection statistics to be awarded Gilbert Netball Player of the Match. Quashie, however, reflected on how Mavericks allowed Vic Burgess's side too great an advantage in the beginning:
"We didn't come out firing and then we got told off. I think we then picked it up for ourselves and wanted to contest in the second half."
Ellie Kelk and Lisa Mather entered the fray in the second quarter but a combination of offensive errors from the Black and Reds and title-challenging play from the Midlanders left the home side with a 23-goal deficit to close after the half time break.
Britney Clarke was matter-of-fact about "the good talking to" her team received in the changing room but how "it was the fire that we needed. We had a complete change of mindset, we really stuck to structure and pushed on." Georgia Lees was one of those who came out with fire in her belly to help her team win the third quarter and reduce the gap.
As has been typical of Buchanan's side in recent games, the final quarter was her team's strongest in this Netball Super League Pride themed round. Mavericks played a gutsy fifteen and can be proud of winning the half by eleven points and finishing the match just twelve points behind Lightning.
Looking ahead, Britney Clarke has belief in her side being able to "really contest with these top teams" if they start games better.
Buchanan concedes there is still work to do in the ongoing building of this team but is positive about how they are growing together:
"Individually we've got to look at some accountability and character. It takes time (to refine performance) but we're on the right trajectory."
Mavericks have been working on how they adapt during games and it's wonderful to hear how proud the Head Coach was of how well her team did just that in such a difficult match:
"I couldn't be prouder of the way we adjusted. Really, really happy with how they responded."
Saracens Mavericks will be back at Hertfordshire Sports Village for their penultimate home game next Saturday 6thMay hoping to be crowned victorious over Strathclyde Sirens on Coronation Day.
Report by Erica Rosa Tapp.