MATCH REACTION | Camilla Buchanan (NSL Rd15)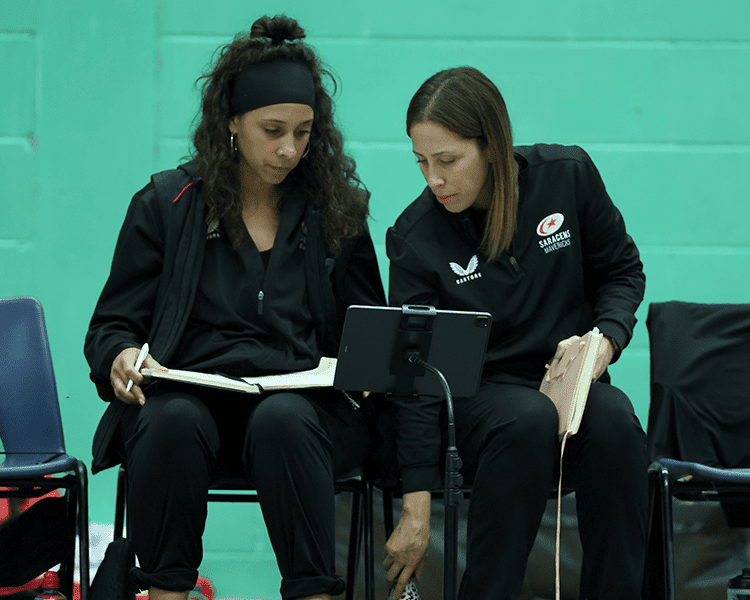 Head Coach Camilla Buchanan was left frustrated after a game of two halves against Loughborough. Having trailed by twenty-three goals at half-time, Mavericks responded superbly in the second period, but ultimately gave themselves too much to do.
"It was a game of two halves. I'm not going to mince my words and it's fair to say that the first quarter was disappointing. We knew against this team that any errors we made would be pounced upon and they were."
Buchanan accepted that individual errors had played a part in her side's defeat, as she paid tribute to her opposition.
"We opened up the court quite nicely. We just didn't capitalise enough though. We had two turnovers in quick succession and threw them back to the opposition both times. You just can't do that against a Lightning side that are playing as they are at the moment."
After victory on Friday night at Celtic Dragons, Buchanan rang the changes in this one, with Britney Clarke getting just her second start of the season. The Head Coach paid tribute to her Goal Shooter, as well as the impact of her replacements.
"I was really pleased with some of the changes that came in and I felt that they really changed the game. I need to give a shoutout to Brit too. She was outstanding today in terms of her timing and composure in the circle. She's not had many minutes this season, but I couldn't be prouder of her."
Earlier in the season against Strathclyde Sirens, Mavericks fell away after finding themselves behind early doors. Buchanan admitted that the process for the side would take time and credited her side for how they responded to their first half showing.
"It was interesting. We responded differently today. That half-time injection we had was huge. That second half performance was miles ahead of what we showed in that Sirens game where we let it slip. We spoke about it being steps forward and steps back at times, but I'm so pleased with how they responded. We've still got a lot of work to do, but I'm pleased to have won that second half."
We're rapidly reaching the conclusion of what has been a season of learning for Mavericks. Buchanan felt that her side needed to look at their own individual performances from this point on, as they look to find further improvements.
"If I'm being honest, we need to take accountability as individuals. We start at game straight after a team talk where all the information is fresh. At that stage, there's nothing that they don't know. For us, the personal accountability needs to be there. You don't learn how to deal with pressure until you experience it consistently and that's part of the reason that I've made some of the decisions with minutes that I have this season."
With lots of change this season for the side, Buchanan accepted that this was a process for her side, firmly asserting that she believes her current squad are on the right path.
"We're really trying to push past the barriers, but it takes time. There are so many parts of the game that we have needed to look at this season, so it's been a case of choosing which ones to focus on first. We're on the right trajectory."