MATCH REPORT | Loughborough Lightning 68-51 Saracens Mavericks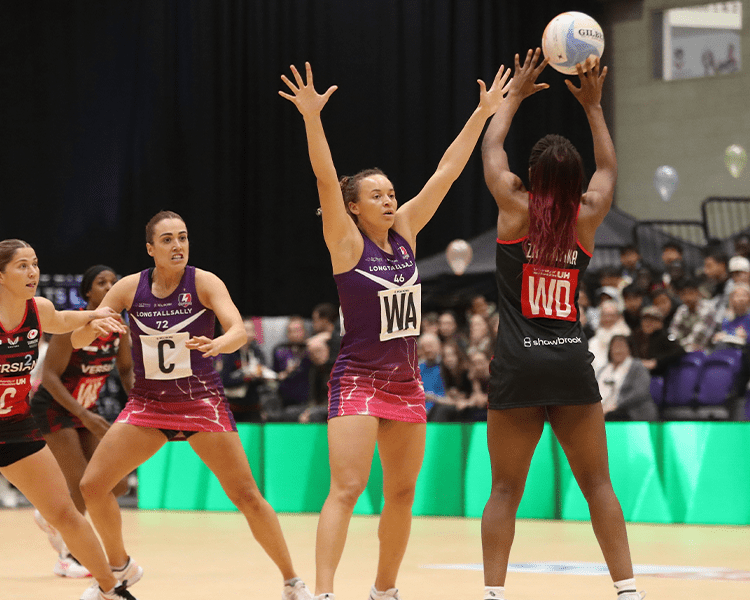 Despite a hugely encouraging first quarter, Saracens Mavericks came up short, as they eventually succumbed to the scoring prowess of last season's finalists Loughborough Lightning.
In a first away match of the season, this fixture was earmarked as a significant test for Camilla Buchanan's side after a defeat to Severn Stars and.a victory over Leeds Rhinos.
Ahead of the centre pass, Buchanan kept faith with the same starting 7 from the Rhinos match and that decision looked to have paid off, as Mavericks raced out of the blocks.
With Jodie Gibson patrolling the defensive third with assurance and confidence, Mavericks began the faster of the two sides, with Ine-Mari Venter sinking the goals, as her side went toe-to-toe with Lightning on their own patch.
The opening quarter was arguably one of the periods of the season so far, with both sides throwing everything at it and matching each other blow for blow.
Anything Mary Cholhok could do in the shooting circle was seemingly matched by Venter, as the two shooting specialists went head-to-head at opposite ends.
It was a piece of individual nausea that stood out though in this opening period, as Goal Attack Kira Rothwell bounced the ball off the post and back to herself for a clever goal.
Mavericks were continuing to attack with the same dynamism that had been a feature of last weekend's performance against Lightning, as Sasha Corbin and Aliyah Zaranyika continued to keep the play flowing.
Despite the dominance of Mavs in the opening quarter though, Lightning's shooting prowess ensured that the scores were level at the break and in the second quarter, they would hit Mavericks with a sucker punch.
Cholhok was in inspired shooting form on the night, as she took her side out to a three-goal lead, before Venter hauled her side back level.
The Lightning goal shooter though, was in no mood to let up, as she pounced upon pass after pass, to extend her side's lead.
Whilst Jodie Gibson was continuing her inspired form alongside Monique Meyer in the defensive third, Mavericks were powerless to stop the onslaught, as the hosts opened up a nine-goal lead at the break.
Zaranyika and Rothwell were continuing to show experience beyong their years as they looked to haul their side back into the match and, when Zaranyika floated a pinpoint pass over the entire Lightning defence for Venter to add to her tally, it looked like Mavericks were starting to bring themselves back into the equation.
The third quarter was as evenly matched as the first, with the hosts edging it by one. However, a Mavericks victory admittedly looked a long way away heading into the final quarter.
As Buchanan shuffled her pack ahead of a second match in as many days against Surrey Storm, Lightning's Fran Williams came into her own, hoovering up loose balls like her life depended on it.
For Mavericks, Ellie Kelk, Beth Ecuyer-Dale and Georgia Lees all added some additional zip off the bench, but it would prove too little too late, as Lightning saw out the final quarter to secure a seventeen-goal victory.
There will obviously be frustration in the Mavericks camp following the second quarter. However, there will still be plenty to take from a night where this young side showed that they can mix it with the pacesetters in the league on their own patch.
Attention now turns to another away day against Surrey Storm, as the matches continue to come thick and fast.