MATCH REPORT | Saracens Mavericks 52-59 England Thorns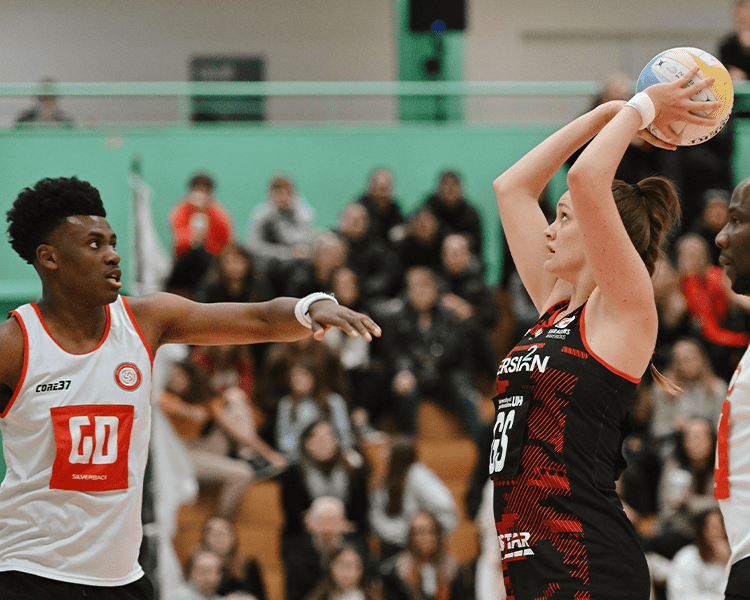 A resilient Saracens Mavericks lost out in a close, physical contest with England Thorns, as they became the first Netball Super League team to play a competitive game against the men's national side. 
Mavericks took full advantage of a week's break from the NSL, to test themselves against a Thorns side who had recently put on a show against the Future Roses. The women in black and red relished a challenging encounter to prepare them for their upcoming league games at a pivotal point in the season, as they stuck with the Thorns throughout the match.
Head Coach, Camilla Buchanan, enjoyed the game as much as the home crowd at the Hertfordshire Sports Village:
"I really, really enjoyed that! The men just bring a totally different aspect to the game that challenged us in different ways. We clocked a nearly 7-foot shooter walk through the door, so we had to figure out a quick gameplan for him! However, I'm so happy with how we adapted."
Saracens Mavericks' ability to adapt was clear throughout, as they kept the score tight in every quarter. Although the men's side established a nine-point lead in the first quarter, the home side responded superbly, keeping the remaining quarter scores to within just two points.
Part of Mavericks' response was utilising every member of the squad. While the established seven started on court, the coaching staff rotated all players in this exhilarating match-up, with Buchanan noting that the structure of her side had been a pleasing aspect of the performance.
"Today, although we didn't win that game, we were in control of our structure, so I was a lot happier to put people into that to carry the game through. I was really happy with all of the changes."
Mavericks played a strong game in all thirds of the court, but the Head Coach shone the spotlight on Britney Clarke for her contribution on this occasion:
"I felt that Brit came on brilliantly. We'd asked her to play a specific way and she really took that on."
Jodie Gibson, at the other end of the court, was awarded Player of the Match and reflected on the learning opportunities this unique fixture presented:
"It was a great contest. It's what we train for, we train for these physical contests. It was amazing to be the first NSL team to play against England Thorns. They brought it, and that's exactly what we wanted, so congratulations to them for securing the win today."
Next up for Mavericks is a long away trip to Strathclyde Sirens on Friday night. The dynamic defender looked ahead to the upcoming fixture with optimism after seeing what her side had put on court at HSV.
"Because it was a really tight and physical game I think it has prepared us really well. It was great to have a run out and have a look at those things we need to work on in attack and in defence under such physical pressure to prepare us for next week."
Gibson and her teammates will be on the road for their next two fixtures, travelling to Scotland and to Bath, before returning to HSV on 26th March to host reigning NSL champions, Manchester Thunder.
Report by Erica Rosa Tapp.