MATCH REPORT | DMP Sharks 0-73 Saracens Women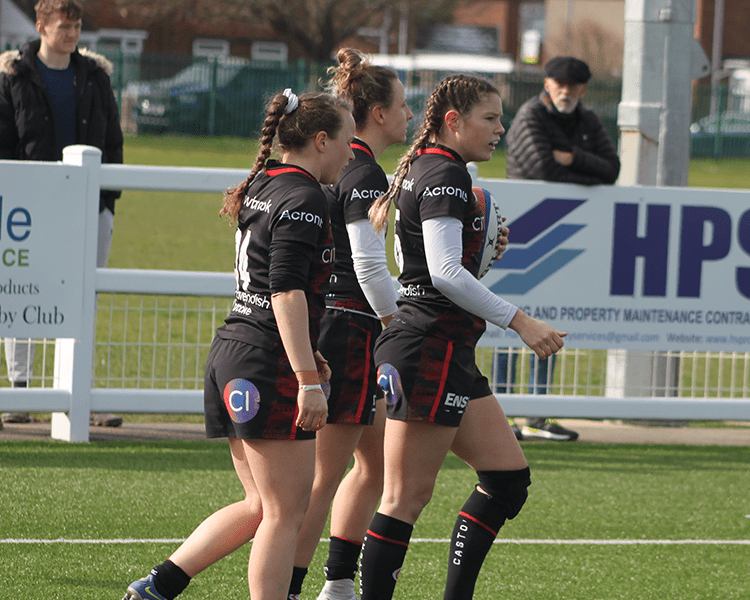 Saracens Women finished off a challenging block of league matches with a dominant performance on the road against DMP.
With the match moved to Billingham RFC after a frozen pitch had meant the Darlington Arena was unplayable, Saracens made a physical start, as they pressed and probed the DMP defence.
With Holly Aitchison finding Coreen Grant out wide with a pinpoint crossfield kick, this was a sign of things to come for Alex Austerberry's side.
Moments later, Sarries had their first points on the board, as Sharifa Kasolo burst through multiple tackles to power over.
Sarries were going through the gears now, with Isla Alejandro darting in out wide with little under ten minutes on the clock, before Coreen Grant muscled her way over from close range after Sarah McKenna and Holly Aitchison had combined to set the winger free.
Saracens were flying now, with every bounce seemingly going the way of the Londoners.
DMP, to their credit, were continuing to press and probe, searching for every opportunity they could find. However, a loose pass five metres out from the try line was picked up Jess Breach, who promptly sprinted the length of the field to secure the try bonus point.
Seconds later, Breach was in again for her second of the afternoon and her twelfth try of the league campaign.
This one though, was thanks to the work of Cara Wardle, as the centre powered clear and released the fullback to skate over out wide.
Saracens were motoring through the gears now, with only some last-gasp defence from DMP denying them another score.
They wouldn't have to wait long though, as Poppy Cleall pounced on a dropped ball on the DMP line, to take her side past the thirty-point mark.
It was becoming wave after wave of Saracens attack now and, Alejandro made sure that she was going to keep the scoreboard ticking over, as the wing crossed for her side's seventh try of the half.
Again though, this was a glorious team try, with Aitchison and McKenna pulling the strings, before Breach released her winger to sprint over out wide.
Saracens would continue to probe right up until the halftime whistle, only for handling errors to begin to creep into the game.
That trend continued at the start of the second half, as changes in personnel and a chance in conditions left both sides struggling to keep hold of the ball.
Eventually though, normal service resumed, as quick thinking from Leanne Infante allowed her side to go through the phases, before Grant muscled over for her second of the afternoon.
Grant was enjoying herself out there now, as she raced clear for her hattrick moments later after more fine work in midfield, this time from replacements Flo Williams and Katie Johnson.
DMP continued to push to see what they could muster in attack, with Tess Feury missing a penalty that would have got her side on the board, before Sarries upped the intensity again, to power clear.
After a stirring break from Catha Jacobs, Sarries were awarded a penalty and kicked to the corner, with the maul doing the damage to allow Jodie Rettie to dot down.
It was that driving game that did the damage again minutes later, with Kasolo deservedly adding her second of the afternoon from the maul.
Saracens were enjoying themselves now and in the final ten minutes, they took on the role of the great entertainers, with Jacobs and Wardle bringing out some champagne rugby, to allow Grant to race in for her fourth.
With time ticking away, there was still time for one last circus trick, with Leanne Infante diving to intercept a loose pass in sparkling fashion, before a no-look pass from Williams set Ella Wyrwas free on the wing, to glide over for her side's final try.
In the end, this was yet another impressive display from Sarries, as they rounded off a tough block of league fixtures with another commanding victory, to firmly keep themselves in the hunt at the top of the table.