MATCH REPORT | SARACENS MAVERICKS 54 - 50 SURREY STORM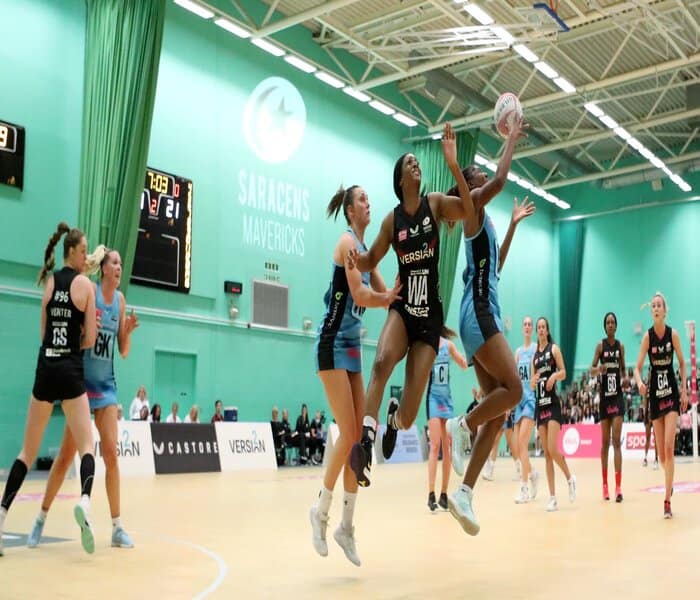 Mavericks calm the Storm to keep the play offs within reach
Mavericks battled hard to overcome the Storm and ascend to joint fourth with Team Bath.
Although a must-win match for the Black and Reds, fifth v sixth was never going to be easy. In some ways this was a game of two halves with the Surrey team taking the lead in the opening quarters before Ratnapala's side turned the tables in the second half.
Head Coach, Ratnapala, was brimming with praise for her squad:
"Today's match against Storm was a full team effort. Every single player in our squad contributed to that win through training in the week and delivering on court tonight.
In all the adversity they really pulled together and showed their depth and strength. Huge thanks to our electric crowd. They were amazing and we felt their energy as they really got behind the squad."
The opening quarter saw goals from Britney Clarke and Chloe Essam (Version2Lights Player of the Match). With Razia Quashie out with an injury, Kadeen Corbin stepped up – or rather leapt up - and worked tirelessly to frustrate the near perfect shooting record of 6'4" Proscovia Peace.
Storm's Felisitus Kwangwa matched Kadeen's work rate in the opposite circle. With goals and interceptions at both ends, the first quarter ended with a 1-point advantage to the visitors.
In the second quarter the Guildford team extended their lead. Mavericks brought on recently recovered Venter and Storm rested their formidable Zimbabwean defender. The home side found another gear, making interceptions in every third to decrease the gap. Pressure from the Hertfordshire team even forced a wild pass from Storm that sailed beyond Peace's expectant hands.
After the break Mikki Austin's side sought to reenergise their offensive play with two substitutions. However, with more Quidditch-style interceptions to delight the crowd, and with Venter shooting from range, it was Mavericks' turn to establish a lead.
Kadeen's efforts were rewarded with two interceptions against the towering Peace. The near-faultless Ugandan even missed a shot as she, too, succumbed to Mavericks' pressure. Saracens finished the third with a four-goal lead.
The crowd in the Hertfordshire Sports Village were treated to a fierce final quarter. However, Mavericks refused to give up the three points that have brought them level with Team Bath.
A well-deserved win for the Black and Reds, and a necessary confidence boost, as they travel to Manchester to face the team in pole position. Mavericks fell just three points short against Thunder in their last meeting so will be looking to deny Thunder their unbeaten boast when they play at 5pm on Sunday 15 May.
Mavericks' final home game will be against Bath in the final round on Saturday 28th May.
Match stats
Saracens Mavericks starting 7: GS Britney Clarke; GA Chloe Essam; WA Sasha Corbin (C); C Beth Ecuyer-Dale; WD Gabby Marshall; GD Jodie Gibson; GK Kadeen Corbin
Replacements: Bea Skingsley; Georgia Lees; Aliyah Zaranyika; Odiri Atirene; Ine-Mari Venter
Surrey Storm starting 7: GS Proscovia Peace; GA Francesca Wells; WA Yasmin Parsons (C); C Mikki Austin; WD Niamh Cooper; GD Felisitus Kwangwa; GK Leah Middleton
Replacements: Sophia Candappa; Ellie Kelk; Emma Magee; Alima Priest; Grace Sullivan
Quarter scores (Saracens Mavericks first): Q1 13-14; Q2 25-24 (12-10); Q3 42-38 (17-14); Q4 54-50 (12-12)
Written By : Erica Rosa Tapp
Photo Credit : Morgan Harlow