MATCH REPORT | Saracens Mavericks 56-63 Manchester Thunder (NSL Rd9)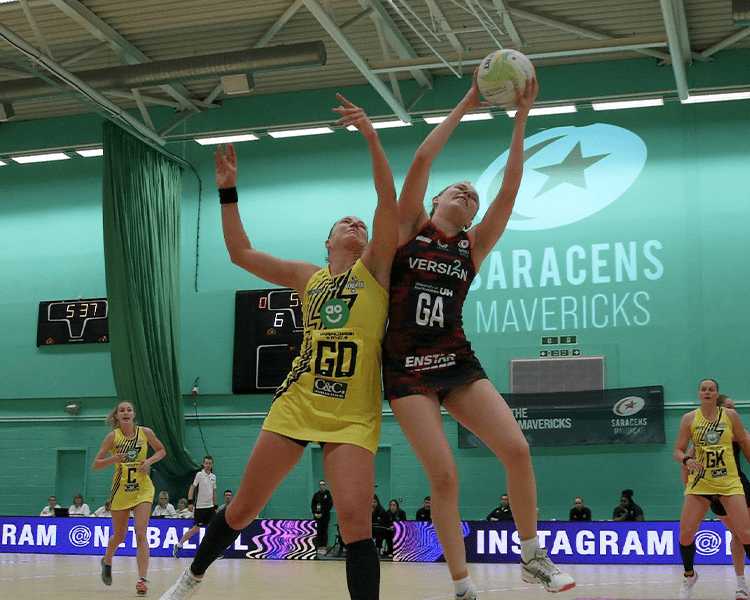 Saracens Mavericks put in a spirited home-court performance to keep Manchester Thunder within reach, but the current Netball Super League champions refused to relinquish the coveted three points at HSV.
Facing the formidable league champions is never a palatable prospect, but overturning Team Bath's nine-point lead to claim victory just two days earlier proved Mavericks' top-class quality and laudable work rate. The supporters at the sell-out home venue were also in fine voice, as they roared on the Black and Reds, as both sides showed their international colours as part of a league-wide celebration.
The visitors from Manchester started powerfully, stretching their legs to a 6-point advantage by the end of the first quarter. Camilla Buchanan's squad found their stride in the subsequent quarters of this feisty match-up, winning the final quarter but, unlike in their recent match, they missed opportunities to claim the lead. The Head Coach reflected on the game:
"Thunder are a quality side but we had opportunities today to not only come back in that game but to win it. Our turnover stats were really good but we've got to figure out how we can convert them more consistently."
Buchanan named the familiar starting seven for this tough match but also showcased the depth of her squad as she brought Beth Ecuyer-Dale, Georgia Lees and Britney Clarke off the bench to try to break down the visitors, with all three impressing.
"I was really happy with the changes that came in. I felt they were really impactful. Britney in particular; she came in and she was solid for us today. Aliyah again came in, played against one of the best Wing Attacks in the world and it wasn't an easy game for Nat. I'm really impressed with the growth that Aliyah's making on the intelligence front of the game."
The Head Coach also praised the Version2 Player of the Match, Georgia Lees, after another impressive impact off the bench.
"Georgia, I thought came in and really opened up that attack end and was a really calm head on the ball."
This round 8 match may have been a "missed opportunity" according to the Head Coach but there are many positives to take from the whole-team performance. With London Pulse up next at HSV, Buchanan is targeting improvement ahead of a local derby.
"London Pulse is a bit of a London derby, so we'll be well up for that fight, but we've got a lot of work to do between now and then."
Kira Rothwell, an ex-Pulse player herself, has already enjoyed playing front of the HSV crowd this season, highlighting the impact that the home support has on her side's performance.
"I've never felt a crowd like it. They're so close and really part of the game. Even in that last quarter we were still seven down with three minutes to go, but every intercept was met with a roar, and it really lifts you."
Mavericks have a week now to rest and train before entertaining London Pulse at HSV on Monday 3rd April at 6pm, with limited tickets available.
Report by Erica Rosa Tapp.