Saracens & Spurs | Cliff Jones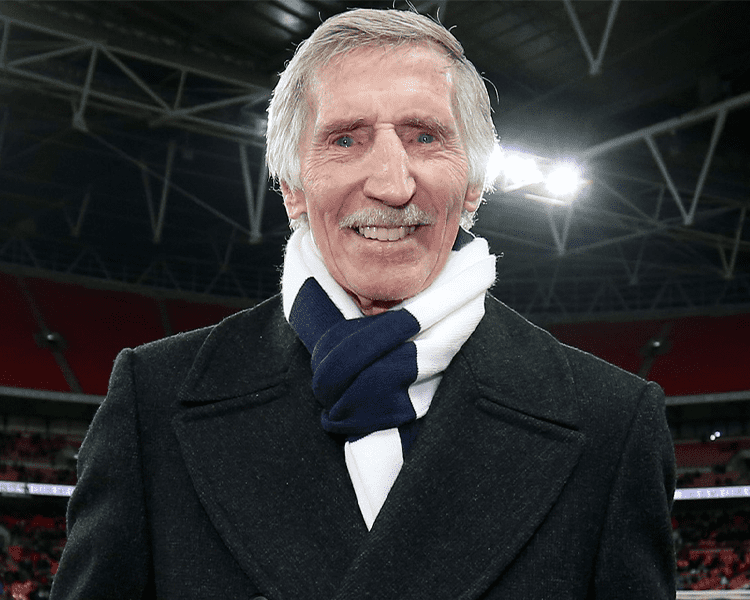 The name Cliff Jones will certainly need no introduction to those who are more inclined to the round ball at the Tottenham Hotspur Stadium.
The Welsh legend, who is in the Tottenham Hall of Fame is viewed as one of their best ever players with an incredible 135 goals in 318 appearances between 1958 and 1968, including their 1961 Double of the FA Cup and League Title.
But what many won't know is that he is also heavily linked towards Saracens, having run out several times for the club once his football career had ended. 
As a proud Welshman and able to call upon the assistance of good friend Gareth Edwards, rugby has always been in his blood. He lined up at fly-half for a season in the early 1970's and used all of his footballing ability to kick Sarries to many a victory. 
 "I've always followed rugby, my great friend Gareth Edwards, possibly the best player there has ever been I often still meet for a round of golf so we chat about it."Said the 88-year-old.
His time running out in the Black and Red shirt is one that he looks back upon with huge fondness. 
"It was a Saracens vets team, I'd always had an interest in rugby and I hadn't finished playing football all that long. 
I had finished playing for Cambridge in 1971 and then went in to rugby, I probably wasn't the toughest in the team but maybe the fittest!
It's a very social atmosphere in rugby which I really enjoy. Gareth gave me a few tips which helped! I was quite good at kicking it, the grubber and drop kicks especially.
When I was playing football it was very similar to rugby in terms of how the players mix with the fans which is great.  We'd all go to the Corner Pin and you would have a real connection with the supporters, I love how that still exists in rugby."
Jones still lives near Enfield with his wife Joan, who he has been married to since 1955, and being so close to StoneX Stadium means he still checks on the Saracens scores on a regular basis. 
"I always look out for their results for sure. Whenever I see them in the newspaper or on TV lifting a trophy it brings me huge joy! Being Welsh you've got to enjoy your rugby - although maybe not the Six Nations this year!"
As part of The Priory Collection, the incredible memorabilia portfolio at StoneX Stadium, one of Cliff's medals from the 1963 European Cup Winners Cup victory over Atletico Madrid is present as Spurs became the first British Club to win a European tournament, and that brings him huge pride. 
"We went to a dinner in the West End a few years ago and we sat next to Nigel. He told us all about the collection and then sent us a book which shows all the fantastic memorabilia. It makes me feel very proud to be a part of that alongside such famous sporting people and moments." 
Jones is a regular visitor at Tottenham Hotspur Stadium.
"The stadium is magnificent! It's got a great atmosphere as the fans are so close to the pitch. It makes me very proud to see how far the club has developed.  
Up until Covid I was doing a lot of hosting on match days. It's a bit different now as I used to know White Hart Lane like the back of my hand! The new stadium is great but it's so big it makes it a bit more difficult for me!"
THE PRIORY COLLECTION 
View some of sports greatest pieces of memorabilia used by some of the planet's sporting legends. Cricket bats from WG Grace and Donald Bradman, two rugby balls used in the 1995 and 2003 World Cup finals, Geoff Hurst and George Cohen's 1966 football World Cup winning shirts and memorabilia from the 1995 rugby world cup in South Africa signed and personalised by Nelson Mandela. The collection includes a complete set of summer of Olympic torches dating back to Berlin in 1936 and includes the very rare Helsinki torch of 1956.
Not only will you get to see these fantastic pieces of memorabilia on the tour with our experienced guides, you will also gain access to the areas of the stadium that are not normally open to the public such as the Players' Lounge, media centre, home and away changing rooms and a private box.
Find out about the features that make the home of Saracens the most sustainable stadium in the UK and get the chance to walk in Usain Bolt's shoes on the warm-up track from the 2012 Olympic Stadium.
Tours last between 90 minutes to 2 hours and you are encouraged to bring your cameras!
Book your StoneX Stadium tour HERE!