MATCH REPORT | Team Bath 62-66 Saracens Mavericks (NSL Rd8)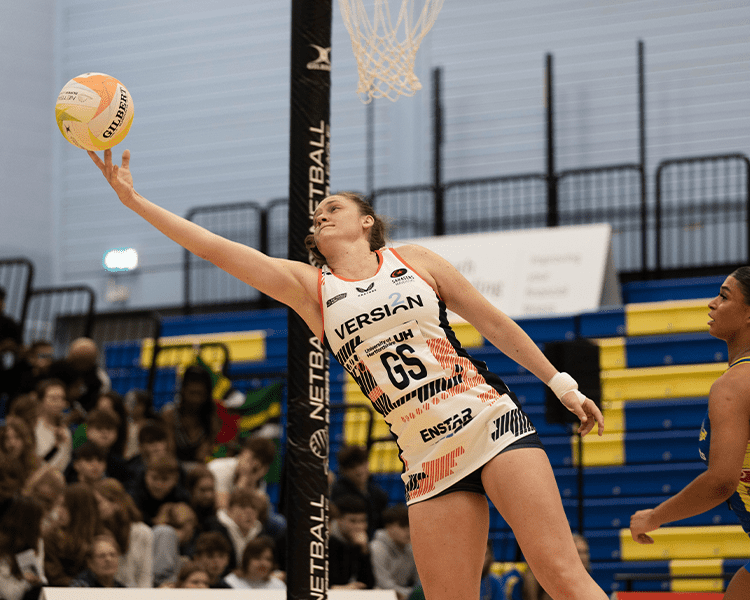 It's not about how you start; it's how you finish. Well, Saracens Mavericks certainly proved that old adage true, as they worked their way back from a six-goal deficit to secure a first away victory of the season against Bath.
A week on from a disappointing performance away in Glasgow, Head Coach Camilla Buchanan kept faith with the same starting seven from the off and it seemed to have done the trick, with Sasha Corbin combining well with Ine-Mari Venter and Kira Rothwell, to keep the scoreboard ticking over.
Halfway through the first quarter, Mavs edged their way into a two-goal lead, with the imperious Jodie Gibson doing what she has done all season, in winning loose ball for her side.
Mavs though, failed to capitalise on this, as mistakes and an error-strewn spell allowed the hosts to not only edge themselves back level, but then pull away in dramatic fashion, to take a six-goal buffer into the first quarter break.
Halfway through the second quarter and, staring down the barrel of a nine-goal deficit, things looked like they could be about to unravel for Mavericks, with only the work of Gibson in defence saving her side from a greater deficit.
With little under four minutes of the quarter left, Mavericks introduced Christina Shaw at Goalkeeper, freeing up Gibson and it seemed to do the trick, as Mavericks began to haul themselves back into the match with a flurry of goals in quick succession.
Where Gibson had had success in defence in the opening quarter, it was now Shaw's turn to continue that trend, as she went about her work with a quiet confidence that allowed Aliyah Zaranyika in front of her to grow into the match.
Into the third quarter and things were moving at breakneck speed, with both sides trading goals in a topsy-turvy affair. Throughout it all though, the calming presence of Zaranyika at Wing Defence was allowing her side to keep things flowing. It was certainly doing the trick for Mavs too, with Venter winding up for a series of long-range shots that drew her side within two, heading into a titanic final quarter.
It was another Mavericks alteration that injected further pace into the match, with Sasha Corbin moving to Centre to accommodate Georgia Lees at Wing Attack, with the replacement proving to be a bundle of energy throughout the final quarter.
There seemed to be a sense of inevitability as time went on, with Lees combining well with the other attacking players, to allow Venter to continue to keep her side within reach of Bath.
With ten minutes to go, they drew level, as Kira Rothwell slotted home after a trademark bounce back pass off the post, but Bath responded to snatch a two-goal lead back.
With just a few minutes to go, Shaw took a significant blow to the head, that left her with bruising around her eye, forcing her from the field.
It was a cruel way to leave the court for the impressive Shaw but if anything, it seemed to spur her side on, as Corbin secured a crucial turnover, allowing Venter to edge her side ahead.
Lees again was in the thick of the action, as she fed the ball in for Venter and Rothwell to add a few more goals to the total, as Mavericks held on for a crucial victory.
Whilst there will still be points to improve upon heading into Sunday's clash with Manchester Thunder, this was a significant victory on the road for Mavs, and a performance filled with grit and desire.