Project Rugby End of Year Festival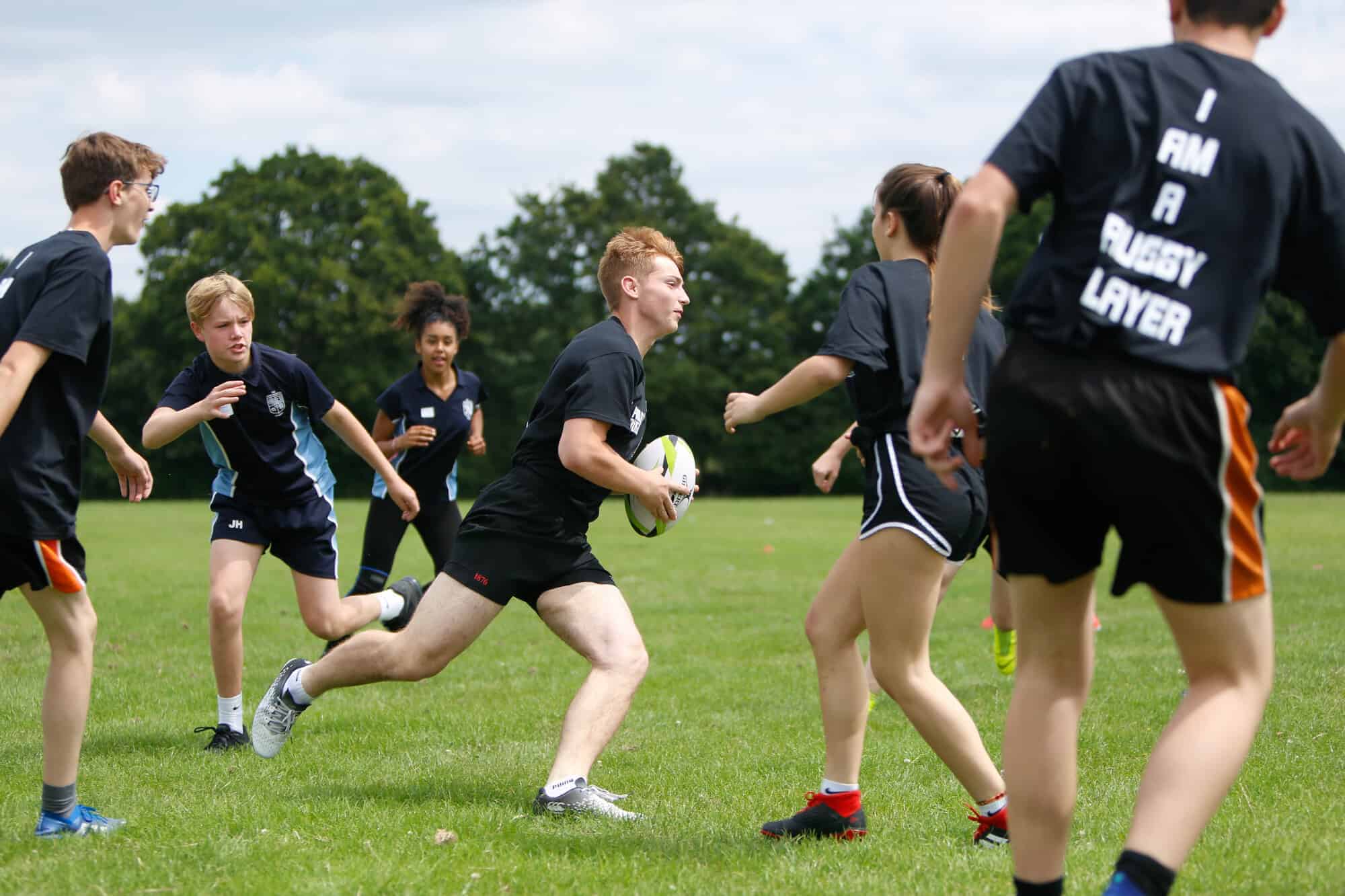 On Thursday 11 July, 80 Year 9 and 10 Project Rugby participants arrived at Hendon RFC for the inaugural Project Rugby End of Year Festival.
Six schools from across North London and Hertfordshire playing six-a-side mixed touch to crown a year of achievement and development in rugby. Project Rugby aims to increase participation in the game by people from traditionally underrepresented groups.
There are many aims of the programme including: transitioning participants from Project Rugby activity into regular rugby participation; improving individual well-being and perceptions of self; reducing social isolation and improving levels of social connectedness; challenging existing perceptions of the game and position rugby as a sport for anyone regardless of background, ability or gender.
Saracens Sports Foundation runs two strands of Project rugby: Mixed Ability aiming to set up clubs and teams where disabled participants can play alongside their counterparts, and BME/LSEG (black and minority ethnicity/lower socio-economic groups) to engage underrepresented groups.
Since September the Saracens Sports Foundation has worked with 1300 BME/LSEG participants across twenty schools running four festivals and 199 Mixed Ability players running numerous festivals.
Project Rugby aims to engage a wide variety of participants from all groups through schools and specialist groups. Typically, Project Rugby spends around six weeks with a group introducing them to the basic skills of the game in a fun, inclusive rewarding environment before encouraging them to join their local rugby club and providing playing opportunities at regular festivals.
The end of year festival at Hendon RFC provided each team with a minimum of five games with the eventual winners Archer Academy prevailing with a 'golden' try. Following the festival, teams headed over to Allianz Park for a joint social and to commemorate the year in the 100 Club, crowning the tournament champions, players of the tournament and teacher of the year.
There were also separate hotly contested values awards with all teams displaying dedication to the Saracens Values of Work-Rate, Humility, Honesty and Discipline making choosing individuals incredibly difficult.
Zainab Alema, CEO of Studs in the Mud and Barnes Ladies RFC player attended as a guest speaker inspiring participants and detailing her journey through rugby and the achievements it has led her to, including supplying equipment and coaching in Ghana and how proud she is to state: "I am a rugby player."
From the Capital City Academy girls who play for fun, bringing energy and a party atmosphere wherever they go accompanied by Project Rugby Teacher of the Year Ashleigh Clarke to Leyton Sixth Form students who experienced the Premiership final following a stellar year. Project Rugby is changing the perception of the sport whilst improving self confidence as Edson Quadros from Leyton Sixth Form explains:
"I don't really play any other sports, but I have always enjoyed them and I keep fit but this has filled a gap in my life which is really cool. It is a nice outlet and it also helps with things like leadership and life outside of school – it is just a lot of fun really, so I am so pleased that I got involved.
"I think Project Rugby is beautiful really because they are getting people involved in the sport and it is just nice the way they go about things."
For more information on how your school college or group can become involved in Project Rugby please contact: