Rentokil Initial renews as Saracens' Official Washroom & Hygiene Partner of StoneX Stadium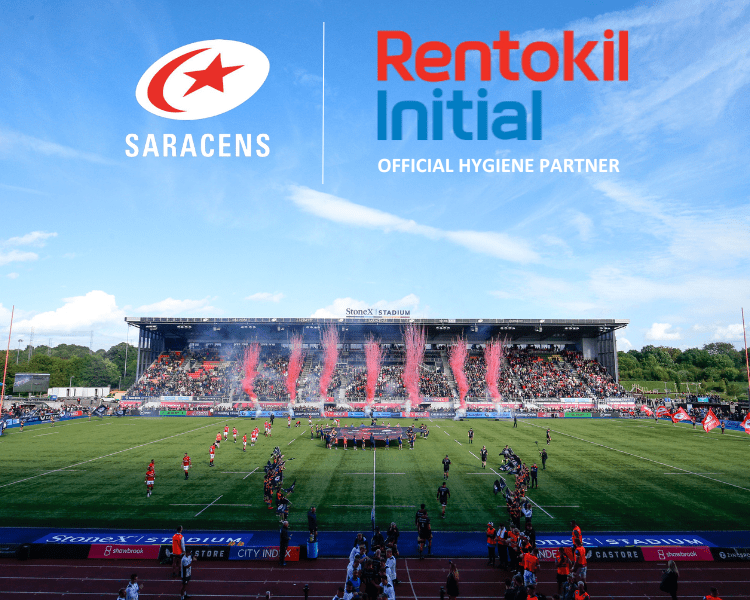 Saracens Rugby Club is delighted to announce its continued partnership with Rentokil Initial, who has re-signed as the Club's Official Washroom and Hygiene Partner, for the 22/23 Season.
Central to this strategic partnership, which at its announcement back in August 2020 was believed to be a first in UK sport, remains an ongoing focus on keeping the indoor air clean with VIRUSKILLERTM air purification technology, which is proven to kill 99.9999% of viruses, including Coronavirus*. VIRUSKILLERTM units also decontaminates the air, by not only trapping but also killing airborne viruses, bacteria** and fungi.
As the official Washroom and Hygiene Partner of StoneX Stadium, Rentokil Initial is also providing a wide range of washroom products and specialist hygiene services, as the club continues to prioritise the health and safety of its players, staff, and stakeholders, with a hygienically-safe environment. Twice-yearly deep cleans of the onsite kitchens are also being undertaken and will include TR19 compliant kitchen ventilation deep cleaning.
Saracens has also committed to taking the necessary steps in helping to ensure 'washroom dignity' for all washroom users while they are onsite at the StoneX Stadium by ensuring they have access to all the facilities they need, and has installed sanitary waste bins in all toilet cubicles.
Saracens Operations Director, Alex MacIntyre said: "As a club, caring for our people is at the heart of everything we do. The safety of our staff and supporters is of paramount importance to us, and Rentokil Initial remains an integral partner in helping us to facilitate this.
"We are proud to have spent the past two years setting the benchmark for sports stadiums across the country to follow, in providing safe and clean air inside, as well as hygiene-confidence for all."
Jamie Woodhall, Technical and Innovation Manager, Rentokil Specialist Hygiene and Initial Washroom Hygiene, said: "We are delighted to be supporting Saracens Rugby Club with an ongoing best-practice approach to hygiene and cross contamination prevention, and to working with the club to deliver 'washroom dignity'. Everyone has the right to a dignified washroom experience, regardless of age, gender, or need.
"We hope that by having all of these hygiene measures in place, including sanitary waste bins in all toilet cubicles, as well as VIRUSKILLERTM units located in key indoor areas, it will provide confidence to staff, players and fans, and set the standard for both hygiene and washroom dignity. "
Partnering with experts to protect the Saracens family. #TogetherSafer