Rocky Clark: I want to be the best coach I can be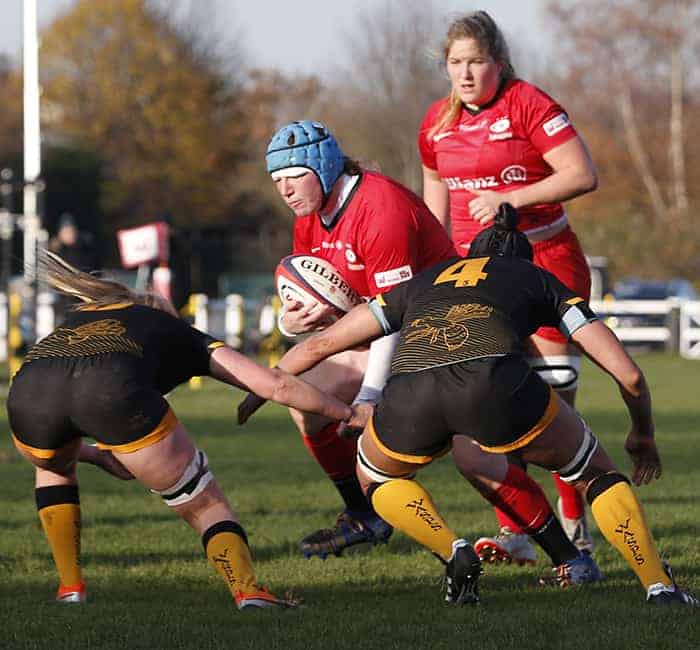 Rocky Clark may be England's most capped player, but even she's still experienced some real "rugby highs" since joining Saracens last summer.
With 137 caps to her name, a World Cup winners medals in her collection and countless other international and domestic rugby memories, you would think that it would be hard for anything to match-up to some of the highs she has enjoyed in her illustrious career.
However, Clark can readily point to comeback wins over Loughborough Lightning and Harlequins Women as well as playing with 13 players against Worcester Warriors Women as special moments, up there with anything else she has experienced.
"When Saracens' backs are against the wall that's when they roll their sleeves up and they fight their way out of a corner, and I love that! That's something I've always done as a player.
"I've loved the hardest games, the closest games, that's your time to really shine and you see the character come out of people.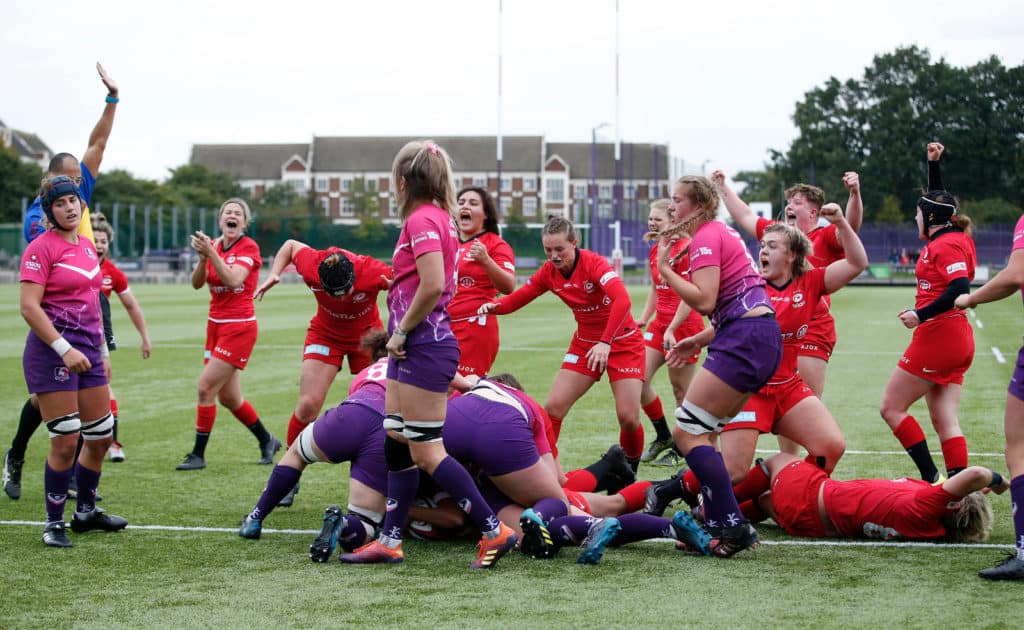 "When we were down to 13 people against Worcester, the heart and soul that went into that was so pleasing for me to see from the girls and to be involved myself. I really enjoyed it even though I wouldn't want to do it every week!"
Clark joined Saracens as player-coach, with a well-earned reputation as one of the leading props in world rugby, gained from over 15 years at the international coalface.
Despite that standing within the game, and the respect that comes with it, the prop admitted to feeling nerves at the prospect of having to coach players she so recently played alongside in England colours, though she admits that the transition has been easier than she thought it would.
"I've always been really lucky that I've got on with a lot of Sarries players at England, so I was already friends with Poppy (Cleall), Marlie (Packer), Botts (Hannah Botterman) before I came in.
"So, there were challenges in some ways. They were friends and obviously teammates. But it was exciting to come into a club with so many great personalities, so many great players and to bring my bit of experience to help them develop to be the best."
And having faced many of the same players not so long ago in the Tyrrells Premier 15s, there was also the excitement of trying to help them improve, whether they are just starting out in their careers or have a few more miles under the belt.
I want to make the players I coach the best they can be
"I know the really good things they bring. They're nightmares to play against and that's really exciting for me as a coach to have those players and to unleash them. Push them really out of their comfort zones and get them to their peak."
Among those she has been looking to impart her wisdom on has been fellow prop Hannah Botterman.
Still only 20, the Saracens front row has already earned 17 caps at international level and has garnered a reputation as an exciting and dynamic player to watch.
The accepted wisdom is that props don't hit the peak of their powers till their late 20s, with Clark emphasising that so much of that comes down to gaining experience by scrummaging against, as she puts it, "old gnarly people".
And she is in a perfect position to see where Botterman is currently at in her rugby journey and how far she can go.
"She's a very, very good prop already and I'm just excited to see how far she can go. She's still a baby in propping terms.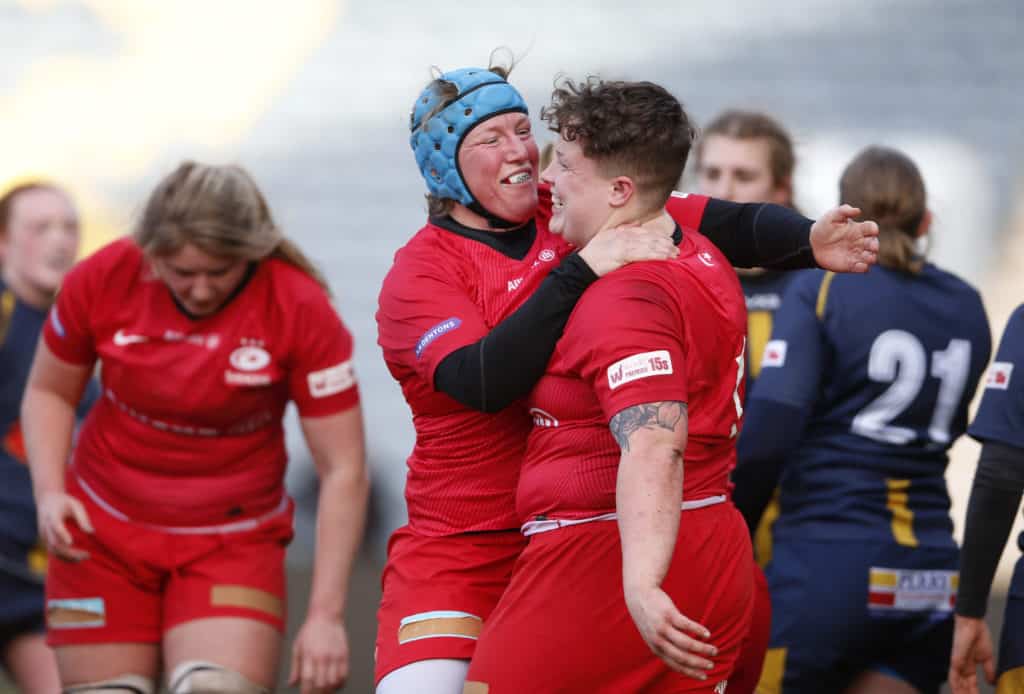 "It's exciting to watch her carry, she's developing in the scrum and becoming a strong scrummager.
"I'm just excited because a lot of propping comes down to experience as well and she's gaining that.
"Week in, week out she's progressing, becoming a leader at such a young age, grabbing the bull by the horns in the tough games. She's a "go to player" and I'm just excited to be involved on her journey."
That theme of excitement is a recurring one throughout our conversation with the 2014 World Cup winner.
Yet underpinning that excitement, and everything Clark wants to do in her coaching role at Saracens, is that same drive that saw her earn over a century of caps in an England jersey.
"When I was playing, I wanted to be the best player I could and now I'm coaching I want to be the best coach I can be, and I want to make the players I coach the best they can be.
"What I've loved about working in this coaching team at Saracens is everybody listens; everybody is open and willing and helpful.
"I've really bonded well with John (Wilding) in terms of similar coaching styles and the same with Alex (Austerberry) and Lewis (Sones).
"You can bounce ideas off of each other and come to a compromise, and you learn different things, different styles of how people coach. I think it's made me a better coach, learning off other coaches and bringing my take to it as well."

Mavericks Pathway Preview | Akinyemi Excited for Season Opener
Summer signing Peace Akinyemi is raring to go, as she looks to make her first appearance in Saracens Mavericks colours this weekend for the U21s side. Akinyemi is a young defender with plenty of promise and she explained her excitement at linking in with a new squad. "I'm very excited. Mavs is a new style […]

Discipline Update | Zoe Harrison
Saracens Women's fly-half Zoe Harrison has received a one-match ban, after being cited against Trailfinders Women. Harrison was cited for hair pulling or grabbing, contrary to World Rugby Law 9.27, during a game against Trailfinders Women on 25 November. She received a yellow card for the incident in the 36th minute of the match. The […]

TNT Sports to show Saracens Women vs Bristol Bears
The TNT Sports cameras will be headed to StoneX on 23 December, as Saracens Women take on Bristol Bears in the Christmas Cracker. Premiership Women's Rugby has confirmed a Christmas double of live Allianz Premiership Women's Rugby action on TNT Sports with matches on both 23rd and 30th December. The clash between last season's semi-finalist […]