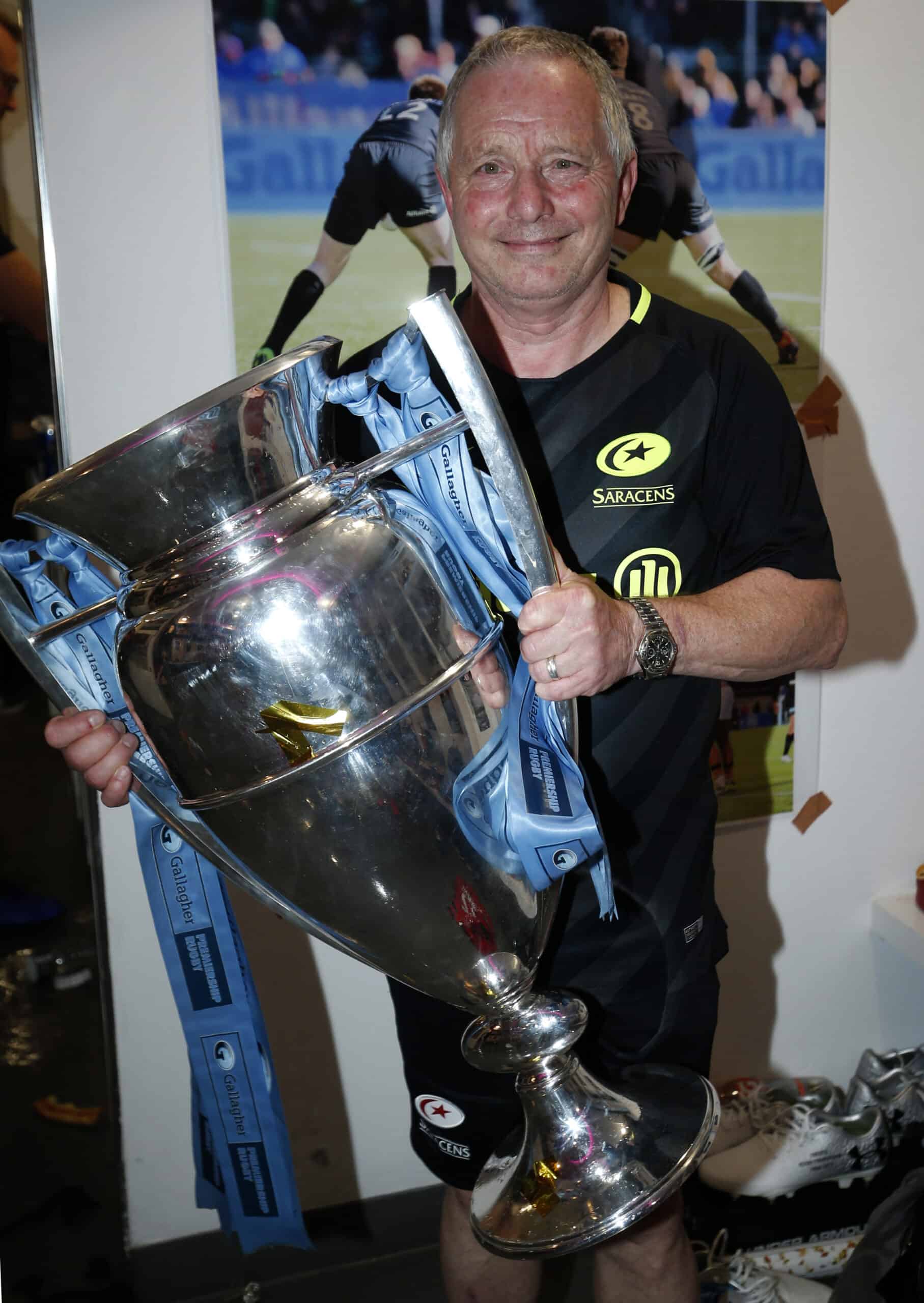 Roy Reyland is about to hit easy street after a life dedicated to making the lives of some of the world's greatest sportsmen as comfortable as possible.
The man born within a mile of the old White Hart Lane Stadium in London spent the first part of his working life looking after the elite players at Tottenham Hotspur. Then he switched to attending to the needs of Saracens rugby players.
Having spent 29 years as the kit man at Spurs, he is retiring after a mere 14-year stint with the 'Men in Black'. Just imagine all the stories he could tell from inside the inner sanctum of the dressing room!
Some of those were revealed in his book, 'Shirts, Shorts and Spurs'. Whether or not there will be a sequel about his time at Saracens is still up in the air.
But as far as Roy is concerned, what gets said in the kit room, stays in the kit room. The memories of his 40+ year career at two top-flight professionals sporting clubs will sustain him in his dotage and give his eight young grandchildren , with a fund of stories to marvel at in the years to come.
"It's time for more family time and a bit of 'me' time after almost 45 years of involvement in pro sport. I've loved every minute of it, met some incredible people and enjoyed some amazing moments," said Roy, now 69.
"I've felt as though I was Peter Pan down the years because working with so many incredibly talented young men has kept me young. I've listened to their problems, seen them grow from academy players into international superstars and always enjoyed their company.
"It has been a privilege to have worked with England and German international football captains, British & Irish Lions and England rugby captains. There have been trophies to savour along the way and nobody can ever take away the memories."
Instead of attending to the needs of 60 rugby players every day, Roy intends to 'pick up a little job to keep me active' and to spend more time not only with his family, but also with his Springer Spaniel gun dog, Blaze.
"I'll still go to the odd Spurs and Saracens match, but it will be me dictating the course and pace of my life from now on. For 25 years at Spurs I never had a Christmas Day to myself because we always played on Boxing Day and the players came in for training," added Roy.
"It's been pretty much the same at Sarries, even though we don't play on Christmas Day or Boxing Day, because there is always something to take care of. The other thing I'm looking forward to is going on holiday in some month other than June.
"That was the only time I could get away in the past, but now I can pick and choose. Will I miss it? Of course I will, but the club will be in good hands with Derek 'Del' Cole stepping up.
 "I went down to a three-day week last year in order to get used to my retirement and to give 'Del' the chance to take charge. I learned from a tough taskmaster in Johnny Walace at Spurs when I began, but what he taught me stood me in good stead throughout my career.
"I hope I've been able to pass on to 'Del' all the knowledge I've gained over the years."
As the baton passes in the kit room, Roy has one final wish before he leaves – for the Premiership title to return to the StoneX Stadium.
What a fitting tribute that would be from the players to Roy.