Saracens Men & Women surprise kids on return to Saracens High School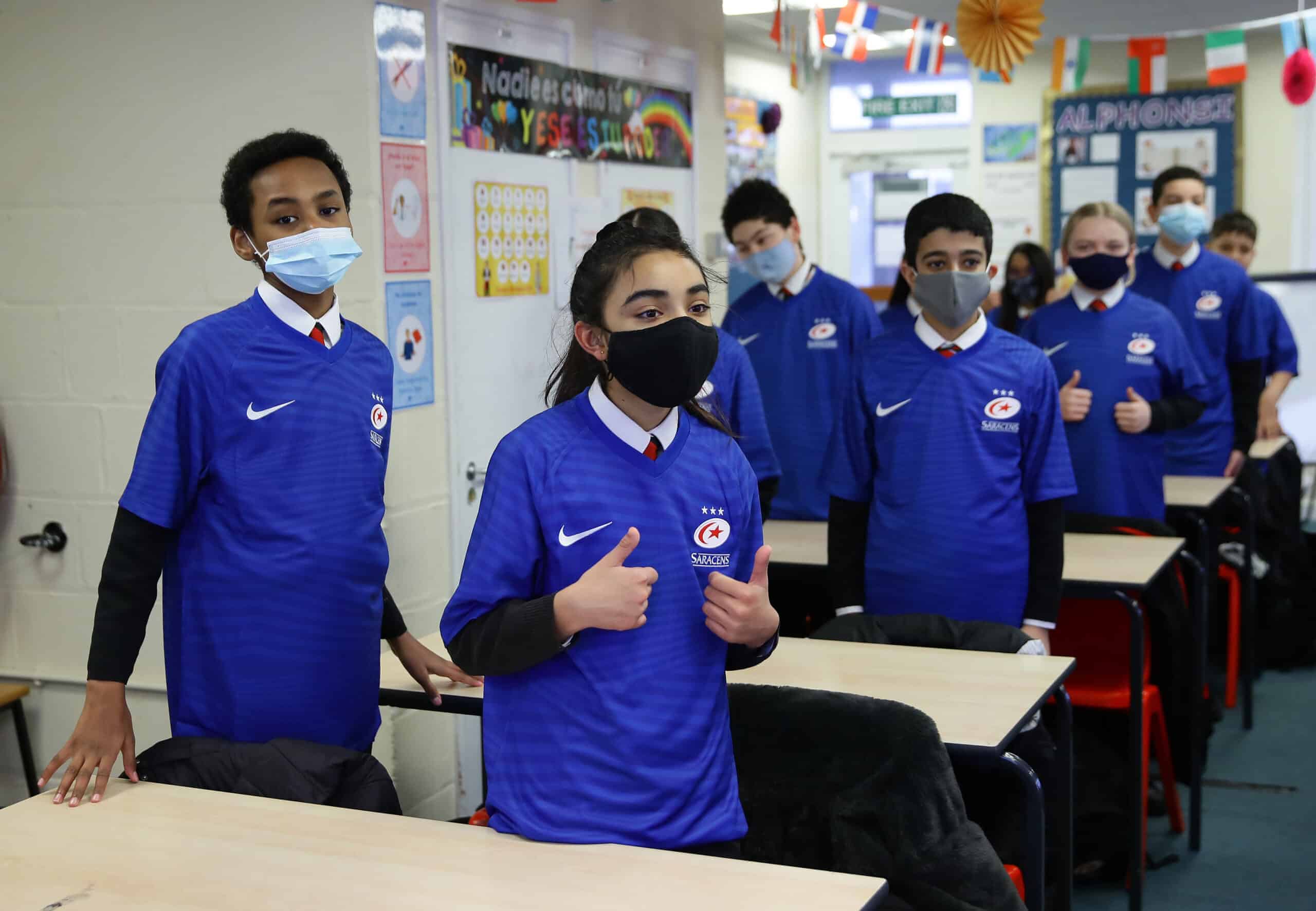 Players from the Saracens Men and Saracens Women squads helped the Saracens High School celebrate the return of its pupils into school last week by providing every pupil and every teacher with a Saracens shirt.
Alex Lewington, Elliott Obatoyinbo, Eloise Hayward, Marlie Packer and Sarah McKenna all visited the school last Thursday afternoon after the pupils had gone home for the day, leaving a blue Saracens shirt on every desk for the pupils to find the next morning.
Saracens High School Principle Dr Stevens said, "Saracens do this so well. We really feel part of the family. The children this morning were over the moon weren't they and so surprised and delighted by the shirts".
Yusra, a Year 9 pupil said, "I felt really privileged to have it (the Saracens shirt) because it made me feel part of the family and it welcomed me back from online sessions."
JTNDZGl2JTIwaWQlM0QlMjJ6eXBlXzYwNTFlYjk2MjAxZGJjMDAwMTg1MjFjMCUyMiUzRSUzQyUyRmRpdiUzRSUzQ3NjcmlwdCUyMHNyYyUzRCUyMmh0dHBzJTNBJTJGJTJGcGxheWVyLnp5cGUuY29tJTJGZW1iZWQlMkY2MDUxZWI5NjIwMWRiYzAwMDE4NTIxYzAuanMlM0ZhcGlfa2V5JTNEWGNHRjl2T2VQMGZKdHZkM0VfMDgycUtyUjRCaWU2Nk5iU1p4ajJBQlNSSVpreG9oRnRLcC1LVTZIRWFuTVhsMSUyNmNvbnRyb2xzJTNEdHJ1ZSUyMiUyMHR5cGUlM0QlMjJ0ZXh0JTJGamF2YXNjcmlwdCUyMiUzRSUzQyUyRnNjcmlwdCUzRQ==
Saracens and England Women's player Marlie Packer added, "The staff have done an incredible job to adapt, still pushing the students learning. I think they've had a 96% attendance through zoom."
As a club we are extremely proud of the achievements of the Saracens High School staff and pupils and we hope you will join us in congratulating them on their achievements during this latest lockdown.
#TogetherSaracens

INJURY UPDATE | September 2023
Here's an update on the current squad as we head towards the start of the Gallagher Premiership season. Alec Clarey Is back in training after returning from a neck injury, and is due to return to the matchday squad imminently. Andy Christie Had successful surgery on a broken arm and will be back in training […]

Travel Information | England Women vs Canada Women
We're looking forward to welcoming you to StoneX Stadium tomorrow for the women's international between England and Canada. Here's all the information you need before you make your way to the stadium. PLEASE NOTE THERE IS NO TRAIN SERVICE TO MILL HILL BROADWAY (THAMESLINK) DUE TO ASLEF STRIKE ACTION. Getting to StoneX Stadium is quick […]

TEAM NEWS | Harlequins v Saracens Men (PRC - Rd 4)
Tom Woolstencroft says there is no better game to continue building momentum as Saracens Men make the journey to The Twickenham Stoop to take on Harlequins in the next round of The Premiership Rugby Cup on Sunday. The Men in Black head across London to face their local rivals for the first derby of the […]