Saracens Mavericks School Games Squad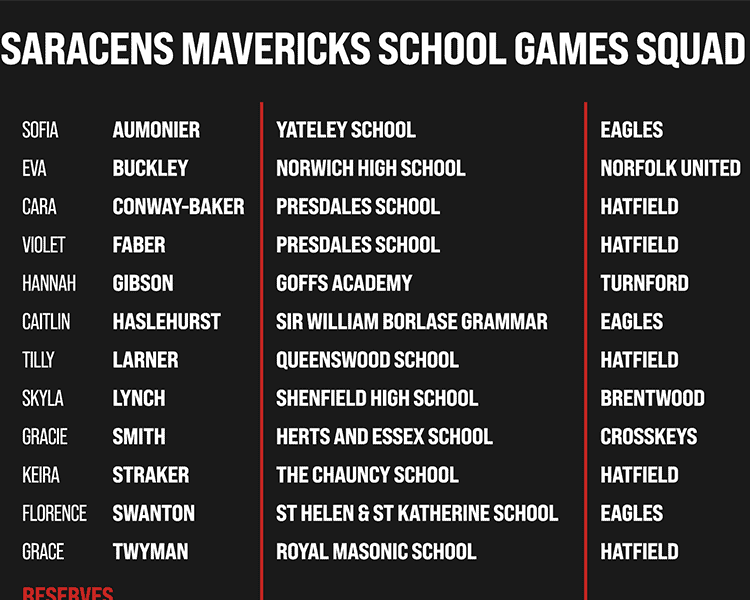 We are pleased to announce the Saracens Mavericks School Games squad for this summer.
Head Coach: Becky Trippick (Chelmer Valley School)
Assistant Coach: Gemma Cosentino (Shenfield High School)
Team Manager: Emily Drackford (St John Henry Newman School)
"This is such a talented group of athletes who have worked so hard for this opportunity! As a whole squad we are so excited to get started & work through the summer ready for school games!" Becky Trippick, Head Coach 
"I am excited to see what this group of talented players and staff can do at the School Games. It is a four day competition like no other and we have a number of players in the pathway at Under 21s who have represented Saracens Mavericks at this competition previously. We are so fortunate to have the players and staff come from a wide range of schools, counties and clubs from across the East and South Region." - Sachel Grant, Saracens Mavericks Pathway Lead
Between Thursday 1st and Sunday 4th September, more than 1,100 young athletes will compete across ten sports, including disability disciplines, at venues across the Loughborough University Campus.
School

Club

Sofia

Aumonier

Yateley School

Eagles

Eva

Buckley

Norwich high school

Norfolk United 

Cara

Conway-Baker

Presdales School

Hatfield

Violet

Faber

Presdales School

Hatfield 

Hannah

Gibson

Goffs Academy

Turnford

Caitlin

Haslehurst

Sir William Borlase Grammar

Eagles

Charlotte

Hattan

Woodbridge School

Ipswich Ladies

Tilly

Larner

Queenswood School

Hatfield

Skyla

Lynch

Shenfield High School

Brentwood

Gracie

Smith

Herts and Essex School

Crosskeys

Keira

Straker

The Chauncy School

Hatfield

Florence

Swanton

St Helen & St Katherine School

Eagles

Grace

Twyman

Royal Masonic School

Hatfield

Reserves: 

Charlotte

Hattan

Woodbridge School

Ipswich Ladies

Rhiannon

Jones

King James Academy

Royston

Emily

Sanderson

St Albans High School For Girls

Hatfield