Saracens to Support Lots of Socks Campaign for World Down syndrome Day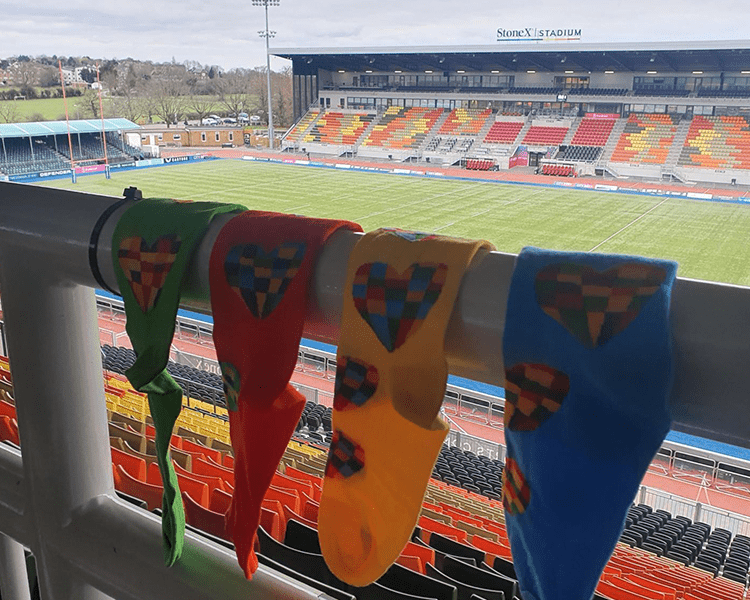 This weekend, Saracens and Sale Sharks will both be wearing eye-catching socks to raise awareness for the 'Lots of Socks' campaign, ahead of World Down Syndrome Day on 21st March.
There are approximately 47,000 people in the United Kingdom who have Down's syndrome, with 1 in 1000 babies being born with the condition.
The Lots of Socks campaign is an annual one that raises awareness of Down's syndrome globally.
People who have Down's syndrome have a third copy of the sock-shaped 21st chromosome, which is why the 21st March is the chosen date to celebrate and raise awareness.
Saracens Women and Sale Sharks will both be wearing odd socks when they meet at StoneX Stadium tomorrow afternoon, with the men's teams doing the same when they meet in their top of the table clash on Sunday at the AJ Bell.
Inclusion Project Officer and Saracens Women's scrum half Ella Wyrwas explained that by wearing odd socks, it was a chance for the playing squads to support and celebrate with the Down's syndrome community.
"Wearing odd socks during the game is just a small way we can show our support and celebrate the Down's syndrome community. The Saracens Foundation has been running sport and education projects to support young people with disabilities for over 10 years and this is a great opportunity to raise awareness of how amazing and kind our participants are."
If you would like to support this weekend, both clubs would like to encourage fans to wear mismatched socks in the stands.