MATCH REPORT | SARACENS WOMEN 62-7 SALE SHARKS (AP15s R13)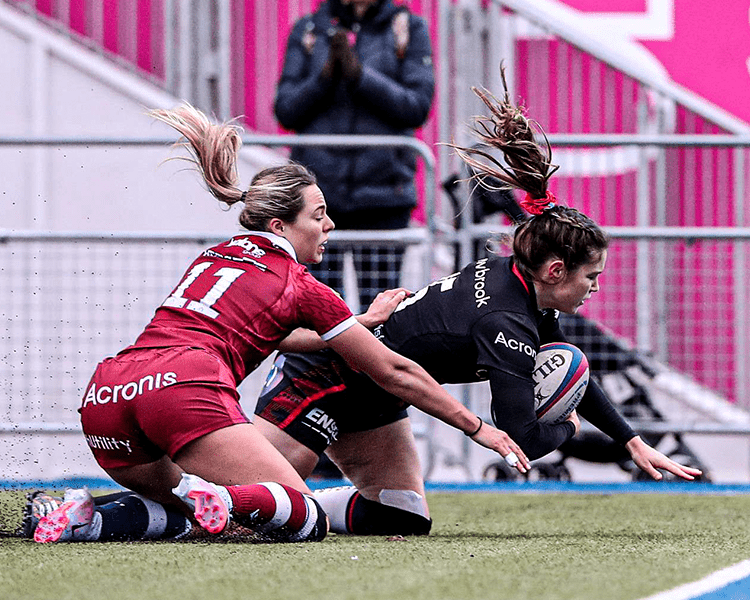 Saracens Women were on song at StoneX Stadium, as Jess Breach scored four tries on a thunderous day in North London.
After last weekend's victory over Gloucester-Hartpury, Saracens continued that winning groove, with ten tries at home to send a resilient Sharks side packing.
Fast starts have proven a feature of the last few performances and it was no different here, as Marlie Packer capped a week in which she was named as England co-captain, with a try from a rolling maul with barley two minutes on the clock.
Sale though, were resilient in their approach play and continue to press and probe, only for some important work from Poppy Cleall to avert the danger.
Georgia Evans was a bundle of energy in the opening exchanges, and it was from her turnover that Saracens built for their second try.
With Saracens powering up towards the line, Kelsey Clifford went close, before Packer bagged her second.
Sale though, responded well and hit back with a well-worked score from Mhairi Grieve after the scrum half received an inside ball from the impressive Katana Howard.
Searching for a quick response, Saracens thought the opportunity had gone after the ball was lost on the Sale line but, a huge scrum against the head gave them an opportunity from a set penalty play and Clifford made no mistake as she bludgeoned over.
It was two in as many minutes for Saracens as they began to find their flow, with Breach notching the first of her four tries on the afternoon.
This one was an absolute peach, as Sarah McKenna released the fullback with a delicious pass, before Breach turned on the afterburners to sail over.
Saracens were enjoying themselves now and after Evans had done everything other than ground the ball over the line, Cleall made no mistake from close range, to take her side beyond the thirty-point mark.
Sale continued to press and probe, with the impressive Lizzie Duffy pulling the strings, but Cleall would score again from close range in the last play of an action-packed half.
It was maul of the same at the start of the second half, as Jodie Rettie made sure that her name was etched onto the try scoring chart after another menacing driving maul left Sale powerless to retaliate.
Alex Austerberry's side were enjoying themselves now, with Lotte Clapp nearly breaking through in spectacular fashion, after a one-handed take on the wing.
It was fellow back-three star Breach though who would add to her tally shortly after, with McKenna again the provider for the fullback to ghost through and dot down.
To their credit though, Sale Sharks were continuing to stick in the fight, with Georgie Perris-Redding pulling her side back into the Saracens 22.
The pressure was on in defence, but Saracens did what they needed to do, halting the Sharks' charge before concocting a score of their own in wondrous circumstances.
Jess Breach may have been the player to cross for her hattrick, but this was all about Cara Wardle, as the centre powered up the field, allowing McKenna to release Breach to speed over for her hattrick.
Flo Williams kept the scoreboard ticking over but it took a last-gasp effort from Isla Alejandro to stop the Sharks scoring their second try of the afternoon, as she managed to trap her body under Vicky Irwin, as the flanker looked to ground the ball.
Time was ticking away, but there was still time for one more moment of genius, as Breach made sure she grabbed her fourth of the afternoon in fantastic circumstances.
Following a turnover from the ever-impressive Sharifa Kasolo, Saracens continued to keep the play ticking over, before Williams put in a pinpoint crossfield nudge for Breach to finish with a flourish and grab her fourth.
This was another superb performance from Saracens, as they continue to keep pace at the top of table, heading into next weekend against DMP.