MATCH REPORT | Saracens Mavericks 61-47 Celtic Dragons (NSL Rd5)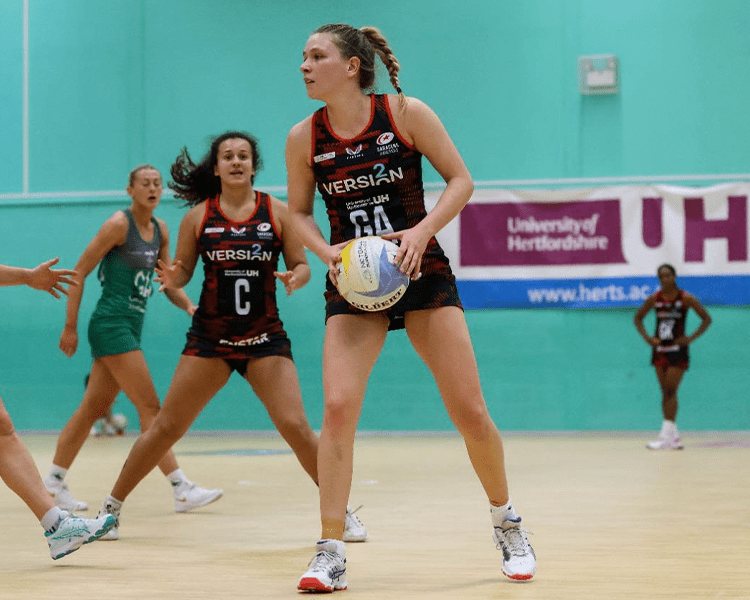 Saracens Mavericks extinguished Celtic Dragons' fire, with a whole-squad effort to remain unbeaten at HSV.  
With both sides looking for their second win of the season, Mavs versus Dragons promised to be an impassioned contest. However, Mavericks dominated throughout as the Welsh side failed to mount a challenge to a confident Mavericks side.
Head Coach, Camilla Buchanan, was pleased with the performance in a game they'd targeted as a must-win:
"I'm very happy with the three points today and how we're building and we've grown. Our connections in the attack end are getting stronger. Defensively that's the first time we've played a rotational circle and I was really pleased with how Jodie and Monique worked that circle."
However, Buchanan also identified areas for growth in the performance.
"Some of our basic errors crept in today so those things need to be fixed because we're not going to be afforded legroom in the future. Keeping our foot on the accelerator consistently is something that we need to learn how to do. There were pockets of brilliance today and - as I'm sure every coach in the league is probably saying at the moment - we need to learn how to string them together for longer periods of time."
Saracens Mavericks reaped the rewards of starting with the same seven they've begun the last few games with. Connections between the players were strong across the court and the home side established a comfortable nine-goal lead after the first quarter.
The Hertfordshire side extended their lead in the second quarter as players worked hard in every third. The visitors from Cardiff made a defensive substitution to frustrate Venter and Rothwell, but to no avail, as Mavericks continued to energise the home crowd after the halftime break.
In the third quarter Aliyah Zaranyika took a break, with vice-captain Beth Ecuyer-Dale coming into the mid-court. Aided by some stand-out feeds into the circle by Sasha Corbin, the black and reds rewarded the fans vocal support, by stretching the lead to seventeen points after 45 minutes of play, before seeing out the final quarter with aplomb.
Monique Meyer was awarded the Version2 Player of the Match after a superb display and Buchanan was quick to credit her defensive maestro.
"I think Monique was outstanding today in terms of one-on-one pressure and some of the balls she came out with."
After the South African's defensive masterclass, Christina Shaw came on in her stead, joined by Britney Clarke and Georgia Lees in the final quarter, as Mavericks clocked up a convincing second home victory.
After a busy nine days Mavericks can enjoy a break from league matches next weekend. They'll still be in action though, taking on the England Thorns at HSV next Saturday, before travelling up to Glasgow to face Strathclyde Sirens on 17th March. The Hertfordshire side will be looking to add another 3 points north of the border to bolster their progress so far in the 2023 Netball Super League.
Report by Erica Rosa Tapp