MATCH REACTION | Alex Austerberry (AP15s Rd13)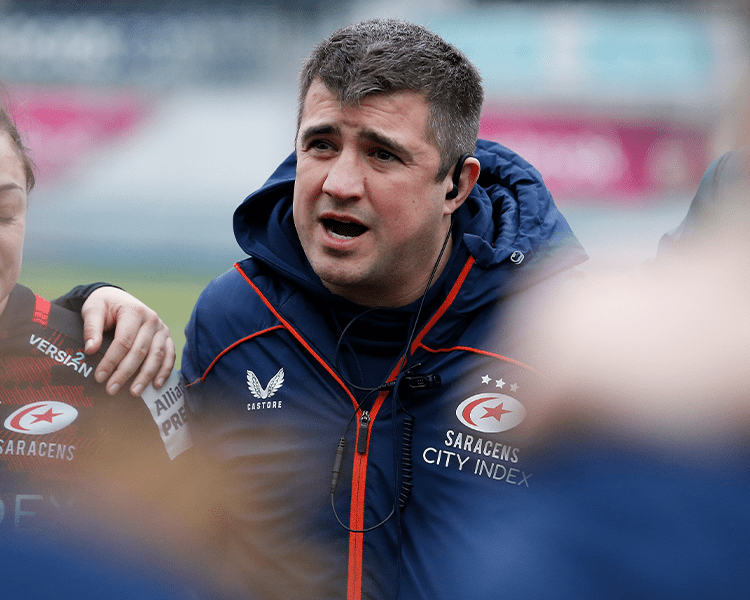 Director of Rugby Alex Austerberry praised his side for "asserting themselves" against a stubborn and resilient Sale Sharks side at StoneX Stadium.
A week on from victory over Gloucester-Hartpury, Saracens faced a physical Sale side that had pushed Harlequins all the way last weekend. Reflecting on the performance, Austerberry was pleased with how his side applied themselves throughout.
"The one thing we know whenever we play Sale is that it's going to be a battle. At times, particularly in the first half, we really asserted our dominance and in the second half, one of the most pleasing elements was that defensive stint towards the backend of the game. We knew it was going to be tough, but we stood up well and got the result. The vast majority of the time, we looked like we were really in control."
The star of the show was undeniably Jess Breach, as the fullback scored four tries to take her tally to ten for the season. Austerberry has been delighted with the England internationals' impact since arriving at the club and also took time to credit the backline, for putting the speedster into space.
"Jess has been fantastic for us since coming in. We knew that she was an exceptional talent. We're looking at ways to get her on the ball and she is looking for those chances too. There were some brilliant scores in some different ways, but then also you have to credit the creativity and execution of others to set her up with the ball. You look at the crossfield kick from Flo Williams and the pass from McKenna as well, it's great to see the backs expressing themselves and that's credit to them and also the coaching staff. Jess's game is growing and developing and it's great to watch."
Saracens will make the long trip to DMP Sharks next weekend in their last league outing before the TikTok Six Nations gets underway. Austerberry was left pleased with how his side have built through a challenging block of games but insisted that they would still need to be on song next weekend in Darlington.
"It's been a really tough block post-Christmas. We started off and we faltered and little, but since then we've been building and that's what today was about as well. We had to make sure that our standards didn't dip. We've still got a tough gig away at DMP to come. They are much improved and it's a long way to travel. We need to make sure we maintain our standards."
With cup fixtures to come following the DMP match, Austerberry feels that his side have an opportunity to breathe and look back at what they have achieved since the turn of the year, with the opportunity of a cup semi-final, still very much in their grasp.
"There's a cup game and a chance to get through to a semi-final which is always a big motivation. It's exciting to see where we can take it once we're all back together in the business end of the season."