TEAM NEWS | Gloucester-Hartpury v Saracens Women (AP15s – Rd 12)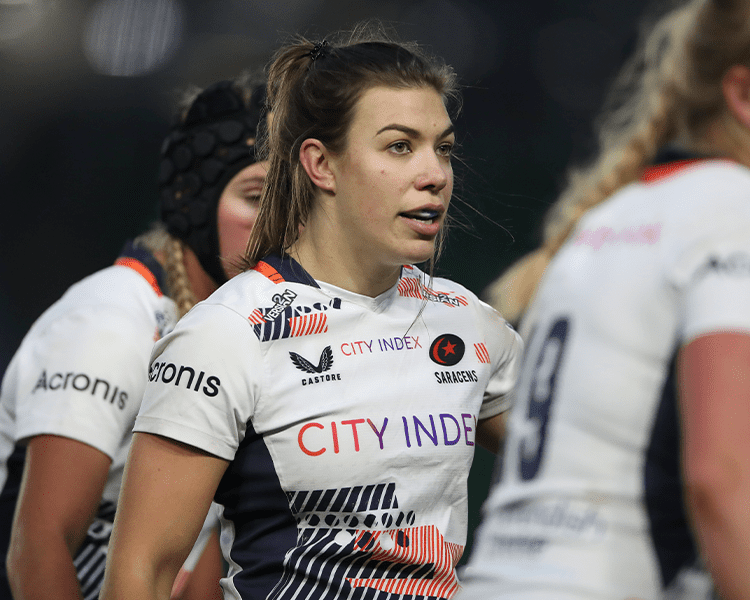 After a hugely significant victory in The Duel last weekend, the attentions of Saracens Women now turn to a sizeable away day against current table-toppers Gloucester-Hartpury.
Last weekend, in front of a record crowd, Saracens put on a show against the backdrop of an area-wide power cut.
Reflecting on the atmosphere and the day, second row Louise McMillan admitted that "it was unbelievable."
"To have so much support meant a lot. I had my parents there as well and for them to see all the support Sarries have, it's fair to say that they were blown away by that."
This weekend though, McMillan and her teammates face another daunting proposition at Kingsholm.
Saracens suffered a heavy defeat to the cherry and whites last time they met, and McMillan explained that her side were desperate to prove that it was a one-off performance.
"We were really disappointed with our performance last time we played them. That wasn't us and that wasn't who we are as a team. We've spoken about that in every game since, that we have to win and prove to ourselves that that wasn't who we are."
Ahead of this one, Director of Rugby Alex Austerberry has made several alterations to his matchday squad.
In the front row, it's a new prop pairing of the returning Mackenzie Carson and Alex Ellis, alongside May Campbell at hooker.
McMillan is joined by Poppy Cleall in the second row, as the Red Rose shifts from number 8, whilst Sharfia Kasolo comes into the starting side, with co-captain Marlie Packer moving into the 8 shirt.
Ella Wyrwas continues at scrum half, with Flo Williams starting at fly half, following Zoe Harrison's injury last weekend against Harlequins.
The backline is otherwise unchanged, with Sarah McKenna and Sydney Gregson continuing their enterprising centre partnership and the elusive back three of co-captain Lotte Clapp, Coreen Grant and Jess Breach looking for opportunities out wide.
Amongst the replacements, Maya Montiel and Kelsey Clifford shift to the bench, with Leanne Infante and Cara Wardle offering the cover in the backline alongside Isla Alejandro.
With the play-off race tighter than ever before and several huge matches still to come, McMillan explained that her side are only focusing on the next match. She did though, accept that the group relish the opportunity to play in big matches against some of the best players in the league.
"We're taking it game by game, but it's so exciting to play other teams in the top four. You relish these games because it's when you can play your best rugby against the best opposition."
Saracens Women's Team vs Gloucester-Hartpury
1. Mackenzie Carson
2. May Campbell
3. Alex Ellis
4. Lou McMillan
5. Poppy Cleall
6. Georgia Evans
7. Sharifa Kasolo
8. Marlie Packer (co-captain)
9. Ella Wyrwas
10. Flo Williams
11. Lotte Clapp (co-captain)
12. Sarah McKenna
13. Sydney Gregson
14. Coreen Grant
15. Jess Breach
Replacements
16. Jodie Rettie
17. Maya Montiel
18. Kelsey Clifford
19. Catha Jacobs
20. Grace Moore
21. Leanne Infante
22. Cara Wardle
23. Isla Alejandro